How to choose the best pet insurance for your dog
When choosing insurance for your dog, there are so many options. Our guide has tips on how to choose the best insurance for you and your pet
What should I look for in a dog insurance policy?
We all want what's best for our furry friends, and with pet insurance there's no need to break the bank. MoneySuperMarket compares dozens of providers – but how to choose the best insurance that suits you and your dog? Here's what you should be looking out for:
The age of your dog

An older dog might be easier to look after – but they're often trickier to insure. Some providers have age limits, so it's best to sort out insurance early

Cost of the policy

Remember that cheaper isn't always better – a more comprehensive option might cost more, but it'll make sure you're always covered 

Limits on cover

Will you be covered if you take your dog abroad? Is there a limit on claims per condition? Does your insurance include behavioural problems?

Policy details

A good dog insurance should cover more than illness or injury – for instance, liability cover if your dog harms another person or their property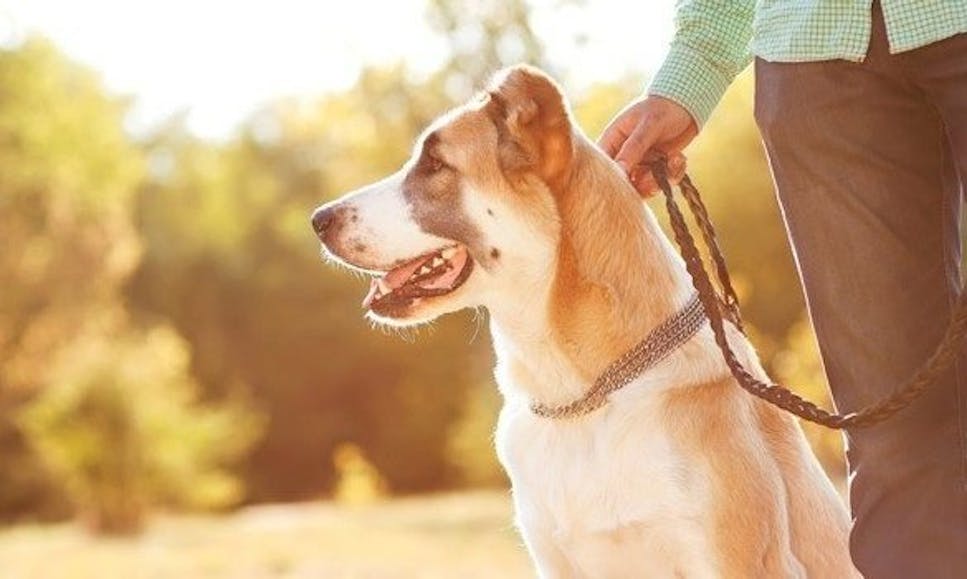 The types of dog insurance compared
Lifetime

Lifetime cover is the most comprehensive – it'll insure your dog for its entire life, and there's no payout limit for any conditions

Per condition

With per condition cover, there's a set limit on how much your insurance will pay out for any individual condition your dog might face 

Time limited

With time limited cover, your dog is usually insured for 12 months at a time – but you can't claim for the same condition twice 

Accident only

With accident only dog insurance, you're covered for accidents and injuries to your dog, but not illnesses. It's also usually the cheapest option  
Is dog insurance worth it?
So, is dog insurance worth the cost? It can cost you a few hundred pounds a year – but the cost of treatment at the vet can go much, much higher. 
However well you look after your canine companion, there's always the chance of a nasty accident or an illness, and without insurance you could end up having to fork out serious amounts of cash to see your dog's tail wagging again. 
A good dog insurance policy can help out with those costs – it's a small price for peace of mind.
How can I find cheaper dog insurance?
The cheapest option isn't always the best – but there are plenty of ways to save on good quality dog insurance:
Compare prices online

One of thep best ways to check you aren't paying over the odds for dog insurance is to sho around with a price comparison service like MoneySuperMarket. It's easy to see what you're getting for your premiums, and we'll show you quotes from more than 20 leading UK providers 

Keep your dog healthy

A healthy dog is a happy dog – and it could save you on insurance too! You're less likely to have to make a claim if your dog has a good diet, plenty of exercise, and all its vaccinations up to date. If your dog is well looked after, it's less of a risk for insurers – and they could offer you lower rates 

Check for freebies

Some people can qualify for free vet treatment through charities like the PDSA. If you qualify for certain benefits and you're in their catchment area, you can get help with your dog's injuries or illnesses without having to claim on your insurance – so it's worth finding out if you're eligible

Pick your policy

Dog insurance comes with plenty of optional extras – but it's worth thinking about which ones you really need. Also keep in mind that insurance is more expensive for pedigree dogs, since they're more vulnerable to disease – so if you're picking out a new dog, it could be cheaper to go for a friendly mutt 
What do I need to get a dog insurance quote?
MoneySuperMarket makes finding dog insurance a breeze – here's all we'll need from your end:
Your dog's details

Certain breeds and sizes are more expensive than others – and we'll need to know how old your dog is too

How much your dog cost

We'll ask how much you paid for your dog when it was first bought – or if your dog was adopted instead 

Behaviour and medical history

Tell us about any pre-existing conditions, and if your pet has suffered an injury or illness before – and then compare your quotes!
Once you've filled out these details, we'll show you all available deals for you to compare and choose the one that's right for you.
Ready to save on your pet insurance? Or need to know more before you get a quote? We're here to help.