What does the E10 petrol rollout mean for you?
Not sure about the new fuel rules? We clear up any confusion.
Petrol is changing in the UK and becoming more environmentally-friendly.
The new E10 fuel started being rolled out across forecourts in September as part of an attempt to cut carbon emissions and tackle climate change.
While most petrol vehicles will be able to use the greener fuel, not all can.
So how can you find out if your car is one that is compatible with E10? Here we take a closer look.
How can I check if my car can be filled with the new fuel?
Almost all (95%) of petrol vehicles on the road can use E10 petrol, and all cars built since 2011 are compatible. Newer vehicles (manufactured from 2019 onwards) should have a label close to the petrol cap showing that E10 can be used.
If you're the owner of an older car – built before 2011 – it's worth using the Government tool to check if you can fill up with E10 petrol.
To use the tool, you'll need to know the vehicle manufacturer. You may also need the vehicle model, engine size and year it was manufactured.
If you're not sure about any of these details, dig out the log book (V5C) for your car.
You may also be able to get information here.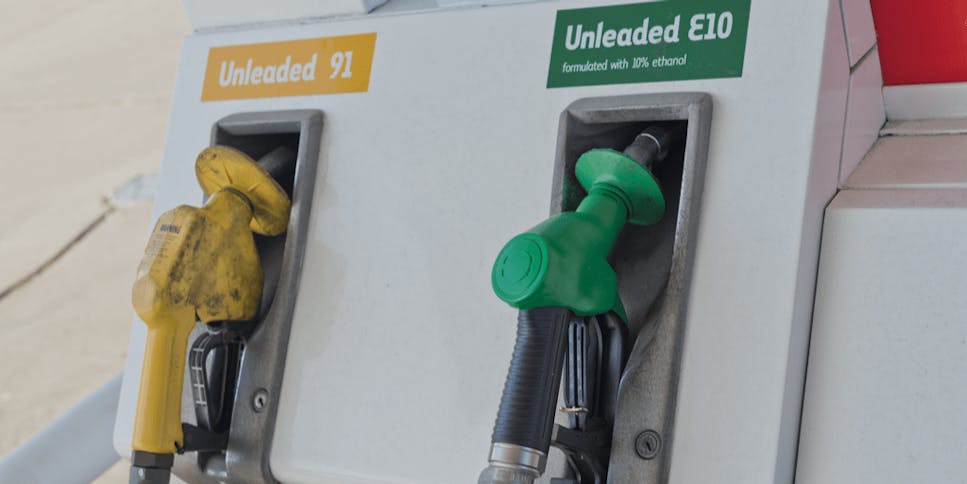 Can other vehicles use E10?
Vans, motorbikes and mopeds may also be able to use E10 petrol. Use the same tool to find out if your vehicle is compatible.
Examples of vehicles that may not be able to use E10:
Classic, cherished and older vehicles

Some specific models, particularly those from the early 2000s

Some mopeds, especially those with an engine size of 50cc or under
What about diesel and electric vehicles?
Electric cars and those that run on diesel cannot use E10 petrol.
What exactly is E10?
At present, petrol in the UK contains up to 5% renewable ethanol, known as E5.
The new fuel, E10, will contain up to 10% renewable ethanol. This will apply to the standard, cheapest unleaded petrol.
The aim is to reduce CO2 emissions associated with petrol vehicles, and work towards cleaner air.
E10 is already used widely around the globe, including across Europe, the US and Australia.
Since 2016, it has also been the 'reference fuel' against which new cars are tested for emissions and performance.
Better for the environment
The Government says the small switch to E10 will help motorists across the UK reduce the environmental impact of every journey as we 'build back greener.'
Switch will be gradual
While forecourts across the UK can begin offering E10 from September, they won't all switch over at once. It will be a gradual process.
How will I know what to choose at the forecourt?
When you come to fill up your car, petrol will be clearly labelled as E10. You'll see a circular E10 label on both the petrol dispenser and nozzle, making it easy to identify the right fuel to use.
No changes are being made to diesel.
What if my vehicle is not compatible with E10?
If you can't use E10, you will still be able to use E5 by purchasing the 'super' grade petrol from most filling stations. As with E10 fuel, E5 will also be clearly labelled. Note, though, that E5 could be more costly.
What if I accidentally put E10 in a non-compatible vehicle?
Don't panic. While putting petrol in a diesel engine is a big issue, meaning you have to drain the tank, using E10 wrongly is less of a problem. Simply fill up with E5 next time.
That said, don't make it a habit, as putting E10 fuel into a car that is not compatible could lead to damage over time.
Top tips to help you keep a lid on petrol costs
Petrol prices have hit their highest level in almost eight years. In July, the cost of filling up a car rose again, for the ninth month in a row, according to data from the RAC.
The good news is, there are some simple steps you can take to drive fuel costs down:
Keep your car serviced and in good condition so it's running efficiently

Keep your tyres inflated at the right pressure

Change your driving style: drive more slowly and smoothly, accelerate gently and brake early

Remove the roof rack and turn off your air con to reduce your engine power and the amount of fuel you're using. Also clear your car of clutter

Shop around for cheap fuel locally by entering your postcode at PetrolPrices.com

Use a cashback credit card to pay for your petrol. But only opt for this type of card if you can be sure about paying off your balance in full each month. If you end up paying interest, this could outweigh any gain