The energy price cap has gone down – but your bills might not
The latest energy price cap, introduced on 1st October 2023, brings the average household bill down to £1,834. But that might not mean you pay less – and here's why.
The new energy price cap (1st October 2023)
Ofgem's new energy price cap looks a little like this (see table below). Compared to the last cap, standing charges (the cost per day of having electricity or gas supplied to your home) are the same or higher, while the price per kWh (a standard unit of energy) is a little lower for both electricity and gas.
This all applies to a standard variable tariff.
Previous price cap (1st July to 20th September 2023)

New price cap (1st October to 31st December 2023)

Electricity

30p per kWh
53p per day standing charge

27p per kWh
53p per day standing charge

Gas

8p per kWh
29p per day standing charge

7p per kWh
30p per day standing charge
Overall, it equates to an average annual energy bill of £1,834.
Here's how that number is calculated. Ofgem decides on the standing charges and the price per kWh – this is the price cap. It then takes the average household's energy use per year, and uses that to work out what the average home will pay with the new prices.
So when you read that the energy price cap is £1,834, remember that that's the approximate cost per year to the average household. Depending how much energy your home uses, your yearly bill could be higher or lower than that.
Now, here's where things get a bit sticky. You might notice that the cost Ofgem states for the average energy bill is a good bit lower than it was last quarter (£1,976) – despite the fact that the cap for standing charges and price per kWh aren't a whole lot different. And there's a reason for that.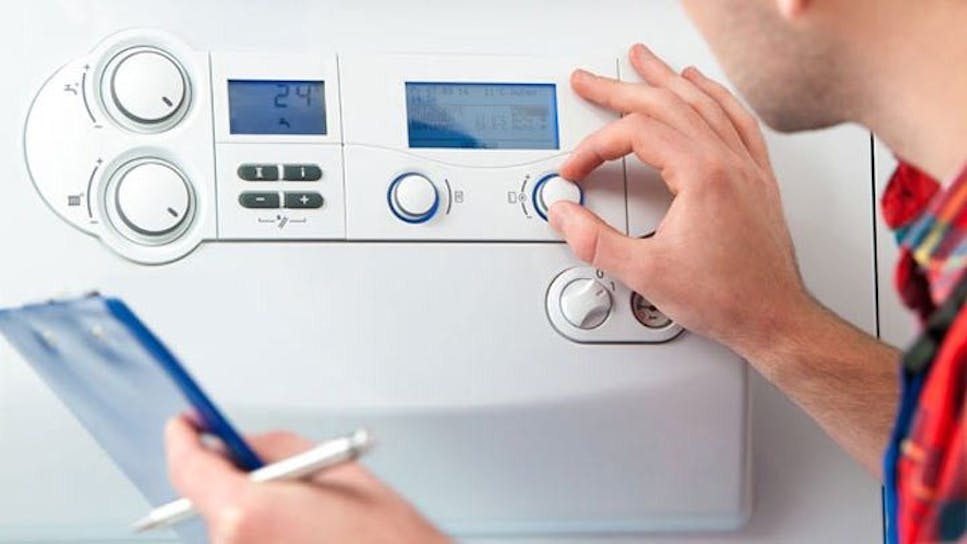 Typical Domestic Consumption Values
It's because Ofgem has also come up with new figures for what it considers 'average' household energy use.
These figures are called the Typical Domestic Consumption Values, or TDCV, and they're revised every three years. Along with key industry stakeholders, the energy regulator calculates them using things like energy suppliers' data, and input from those stakeholders as to how the data should be used.
They're based on data from England, Scotland, and Wales, and equate to what a two to three-person household with two to three bedrooms would use.
This time around, the figures have reduced – down to 2,700kWh of electricity and 11,500kWh of gas per year. Meaning Ofgem reckons we're using less energy on average.
Old TDCVs (kWh)

New TDCVs (kWh)

Gas
(low, medium, high)

8,000
12,000
17,000

7,500
11,500
17,000

Electricity: Profile Class 1
(low, medium, high)

1,800
2,900
4,300

1,800
2,700
4,100

Electricity: Profile Class 2
(low, medium, high)

2,400
4,200
7,100

2,200
3,900
6,700
Source: Ofgem
So why has the 'average' household energy use gone down this time, according to Ofgem? Well… that answer may be a little contentious.
Firstly, they made the decision to scrap data from during lockdown – in which most households used much more energy – as stakeholders felt that that meant energy usage didn't reflect a typical year.
Another reason is that we Brits are indeed using less energy in 2021-2023 than we were before the pandemic. Part of that is thanks to green initiatives… but also because of many folks cutting back due to the cost-of-living crisis.
Because of that, some have argued that it may not be fair to assume that UK energy usage right now reflects what we actually need.
So what does this mean for your energy bills?
In a nutshell, it means you might not see a dramatic difference in your energy bill compared to earlier in the year – assuming your household usage is about the same. That's despite the price cap figure of £1,834 being noticeably lower.
But on the plus side, the price cap – for standing charges and cost per kWh – is much lower than it was last year. So we won't be looking at energy bills quite as eye-watering as we were last winter.
To work out what yours might be, you can take a look at your energy bills. Note down how much energy you used in kWh, and multiply it by the new price cap. Then multiply the standing charges by the number of days you want to work it out for (so approximately 30 for a monthly bill, or 90 for a quarterly one), and add those on too.
How can I reduce my energy bill?
Concerned about your energy costs? We have a number of expert tips to help bring your usage down and save money.
You can also contact your supplier and ask about other tariffs that may be better value for you. That could mean a fixed rate, or an Economy tariff, meaning energy costs less during off-peak hours. (A great choice if you have a dishwasher, storage heaters, or washing machine that you switch on at night.)
Struggling to pay your bills? Start by contacting your supplier to work out a payment plan, or see if they have any relief schemes available. And make sure you're aware of any extra help you may be entitled to – such as the Warm Home Discount, Cold Weather Payment, and Winter Fuel Payment.