Ten ways to teach your children about money
Want to help your little ones learn about cash? Here's some simple ideas to get you started
When it comes to learning about money, it's never too early to start.
Youngsters develop lifelong financial habits by the age of seven, according to the Money Advice Service.
Helping children get into good financial habits from a young age can really pay off as they get older.
While some primary schools offer lessons on how to navigate the world of finance, money management skills are not part of the core curriculum in England.
But that doesn't mean you can't help with your child's financial education.
Here are some things you can do to set your little one on the right track.
1. Check out the Scout Association
The youth organisation is launching a new 'money skills activity badge' in a bid to help Beaver and Cub Scouts aged six to 10 build financial literacy skills.
Children can choose from a host of different activities to complete their badge – with a focus on 'learning by doing.'
This includes group tasks such as budgeting for a camping trip or deciding which item to pack in their pack to help them understand the difference between 'needs' and 'wants.'
The badge is being supported by HSBC, while the Young Money Charity has helped with suggestions of age-appropriate skills. Find out more here.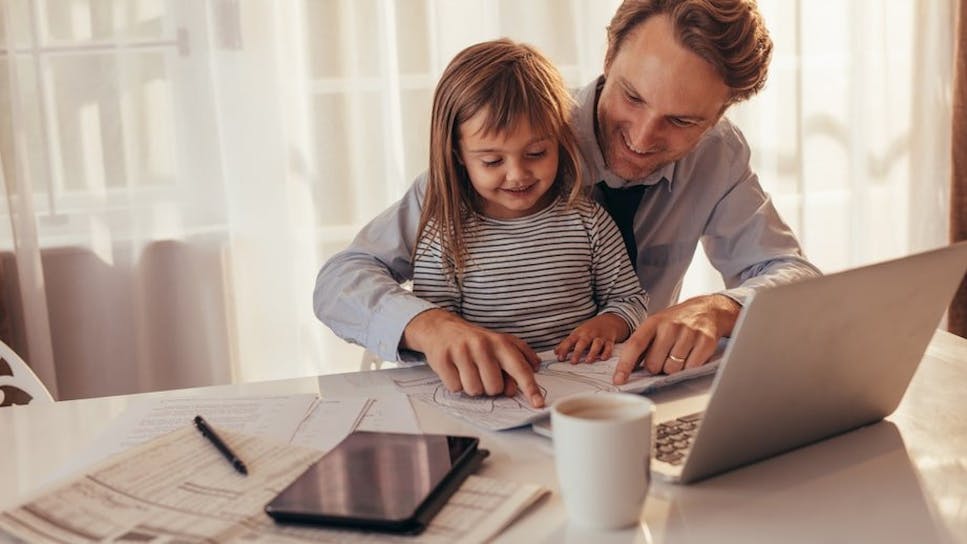 2. Show them coins and notes
As the world becomes increasingly digital, with contactless payments, financial apps and mobile banking taking centre stage, children will get little experience of touching actual physical money.
Address the issue of money being an abstract concept by giving them coins and notes to handle.
Encourage your child to talk about the size, shape and colour of the various coins or notes in your wallet, and help them make a link between each product, its value, and what it could buy.
3. Get kids to 'earn' their pocket money
Rather than simply hand over an allowance to your child each week, give them the chance to earn their pocket money instead, by doing chores. This could be a 'task' such as tidying away toys or emptying the dishwasher.
Having to 'work' for their cash, will help children begin to get the idea that money doesn't come from nothing.
After working hard, let them spend some of their money on a treat as a reward for their efforts.
4. Save up for stuff
While children may want to spend their pocket money as soon as they get it, help them to learn about the benefits of saving by encouraging them to choose something to save for. This could be a toy or a video game they really want.
By setting savings targets, kids can start to understand what it means to put money aside – and to eventually reach a goal.
You could go retro and get them saving in a piggy bank. Some kind of chart is a great way to show progress.
Alternatively, you could open a savings account.
5. Open a children's account
Having a bank account from an early age can help little ones develop an understanding of everyday money.
It can also help develop a sense of responsibility.
A host of providers offer dedicated children's savings accounts. Remember to shop around for the best rates. Find out more here.
6. Check out pocket money apps
There are now a range of apps for children, including the likes of GoHenry, Osper, Nimbl and RoosterMoney where you can dish out pocket money digitally.
With these apps, you can track your child's spending and upload more money weekly or monthly. You can set spending limits, and create chores for your little ones to earn extra cash.
Most come with an optional prepaid card, but you can place parental limits on these pieces of plastic.
Note that some apps charge a monthly fee – so make sure you know what you're signing up to.
7. Make learning about money a 'game'
Turn financial education into fun with an app such as Pigby's Fair (run by NatWest) which is set in a fairground.
You earn points by running a stall. You can then decide whether to spend those earnings, make more stock, or save what you've earned. Saving unlocks bigger and better levels.
Also check out Bankaroo and Gimi.
8. Take children shopping with you
When you do your weekly food shop, take your little one with you. Write a list together before you go and set a budget.
While you're at the supermarket, let your child choose what they want to eat, but help them understand what things cost, and the implications of going over your budget.
Explain how discounts and offers can mean you spend less.
9. Have a conversation about needs and wants
Explain in simple terms that a 'need' is something you can't live without, such as food, water and a home. Then explain that a 'want' is something that's nice to have, but not essential, such as an ice cream or magazine.
Get kids involved in the household budget, and use this as an opportunity to talk about the idea of 'essentials' that have to be paid for before you can have money to spend on 'luxuries.'
Say things like: 'We can't afford that because it's £10. But we can afford this because it's only £5.'
All this can help instil good budgeting and saving habits, and help youngsters become more aware of what it means to be in debt.
10. Let them make mistakes
Tempting as it may be to try and get children to spend their pocket money wisely or, better still, save it, there's a lot to be gained by allowing them to make mistakes.
If they splurge it all on sweets and ask for more, this will open up a conversation about not spending all their money at once – as it will be gone in an instant.
By giving them freedom, you can help them learn about taking responsibility for their actions.