Ten ways to save as you return to the office
Bank balance taking a battering now you're going into the office again? Read our useful tips on how to spend less
Now more of us are returning to the workplace - albeit a bit less than in pre-covid times - workers are finding their weekly spend is on the rise.
While commuting costs are hard to avoid, there are some simple steps you can take to keep spending to a minimum.
1. Resist the temptation for a takeaway coffee
Tempting as it may be to grab a takeaway coffee on the way into work, with an espresso or latte often costing at least £2.50 - or even £3 - a cup, this is a clear way to burn through your pay packet.
Get organised and make a brew before you leave the house, and put it into a travel mug or flask to carry with you. Or wait until you get to your desk to put the kettle on. The savings could be surprising.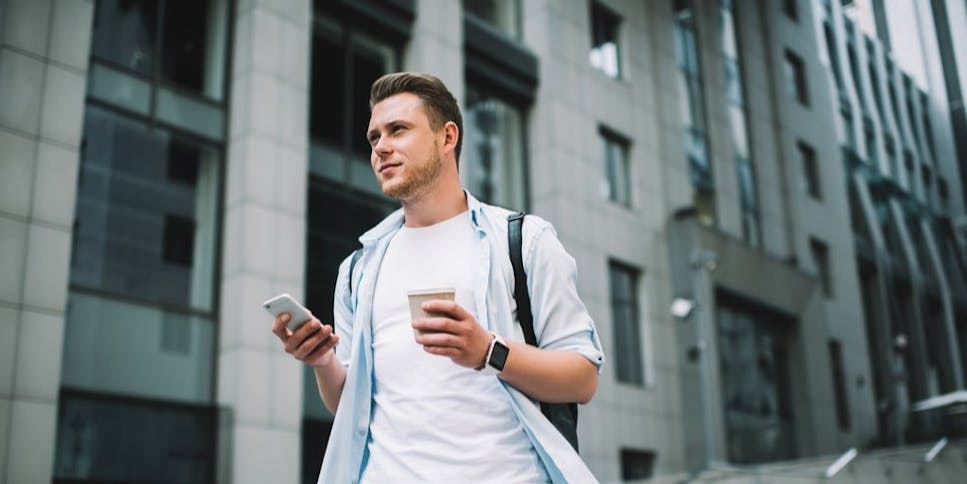 2. Don't buy breakfast every day
Buying a daily croissant may seem pretty harmless, but over a year, you could easily have squandered a few hundred pounds just on pastries.
Cut costs by getting up a bit earlier to have something at home, or try keeping a box of cereal and some milk in the office.
3. Bring a packed lunch
While a ready-made lunch from the local store or café may be convenient, if you do this every day, it could easily set you back £30-£40 a week.
By contrast, a peanut butter sandwich or simple salad will cost you very little to make; you just need to get into the habit of carving out the time to prepare it.
Alternatively, why not try cooking a bit extra for evening meals, and then taking the leftovers to work with you for a cost-effective lunch?
4. Stop splashing out on snacks
Rather than buying snacks on the go from a vending machine or local shop during your work day, try stocking up on fruit and multi-packs of biscuits, crisps, nuts and energy bars the next time you go to the supermarket. You'll soon see the pounds start to pile up.
At the same time, rather than spending money on fizzy drinks, opt for water instead. It's better for you, and won't cost you a penny.
5. Don't overdo it on after work drinks
Prior to the pandemic, you might have finished work and gone for a drink with a friend, but as many of us can testify, a night in the pub can soon burn a hole in your pocket. To save money on both food and drink, make the most of 'Happy Hour' – typically between 5pm and 7pm – as well as other discounts.
Equally, if you're still not comfortable about socialising, then don't be afraid of saying no. Explain that this is just a choice you're making at the moment.
6. Cut commuting costs
If you have to drive to work, see if you can make savings by setting up a 'car-pool' with colleagues making a similar journey. This will allow you to share petrol costs.
If you commute by bus or train and only need to be in the office a few days a week, take advantage of 'flexi' tickets. This involves you buying a discounted booking of return tickets which you can use over a specified period.
If you only live a short distance from work, make this the month that you get on your bike, helping you boost your bank balance – as well as your fitness. Many workplaces run 'Cycle-to-work' scheme, which can help make costs more manageable.
7. Earn a bit of extra cash in your lunch break
If you've got a few minutes to spare while you're having your lunch, why not log on to a survey site, such as Swagbucks, Toluna or i-Say, where you can start earning cash with just a few clicks. Surveys typically take around 10-15 minutes. Check in regularly and you could make around £5 in an hour.
This is an easy way to boost your income, while also keeping you away from spending money shopping online – or in-store – during your lunch break.
8. Take advantage of work perks
Check out the perks on offer at work, such as a subsidised gym, and make use of this, rather than paying for a costly gym membership. And, if your workplace offers retail discounts, familiarise yourself with these so you can take advantage when you shop.
Also check out schemes, such as loans for rail season tickets or electronic equipment which allow you to spread the cost.
9. Don't go overboard on birthdays
Forking out for cards and a cake – and maybe even a gift – when someone in the office has a birthday, can soon mount up, so reach an agreement with colleagues. Put a sensible limit on the amount each of you chip in to a joint present, or think about making a donation to charity instead.
10. Keep an eye on your payslip
As our working lives gradually return to normal, now is a good time to get into the habit of checking your payslip. By doing this regularly, you will get a clearer picture of your finances. This will also ensure you're not on the wrong tax code, and paying more tax than you owe.