Ten tips to help you save energy in the kitchen this spring
Looking for ways to bring your energy bills down? Here's how to keep a lid on costs in the kitchen
At the start of April, millions of households saw their annual energy bills go up by almost £100.
The hikes followed the decision by regulator, Ofgem, to increase the price cap for standard variable tariffs from £1,042 a year to £1,138 a year.
If you have never switched supplier – or haven't done so in the past year or so – it's likely you're on one of these standard or 'default' tariffs. Typically, these tend to be the most expensive type of tariff.
While price hikes are never easy to stomach, many consumers are already struggling financially right now due to the pandemic and multiple lockdowns.
With this in mind, these latest increases in gas and electricity bills will be especially unwelcome.
That said, the good news is, there are plenty of simple steps you can take to keep energy costs under control.
Significant savings could be up for grabs by switching
While you might assume the price cap will protect you from price hikes, this is unlikely to be the case.
As there are a host of tariffs currently available which are more competitive than the price cap, the best way to reduce costs is by switching to a cheaper fixed deal.
Contrary to popular belief, moving to a new energy supplier isn't time-consuming or complicated. If you use a comparison site, it should only take you a matter of minutes to find a cheaper quote.
Fears about disruption to your service are also unfounded, as you still get the same gas and electricity through the same pipes and wires.Here at MoneySuperMarket, we can help you find the right deal for your needs. Carry out a comparison, and you may be able to save more than £306* on your bills. To find out more head here.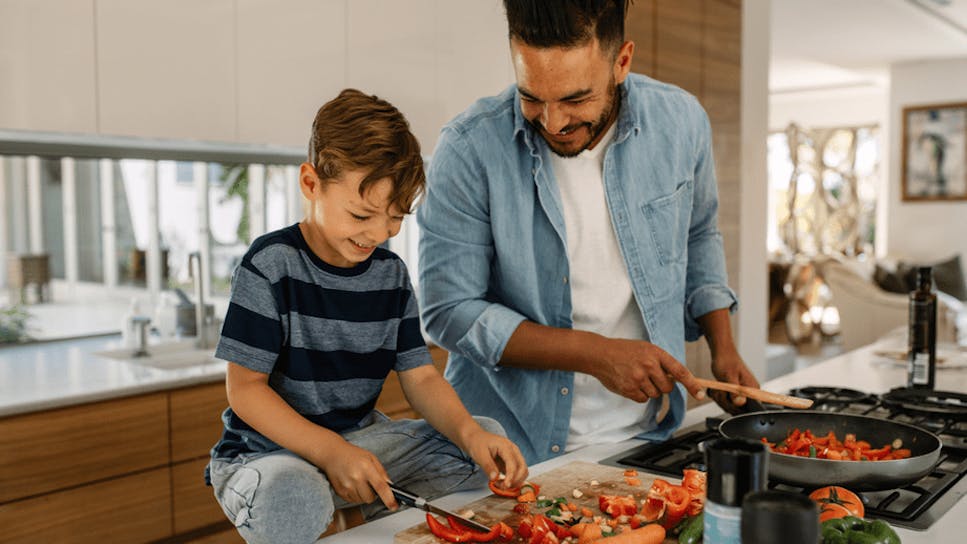 What else can I do to keep a lid on energy costs?
Aside from switching, there are plenty of other quick and easy steps you can take this spring to bring down your energy bills. And lots of those don't even require you to go beyond your kitchen. Here we take a closer look.
1) Switch to a slow cooker
If you've yet to try a slow cooker, this spring could be a great time to do so. Simply fill it with the requisite ingredients at the start of the day, and a delicious dinner will be ready for the whole family by the time you want to eat in the evening. Better still, the whole thing will have been cooked energy-efficiently.
2) Make use of your microwave
If you're only cooking for one, save energy by using the microwave to warm up your dinner. This is a lot more efficient than switching on your big oven.
3) Cover pans with lids
Always put lids on pots and pans. The water will boil more quickly and reduce the amount of energy you need to heat your food.
4) Don't keep opening the over door
When you've got food cooking in the oven, keep the door firmly shut. If not, you'll let the expensive hot air inside escape and waste energy. Peer through the glass door instead to see how things are doing.
5) Use the oven to heat your home
If temperatures drop a little this spring, then use the heat generated while you cook to warm your house.Simply leave the oven door after you've finished so surplus heat can transfer to the rest of your rooms.
You could also think about turning down your thermostat a little as the weather starts to get warmer. Nudging it down one degree Celsius could save you around £75 a year on your heating bills.
6) Take food out of the fridge before you start prepping your meal
By allowing food to warm up before you start cooking, you're not starting from such a cold temperature, meaning it will cook more quickly – so less energy is required.
Equally, never put hot food straight into the fridge, as the fridge will use a lot of energy just cooling it down. Give it time to cool first by leaving it out on the work surface – ideally covered to keep it fresh.
7) Fill up your fridge and freezer
Try and keep both your fridge and freezer at least three-quarters full. That way, they don't have to waste energy heating empty air. If your freezer is often empty, add some jugs or bottles of water to help it stay cool more efficiently. Better still, as summer approaches, why not stash it full of ice creams and lollies?
8) Don't leave microwaves and dishwashers on standby
While you can't switch off fridges or freezers, you can save money by turning off other appliances when you're not using them.
If you leave your dishwasher, microwave, and electric oven on standby, they will eat up electricity. Get into the habit of switching off these appliances at the wall.
By remembering to switch devices off standby, you can save around £30 a year.
9) Make sure the dishwasher is full
Only start your dishwasher when it is full, as this will make the best use of the water and energy required to clean a load. For the best results, stack dishes neatly in the trays. Further savings can be made by lowering the temperature a little.
10) Don't over-fill the kettle
Finally, many of us are guilty of filling the kettle up to the brim when we want a cuppa. But this spring, try heating just the right amount of water. By filling the kettle correctly, you could snip a neat £7 off your bills.
*30% of consumers that applied to switch via MoneySuperMarket saved at least £306.38, March-December 2020. Excludes NI, CI & IOM