10 money tips for your 20s
We asked our team (plus some savvy customers) to tell us one money tip they wish they'd known in their 20s. Here's what they said.
We're often told that our 20s are 'the best years of our lives' – a whirlwind of late nights and freedom where you can live your best life.
And while the newfound independence is great, it also comes with financial responsibilities.
But here's the thing, most of us weren't taught how to manage our money at school. Instead, we end up learning the hard way – through trial (and lots of error).
To help, we've sourced some essential wisdom from the 'been there done that' crowd, as well as some savvy tips from the MSM money experts who are still navigating their 20s.
It doesn't matter if you're in your early, mid or (a moment's silence please) late 20s, these tips can still work for you. Dive in, future you will thank you for it.
1. Build your credit history now and you'll see the benefit later
A good credit history gives you more options when it comes to getting credit. But it's not just about mortgages and loans.
Your credit rating also influences whether you can get a mobile phone contract, pay for your car insurance monthly or pay your energy bills by direct debit. Basically, the earlier you start to build your credit history, the better.
A good place to start is checking that you're registered to vote. Getting onto the electoral roll lets lenders check your identity, so it's a positive first step that'll likely give your credit score a boost.
If you're a student – or are soon to be one – it's highly likely your credit history is a blank slate. But don't despair, plenty of student bank accounts come with interest-free overdrafts. They can be a good entry into the world of credit – if you use them properly. Which leads us to our next tip…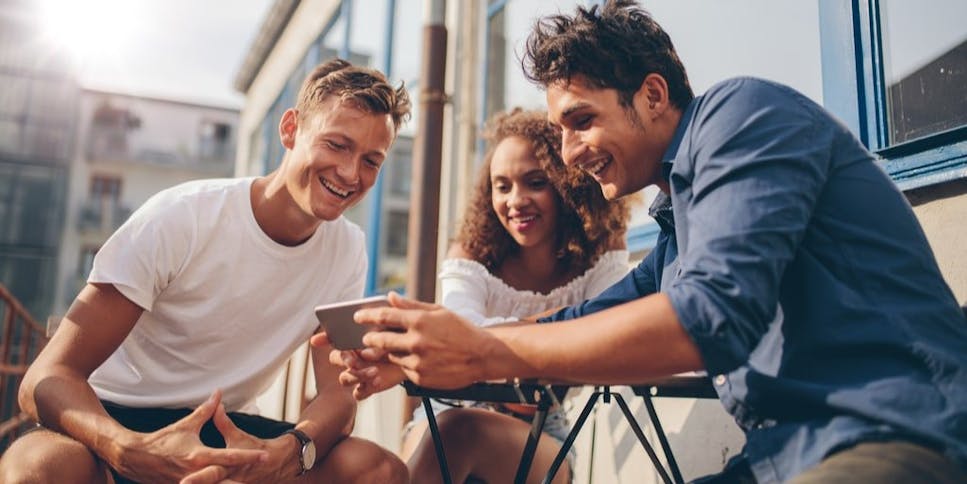 2. Don't rely on your overdraft
Whether it's 0% student or a regular overdraft, it's a debt, so you need to treat it with respect.
Instead of seeing your overdraft as part of your budget each month, only use it when you really need it. Helping with short term cashflow is okay (and much preferable to a payday loan). But funding your latest ASOS splurge? That's a slippery slope.
Always try to stay within your overdraft limit too – or you'll end up paying hefty fees.
Managing an overdraft sensibly and paying it off is a great way to build your credit history, which can help if you decide to apply for a credit card in the future. A seamless segue into our third tip.
3. Credit cards are useful, if you use them sensibly
When it comes to credit cards, it's right to be cautious – but they're not necessarily a bad thing.
Used properly, a credit card gives you the chance to build your credit history and show lenders you're a responsible borrower.
It's up to you how you use your card - if you think you might struggle to resist the temptation to splurge, it might be wise to hold off.
If you decide to go for it, a credit builder card is often a good place to start. Make sure you use an eligibility tool to check how likely you are to get the card you're applying for.
Try to only use your card for spending you've already budgeted for, then pay your balance off in full at the end of each month. That way, you won't pay interest.
If you can't pay your balance off in full in a particular month, pay as much as you can afford.
The key is to never miss a payment or pay late – this leaves a mark on your credit file that can stick around for up to six years. Setting up a direct debit is a good way to make sure you don't forget.
4. Learn how to create a budget, then stick to it
Budgeting is more of a life skill than a tip but if you can get the hang of it in your 20s, you'll be well on your way to mastering your money.
Done properly, a budget will help you:
See where your money is really going

Make sure that you have enough money to last the month

Set and work towards your goals (whether that's saving for a house, building up a rainy-day fund or booking that dream trip)
Not sure where to start? Here's some hacks to help you budget better.
Building a budget can pay off in other ways too. You might spot and cancel an unwanted subscription, or it might make you question why you're paying so much for certain bills. And on that note…
5. Switch EVERYTHING – Mehdi, our bills boss
Managing your own bills for the first time can be a drag, and it's easy to stick with the same deals when you've got better things to be doing. But loyalty – intentional or not – doesn't pay.
We know we're biased, but the easiest way to cut all sorts of bills is using a price comparison site to check if you could save. It only takes a few minutes, so think of it as a way to free up money for stuff you actually want.
Whether it's comparing car insurance prices instead of letting your policy auto-renew, switching to a cheaper broadband or mobile phone deal, or getting paid to switch bank account, there are lots of ways to save that don't require too much effort.
6. Spend smart – Lucy, our money maestro
We're not going to get preachy with you about cutting back on spending or tell you that bottomless brunches are the source of all evil.  We all need to spend money, so when you do, spend smart.
When it comes to spending online, that means making sure you're signed up to a cashback site like Quidco or TopCashback. Then, make a habit of checking if cashback is available any time you pay for something online.
On top of this, there are ways you can be smarter with your spending when you're out and about.
One of the best ways to stay in control of your socialising costs is by setting up a 'fun fund' as part of your budget. Digital banks like Monzo and Starling allow you to set up virtual pots for stuff like this, as well as letting you track your spending.
7. Save little and often – Jo, our savings sensei
When it comes to saving money, it's not the amount that's important, but the habit. If you can start to save a small amount each month in your 20s, you'll create good habits that'll pay off as (hopefully) your earnings grow.
The best way to get started is to create a budget that covers your outgoings (see tip 4). Then, you can work out an how much you can comfortably save each month (keep it achievable).
Then, pay yourself first. This means that you shift the money into a savings account on the day you get paid. A great way to do this is to set up a direct debit.
Another option is to use an app to save on the sly. Apps like Moneybox and Plum, plus banks like Monzo and Starling can all automatically round-up your payments to the nearest pound, with the extra cash going into a savings pot or account.
Once you've started saving, it's important to get the best return on your cash, so remember to compare savings accounts to find the top interest rate.
8. Make the most of compound interest
We'll try not to get too technical here.
Interest is the money you earn on your savings if you put them in a savings account or invest them.
But thanks to compound interest, you don't just earn interest on the money you deposit, you also earn interest on the interest. The longer you save for the bigger the effect, because you're constantly earning interest on the interest.
Why's this relevant in your 20s? Well, it means that the earlier you start saving or investing, the better. A pension is a great example. Retirement might seem ages away now, but the earlier you can start paying into a pension, the more time you're giving it to grow.
9. Get help to save for your own place – Rachel, our home honcho
Saving for your own home is a big deal. And while it could take a big chunk of your twenties to get there, there are ways to make it more achievable.
The first thing to do is set a savings total you want to reach, and a timeframe for when you want to reach it by. Then, break this total down into an achievable monthly saving. For example, if you wanted to save £15,000 over five years, that means saving £3,000 each year, which is £250 a month.
Once you have your goal, look at the different schemes aimed at helping first-time buyers.
Anyone aged 18-39 can open a Lifetime ISA, which allows you to save up to £4,000 a year tax-free towards your first home or retirement. The government then add a 25% bonus on top of what you save each year until you turn 50.
It's also worth looking at the Help to Buy Equity Loan and Shared Ownership schemes, which are focused on helping you buy a house, rather than save for one.
10. A side hustle needn't dominate your life – Esther, our self-employed specialist
Social media is full of influencers promoting the idea of having a separate stream of income alongside your regular job, and this trend only grew during the pandemic.
For some people, side hustles can be a great way of testing out a new career path, or as a way of making a passion into something more permanent. But working an extra job can be time-consuming.
If you have a passion that you want to pursue, it might be something to consider. But if you're just looking to boost your bank balance, there are other options that don't require as much effort or commitment.
Whatever you decide, it's key you maintain a healthy work-life balance. Whatever you've seen online, it's also completely fine to have no side hustle at all!