Ten car checks to carry out before hitting the road this summer
Planning a road trip getaway? Make sure you give your car a once-over before you set off
With so much ongoing uncertainty about holidays abroad this summer, many of us will be opting for a staycation instead, as this offers a safer alternative.
But before you head off on your UK road trip, you need to ensure your motor is up to scratch. This is especially important given that some vehicles have been standing idle for months during lockdown.
Here we take a look at the checks you need to complete before packing your car and hitting the road for a Great British break.
1. Check engine oil, brake fluid and battery
To check the oil, pull out the dipstick, use a cloth to clean it, put it back in, then check it again. Check the level of the brake fluid. Make sure your car battery is in good condition and fully charged.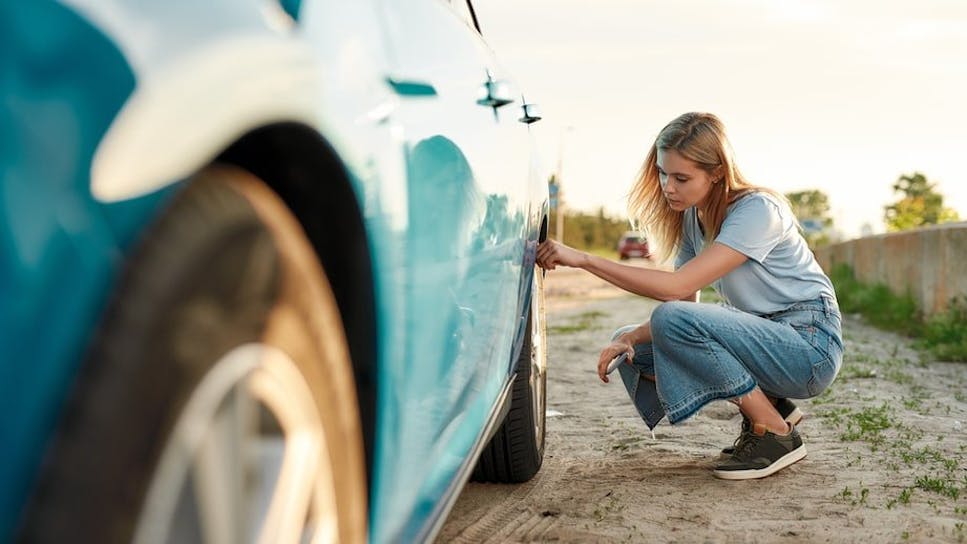 2. Check the coolant
It's important to keep your coolant topped up – if the car engine overheats, this can result in some serious engine damage. You should be able to locate the coolant tank under the bonnet. You need to ensure the level of coolant is within the minimum and maximum marks. If you think the tank needs topping up, dig out the owner's manual to find out what type of coolant is required. Crucially, only check the coolant levels while the engine is cold.
3. Clean the windscreen
Make sure you've got a clear view of the road. Check wipers are in good working order, and top up the windscreen washer if required. If there are any chips in the screen, get these fixed right away.
4. Check the tyre pressure
Confirm the tyres are inflated to the right pressure, and that there are no signs of any damage.
Be aware that the tread depth must be above the minimum legal requirement of 1.6mm. If you can't get your hands on a specialist tread gauge, a simple way to do this is by placing a 20p coin into the grooves on the tread. If you can see any part of the outer band of the coin face, your tyres are approaching the legal limit. Don't forget to check the spare tyre is in good nick, too.
5. Make sure all the lights are working
See that the headlight covers and clean and working as they should be. Walk around the car inspecting them one  by one. Replace any bulbs that have blown, or get a garage to do it.
6. Check out any warning lights
If your dashboard is showing any warning lights, dig out your car's handbook and fix any issues.
If you have any concerns, ask a qualified mechanic to take a look.
7. Use the right car seats and seatbelts for the kids
Make sure car seats are the right fit for your child's height or weight. This is essential to keep little ones safe. If you're unsure, go to a store such as Halfords for help. Make sure all seat-belts function correctly.
8. Plan your route
Before embarking on a longer journey, sit down and work out the best route to your destination. Make use of satnav or apps such as Waze.
Also plan out alternative routes in case the traffic is bad. Allow a little extra journey time in case there are delays. Remember to plan the best places for rest stops along the way. It's important to stop for breaks to stretch your legs and get some fresh air.
9. Prepare for long journeys
Pack plenty of snacks and water. If you have children, think of car activities such as audio books or podcasts which can help keep them entertained. If they have screens, make sure they are fully charged and that films have been downloaded ahead of setting off.
Don't forget to pack things such as a first aid kit, jump-start cables, reflective warning sign and a high-vis vest.
Keep a bottle of hand sanitiser to hand throughout the journey.
If you've not been driving much during lockdown, go out for a few shorter drives ahead of the big summer trip.
10. Check your cover, car tax and MOT
Before setting off on your summer break, make sure your car insurance is up to date.
If your car cover is up for renewal, seize the opportunity to shop around and make savings on your policy.
By comparing quotes with MoneySuperMarket, you may be able to save up to £235 on your premiums1.
What's more, when you buy car insurance at MoneySuperMarket, you'll get up to £150 of vouchers to put towards the cost of things like your MOT, servicing or shiny new tyres2. You can use your vouchers at over 1,000 UK garages too – so getting your car road trip ready needn't leave you out of pocket.
It's worth checking your breakdown cover as well to ensure you're getting the best value for money. You can compare breakdown deals here.
Don't forget to check your car tax is current and that your MOT is up to date. If any essential repairs are required, be sure to get these carried out before you head off on your holiday.
1
2