Pop a savings account in your child's stocking this Christmas
Stumped as to what to buy your little treasure? Why not choose a gift that will teach them how to save?
With less than two weeks to go until December 25, parents will be busy trying to work out what presents to wrap up and stick under the tree this year.
Top 'must-have' toys for Christmas 2021 include the Polly Pocket Rainbow Funland Theme Park, the Batman Giant Transforming Playset, and the L.O.L Surprise! OMG Movie Magic Studios.
But with inflation running high and an interest rate rise widely-anticipated, many families may be feeling the strain on their festive budgets.
With this in mind, rather than splash cash on presents that may only get played with a few times before being discarded, why not think about putting something a little longer-lasting in your little one's stocking this year?
Pick a financial gift
Christmas is a great time to teach little ones about the value of money – and how to look after it.
Admittedly, a junior ISA or children's savings account may not be particularly exciting to unwrap on the morning of December 25.
But a gift such as this could grow into a very welcome nest egg by the time your son, daughter or grandchild turns 18 – and they will be grateful one day.
There are now a whole host of ways to gift money. Here we take a closer look.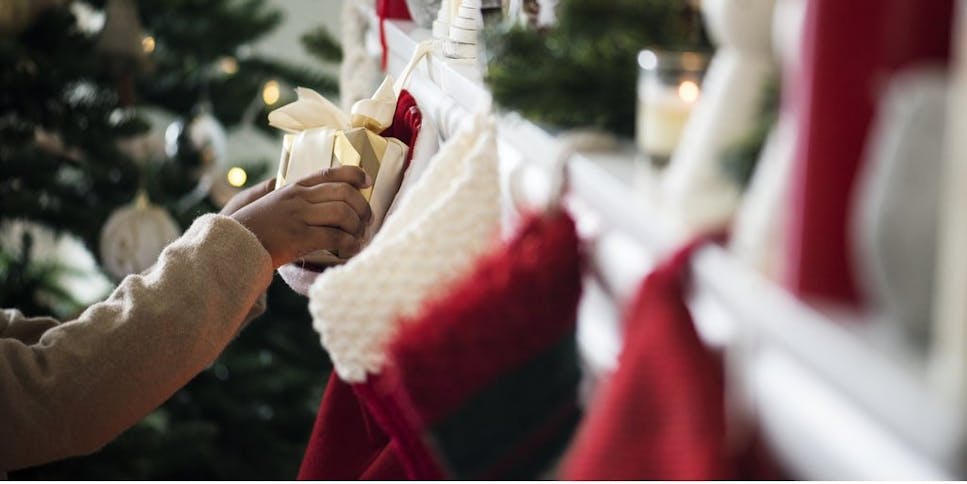 Set up a junior ISA
A junior Individual Savings Account (ISA) is a tax-efficient, long-term savings account which you can open for your child.
Once set up, parents, grandparents and other family members can pay up to the savings limit, which currently stands at £9,000 each year. All returns are free of tax, and the money cannot be accessed until the child turns 18.
At this point, the junior ISA converts to an adult ISA.
As a parent, the key decision to make is whether to opt for the cash option, or the stocks-and-shares option.
Right now, you can get a rate of 2.25% with Tesco Bank and Coventry Building Society, and 2% with the Halifax.
While money held in cash is safe, as it's protected under the Financial Services Compensation Scheme, rates on savings are not super competitive at present. Matters have not been helped by inflation running high.
Given the time-frame, stocks and shares are likely to produce a better return. But you need to research carefully, and be aware that investing is not risk-free.
To find out more, head here.
Open a dedicated children's savings account
If you are searching for a super simple way to start squirreling money away for your son or daughter, you might want to consider a children's savings account.
Good basic accounts help children understand everyday money.
While this type of account is not tax-free, children are unlikely to earn more than the personal allowance of £12,570.
Remember to shop around for the best rates.
Right now, HSBC is paying 2.5% on its MySavings account and Buckinghamshire Building Society is paying 2%. Note that Buckinghamshire's account is a notice account, requiring 100 days' notice. Both Bath Building Society and Hinckley and Rugby Building Society are paying 1.8% on their instant access accounts.
Higher rates may be up for grabs on regular saver accounts, but be sure to read the Ts and Cs, as these accounts often come with lots of strings attached.
Saffron Building Society is paying 3.02% fixed for a year on its regular saver, and you can save up to £100 a month. Be aware though, that while you can access your cash with this one (which is unusual for this type of account), it must be opened by post or in branch.
Elsewhere Halifax is paying 2.5% on its account where you can also pay in up to £100 a month. But you cannot get your hands on your money unless you shut the account.
Find out more here.
Purchase premium bonds
As a parent, you can buy premium bonds on behalf of your child, starting from as little as £25. Your little one can hold up to £50,000 worth, but the bonds must be held in the parent's name until the child turns 16.
These could make for a more 'exciting' present for your little one, as the bonds are entered into a monthly prize draw with the chance to win tax-free prizes ranging from £25 to £1million.
While this can make them more fun – plus the fact they are100% backed by HM Treasury means they are a safe option – you need to be aware that premium bonds don't pay interest.
What they do pay is a 'prize fund rate.' The rate has dropped and now stands at 1%. There's also the chance the bonds will earn nothing at all, meaning your son or daughter won't get any return at all on their money.
Make sure you go in with your eyes open.
Open or top up a pocket money app
Another good way to teach your little one about the value of money – and how to manage it – is with a pocket money app. Popular apps include GoHenry, Osper, Nimbl and Rooster Money.
But do your research to understand how each of these works. That way, you can be sure of choosing the app that is right for your little treasure.
Read more about teaching your child about money here.
Start saving into a pension
Finally, you might not be aware of this, but you can open – and invest into – a pension on behalf of your child. This will help them enjoy a wealthier retirement.
As with a junior ISA, this is a tax-efficient savings option, meaning there is tax relief on the contributions.
You can invest up to £3,600 and claim 20% tax relief, so it effectively only costs you £2,880, with the Government paying the remainder.
The child won't be able to access this money until their mid-50s, meaning this really is a long-term savings product. Given this, you are perhaps best only thinking about a pension once other more accessible savings options are in place.
Please note: any rates or deals mentioned in this article were available at the time of writing. Click on a highlighted product and apply direct.