It's time to knock your finances into shape
It's the most wonderful time of the year… to give your money a makeover
Ask people what they've done in the period between Christmas Day and New Year's Eve, and they'll often reply that those days go by in a blur of over-eating, box-set bingeing, and never quite knowing what day it is.
So, this 'Twixmas' why not do things a little differently? Those quiet days could be the perfect time to pay a bit of attention to your finances and get a bit of 'life admin' sorted.
By giving yourself a little money makeover now, you can kick off 2022 with your finances in good shape.
Here's some of the things you could do.
Switch your current account
If you've stuck with the same bank for as long as you can remember, seize the moment and get switching.
Think carefully about how you use your current account. If you spend more time in the red than in the black, look for an account with a decent overdraft offering.
If you manage to say in credit, seek out an account that pays a bit on balances in the black.
Also take a look at current accounts which pay cashback on certain direct debits, as this means you'll get money paid into your account just for paying your council tax or mobile phone bill. This can be a nice little boost to your bank balance.
Right now, a host of accounts are offering switching incentives, too.
For example, you can get £150 when you switch to HSBC via MoneySuperMarket. You can also get £100 if you move to First Direct, while Virgin Money's account is offering a £150 experience day voucher.
But don't get distracted by the freebie. Always choose a current account because it's right for your needs.
To compare current accounts, head here.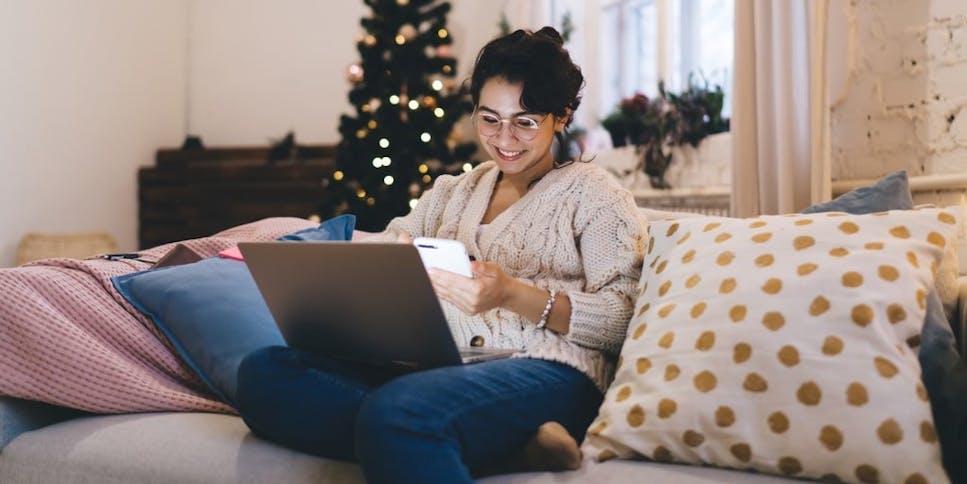 Check your direct debits
Surveys repeatedly show that many of us are handing over money each month for subscriptions we neither need nor want.
Findings also show that an amazing number of people rarely, if ever, check what is leaving their accounts.
Use these days between Christmas and New Year to go through your bank statements with a fine-tooth comb and see if you've got any direct debits you can cancel, such as a gym membership, a theatre membership or a music streaming service. Also take action now to stop paying for insurance for items you no longer own.
Switch to a balance transfer credit card deal
While it's not unusual to have a bit of outstanding debt on your credit card, if you pay this off in small amounts, a chunk of your monthly repayment will go towards interest charges – rather than repaying the actual debt.
That is, unless you have a 0% balance transfer card.
These cards are a great tool for clearing debt: they have a set period where no interest is charged on your balance. In other words, every penny you pay will go towards reducing the amount you owe.
This can be a great way to consolidate smaller debts in one place.
There are some fantastic deals around right now, with interest-free periods of as long as 29 months. This gives lots of breathing space, with almost two-and-a-half years to pay off what you owe.
To find out if you're eligible for the cards with the best rates, make use of our eligibility checker tool.
Note, though, that when moving your balance onto a 0% balance transfer card, you will have to pay a transfer fee. This is usually around 3%, with a minimum charge of about £3. So if, for example, you transferred a debt of £1,200, you would pay a £36 fee. Be sure to factor this in.
Also do all your can to clear your balance before the 0% deal ends.
Get a 0% purchase card for your spending
If you are planning a few big purchases in the January sales, you might want to think about a 0% purchase card.
These pieces of plastic are designed for shopping, but offer an interest-free period on your new spending.
Right now, there are some great deals up for grabs on purchase credit cards, with some offering up to 22 months at 0%.
Be sure to check the interest rate at the end of the interest-free period, and aim to have cleared your balance in full before the offer ends.
Don't forget that you get added protection under Section 75 of the Consumer Credit Act. This safety net applies to goods costing more than £100 and up to £30,000.
Shop around for your bills
At present, the advice is not to switch your energy tariff. We will let you know as soon as this advice changes.
In the meantime, there are lots of other bills you can switch to make savings.
Check to see when your car insurance, home insurance, mobile phone tariff, broadband and other bills are due to an end. Be sure to shop around to get the best prices you can find.
For example, shopping around for a better deal with MoneySuperMarket could save you up to £100 on your broadband.
Check you're on the best mortgage
Mortgage rates are at rock bottom right now, but given the widespread expectation that interest rates are going to rise soon, it makes sense to lock into a cheaper home loan now before rates start to go up.
While homeowners have been able to get deals at sub 1%, we are seeing lenders starting to put their rates up – in anticipation of a rate hike.
If you're currently on a fixed-rate deal, be sure to shop around before it ends. If not, you will find yourself on your lender's standard variable rate (SVR) which could be costly, plus it will go up as soon as interest rates rise.
A good tip is to put a note in your diary three months before your mortgage deal is due to end to remind yourself to start shopping around so you can switch to a cheaper provider.
Remember: your home may be repossessed if you do not keep up repayments on your mortgage.
Maximise your savings
With inflation running high (currently at 4.2%), you need to be aware that the spending power of your hard-earned cash is being eroded.
Right now, savings rates are particularly exposed, and falling behind inflation.
As inflation can eat away at your savings, it's important to shop around for the best rates you can find. To compare rates, head here.
For more tips on how to beat inflation, head here. 
Please note: any rates or deals mentioned in this article were available at the time of writing. Click on a highlighted product and apply direct.