How to improve your home for less
Planning to crack on with DIY? Here's how to add value to your home for less.
If you're at home more and looking to spruce it up, there are a number of projects you can tackle yourself that could increase your home's value without having to spend much. Here are seven.
1.       Focus on the front of your home
First impressions count, so if you're planning to sell your home in the near future, spend some time making sure the outside of your home looks smart. Clean the outside of the building, as well as the windows and doors, and give the front door a fresh coat of paint. Remove any weeds on the front path or driveway and sweep up leaves and other debris.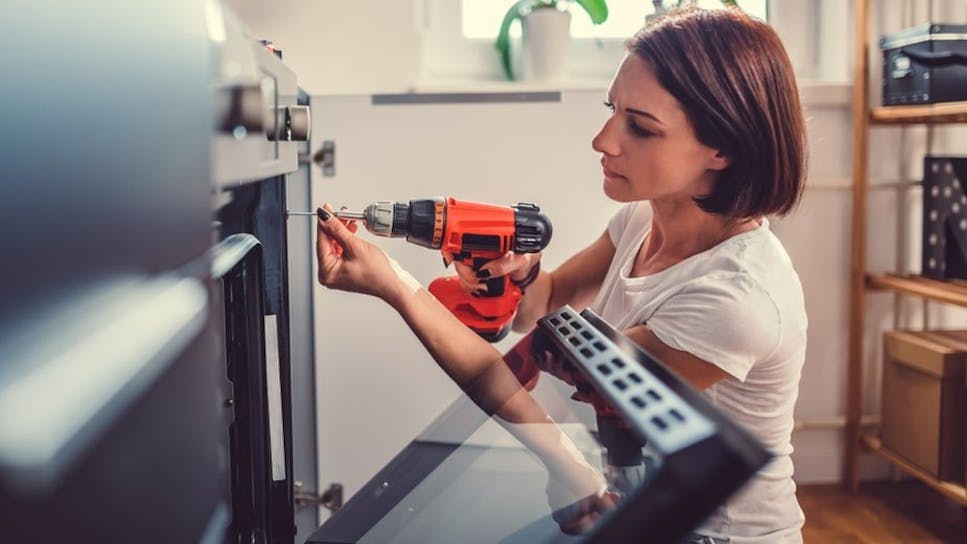 2.       Repaint walls in neutral colours
Repainting your home in neutral colours – white for the walls and ceilings – can give it a fresh and brighter look, as well as increase your property's value. Neutral tones create a blank canvas for potential buyers to work with, but you can add splashes of colour through accessories to brighten up rooms.
3.       Revamp the kitchen
The kitchen is a key focus point for potential buyers, but if yours is looking a little tired, the good news is you don't have to spend thousands on major renovations.
Instead, add stylish new handles and give the cupboards a lick of paint – just make sure you prepare the cupboards properly and use primer first. Alternatively, you can buy sticky-back plastic relatively cheaply from places like B&Q and Wilko to cover kitchen cupboards or worktops and give them a new lease of life.
If you're feeling brave, you could also update your kitchen tiles. Alternatively, you can invest in self-adhesive wall tiles and splashbacks in a variety of colours and patterns that can give your kitchen an easy makeover.
4.       Boost your bathroom
A fresh coat of paint, plus cleaning grout and removing mould and limescale can instantly make your bathroom look smarter. A new showerhead, toilet roll holder and toilet seat can also add to the overall look and needn't be expensive.
5.       Replace light switches and plug sockets
If your light switches and plug sockets look a bit dated, get them replaced – you'll be surprised at how much of a difference it makes. Adding USB points for charging phones and tablets can also be a great selling point. A word of warning though – you should only attempt this is if you are confident you know how.
6.       Hang new curtains or blinds
Replacing old and tired curtains and blinds with stylish new ones can instantly make a room feel more inviting and appealing. Lined curtains will help with insulation and ensure they hang well. It can be worth paying a little more for made-to-measure curtains to get the ideal fit.
7.       Spruce up the garden
Better weather and the arrival of spring provide the perfect opportunity to get out in the garden and give it a bit of love and attention. Mow the lawn, get rid of weeds, cut back overgrown trees and shrubs and plant some colourful flowers in borders and pots. Alternatively, invest in some pre-planted pots instead.
If you don't have a lawn, make sure the patio is weed-free and consider fixing any broken patio slabs. You can use a mix of builders' sand and cement to fill in gaps between the slabs.
Think about home insurance
Before starting any DIY jobs, it is always worth reading the small print of your home insurance policy to check whether you will be covered if something goes wrong.
If your policy includes accidental damage cover, you'll be covered if you spill paint on the carpet (when included with contents insurance) or burst a pipe when drilling (when included with buildings insurance). Keep in mind, however, you won't be covered if you attempt to carry out work you are not qualified for – such as plumbing repairs.
It is also worth speaking to your insurer to find out if you need to increase the 'sum insured' on your buildings and contents insurance once you've completed your DIY tasks. If you have splashed out on new curtains and other furnishings, for example, your existing policy may not offer sufficient cover, so you'll need to update it.
You should also check how much cover you have for your garden, particularly if you've spent a lot improving it. Read more in our guide on garden insurance.
Finally, if you are planning a little more than DIY and are looking to have major renovations carried out, such as an extension, you should contact your home insurance provider before work starts to see whether you will be covered – you can find out more in our article: Are home improvements covered by home insurance?