Four ways an electric vehicle can help beat the cost of living crisis
There's never been a better time to go electric – here's how it could save you money this winter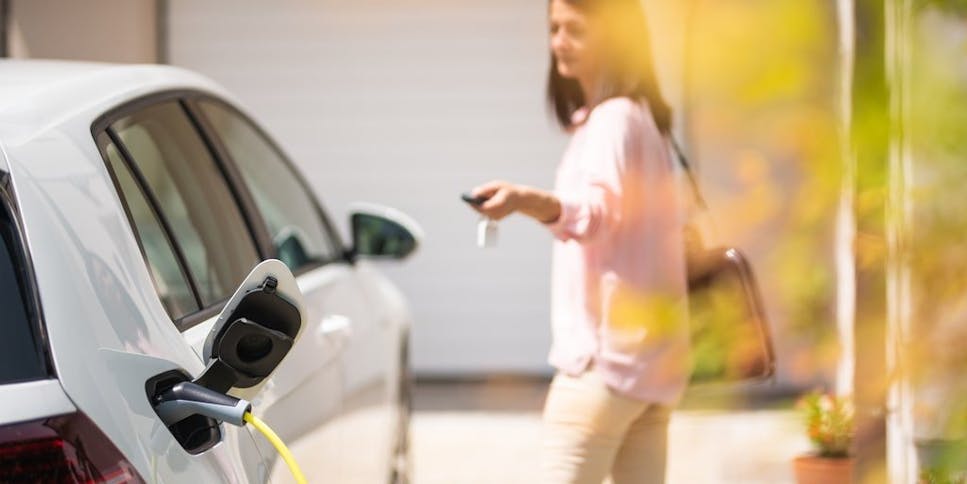 Everyone knows electric vehicles are better for the planet – but as fuel costs soar, switching to electric could also be kinder to your wallet.
There are still upfront costs to consider, but with government incentives it's now possible to knock thousands of pounds off the cost of a new electric car. And even if you buy a used car, they'll still compensate you for installing a charging port in your home.
It's an investment – but once you've bought an electric car, you'll see the savings every week. And as we're all facing heavier bills this winter, switching could be just the thing to help even out your budget.
Here are just a few of the ways going electric can help.
1. Save on fuel
We all know that fuel costs are rising – according to government data, the cost of a full 50-litre tank has jumped up over 10% in the last six months alone, to a hefty £73.50.
And while our electricity bills are going up too, electric cars are still much more efficient. That 50-litre tank could get you 400-500 miles, but fully charging an electric vehicle with an 200-mile battery would set you back just £12.
In other words, if you're driving around 8,000 miles per year, switching to electric could save you anywhere from £720 to over £1,000.* Electric cars are still a little more expensive upfront than petrol versions, but it'll pay back the difference in a few years. And if the price of petrol keeps rising, that period could get shorter and shorter.
Because our electricity comes from multiple sources – oil and gas, but also nuclear and renewables like wind and solar – it's cushioned from some of the volatility of petrol prices. So when you invest in an electric car, you're also protecting yourself against changes in the price at the pump.
* Range reflects a fuel efficiency of 400-500 miles per 50l tank. Calculations based on an annual mileage of 8,000 miles, wholesale electricity prices of £175.52/MWh (correct as of December 2021) and average pump prices of 147p per litre (correct as of February 2022). Both fuel and electricity prices can change.
2. Save on maintenance costs
Electric vehicles have fewer moving parts, no oil to change, and clever braking systems which don't have to work as hard – so maintenance costs can be a lot lower than with a petrol or diesel car.
The price of spare parts keeps going up around the world, even ahead of rising inflation. Going electric means you're less likely to feel the pinch, and it could save you on your insurance too.
3. Save on tax
There are big tax benefits for electric vehicle users. First and foremost, you don't pay any road tax.
What's more, those in the capital are exempt from the congestion charge in central London.
As things stand, most cars have to pay this £15-a-day charge. This operates every day of the week between 7am and 10pm (with the exception of Christmas Day).
In addition, if a vehicle doesn't meet the emissions standards, drivers also have to pay a £12.50 ultra-low emission zone (ULEZ) charge. The ULEZ operates 24 hours a day, seven days a week (with the same exception of Christmas Day).
But those who own an EV are exempt. As a result, you may be able to save £27.50 every day by going electric – or opting for certain plug-in hybrid models.
This will be helpful not only in the capital, but also in a host of other cities across the UK which have plans to introduce an ULEZ in the next few years, to bring down the number of high CO2-emitting vehicles driving through busy built-up areas.
That said, this exemption isn't going to last forever, with EVs set to be charged from 2025 onwards.
4. Save with government incentive
In a bid to persuade motorists to make the move to electric, the government has, for several years, offered a number of incentives.
If you want to purchase a fully electric car costing less than £35,000, you are currently eligible for a grant capped at £2,500. This is available whether you buy your car on finance – or outright.
There are also generous tax breaks on offer through salary sacrifice schemes.
At the same time, the government also offers a grant to help towards the cost of installing a charging point at your home. This is capped at £350 (including VAT). As a guide, the cost of installing a charging point, before grants, is usually around £800.
You can find out more about the grants available by visiting the Office for Zero Emission Vehicles.
The future is electric
We'll all be switching to electric soon enough – the government plans to ban the sale of all new petrol and diesel cars by 2030. But why wait? Now more than ever, it makes sense to get in a greener car and start seeing some savings.