How to save on energy bills if you're continuing to work from home
Is working from home going to be the new normal for you? Here's the lowdown on how to stop your energy bills creeping up as you spend more time at home.
As lockdown eases and we start to think about returning to our old routines, many companies are encouraging staff to continue working from home for at least part of the week. 
If working from home is going to become a longer-term arrangement for you, it's worth thinking about your gas and electricity bills. 
More time at home means higher than normal energy usage, as you're likely to have the heating turned on more, boilers working more, and the lights switched on for longer.
This, in turn, means more expensive bills landing on your doormat – or dropping into your inbox.
But while you may be worried about creeping energy costs, there are plenty of simple steps you can take to keep a lid on costs.
Here we take a closer look.
Notch your thermostat down by one degree
Turning your thermostat by just 1°C can save you as much as £75 per year. Think about putting on jumpers and other extra layers so you won't be tempted to turn the heating back up when the weather gets colder.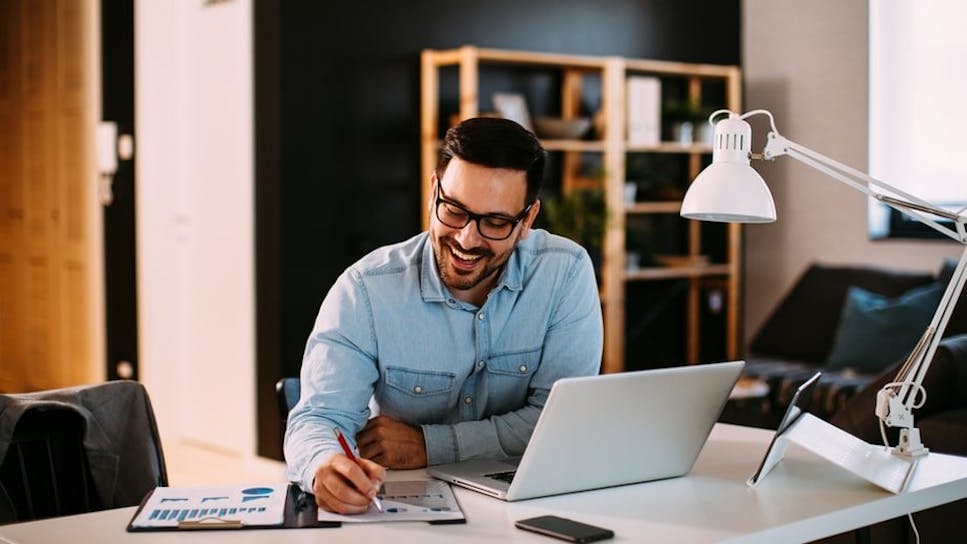 Bleed radiators
Use a key to bleed radiators regularly. This will keep them working effectively.
Put rugs on floors
Carpets will mean your floors are better insulated – and that your house will stay warmer. Thick rugs will also do the job.
Reduce water usage in the bathroom
Look into replacing your current showerhead with a 'low-flow' one, as these significantly reduce the amount of water you use when you shower. Try taking a shorter shower. Also think about changing your toilet cistern to a 'low-flush' version or if you have an older loo, see if you can fit a 'dual flush.'
Be water and energy conscious
Only use your dishwasher or washing machine when you have a full load, and, when boiling the kettle, only put in as much water as you need.
Switch to energy-saving lightbulbs
Replace old, inefficient lightbulbs with modern LED bulbs, as these will help you save on your energy bills. Also remember to turn all lights off when they are not in use.
Don't leave devices on standby
Save money by switching electronics off, rather than leave them on standby.
Don't heat empty rooms
If bedrooms aren't in use during the day, don't heat them. Make use of radiator controls.
Move furniture away from radiators
Check that armchairs and sofas aren't obstructing radiators. By leaving radiators clear, you can help more warmth get into a room. Note that radiator reflector panels are a cheap way of conserving energy.
Close curtains at dusk
This will help you to help keep heat in. Also ensure curtains are tucked behind radiators to avoid wasting heat.
Make use of draught excluders
Place draught excluders at the bottom of doors. You can buy these relatively cheaply – though old towels will also work. Get brushes to cover your letterbox.
Insulate your pipes
Invest in some DIY insulating foam to lag your pipes. Foam can be bought and cut to size for just a few pounds per metre.
Wrap up your water tank
Buy a 'jacket' to help reduce heat loss from your water tank.
Make sure you're on the best energy deal
If you haven't switched for a while, now is the time to make sure you're on the best possible deal for your energy.
If you're approaching the end of your energy contract, seize the opportunity to switch supplier to get greater savings.
Compare deals across the market. Note that if you want to 'go green' you may also be able to find a reasonably priced renewable tariff which comes in cheaper than the price cap.
Switching supplier is easy – and only takes a few minutes online.
It's also worth signing up to our Energy Monitor alerts when you run a quote. Simply tell us the amount you'd like to save, and we will automatically let you know when there is a deal available with the requested savings.
Give some thought to longer-term measures that could make your home more sustainable
While some of the steps below will involve a hefty cost at the outset, over time, you will reap the rewards in terms of savings on your energy bills:
Invest in a new boiler. If your boiler is more than 12 years old, it's time to think about an energy-efficient replacement.

Invest in loft insulation – and cavity wall insulation.

Replace windows with double-glazing. Better still, go for high-performance triple glazing where possible. This will help insulate your home, conserve heat, and also make your living space quieter.

Consider installing solar PV panels on your roof. These use the sun's energy to power your home.

Note that from September 30 2020, the Government began offering homeowners in England vouchers worth up to £5,000 to make their homes more energy efficient. Read more about the Green Homes Grant.