Coronavirus travel restrictions
What are the current restrictions in place for UK travellers as a result of the coronavirus pandemic?
The coronavirus pandemic has caused chaos amongst the travel industry, with many of us confined to our homes or at least our local areas. As the lockdown rules change, so do travel restrictions – so it can be hard to keep up with exactly what the rules are concerning where we can and can't go. 
What are the restrictions currently in place for travelling abroad?
There are currently no restrictions in place on travelling internationally from England.  
However, the Foreign, Commonwealth & Development Office (FCDO) is still advising against non-essential travel to certain countries and territories – you should not travel to countries or territories on the government's red or amber lists. 
You can check the specific travel advice page for your destination on the government's website. 
Planning for travel 
Travel restrictions may change at short notice, so you should always keep up to date with any rules or guidelines in place so you can be best prepared for your travels.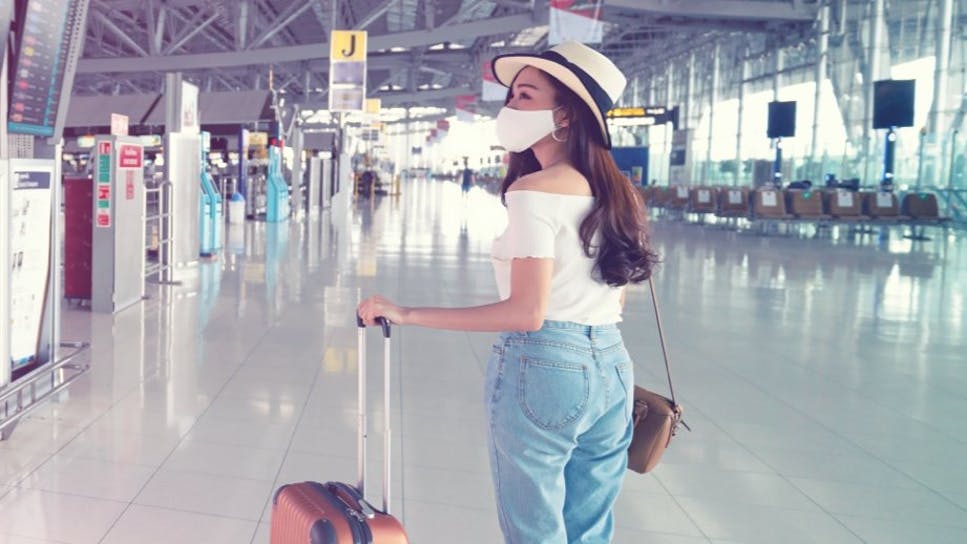 Where can I currently travel to?
The government have green list of countries and territories to which you can travel – these currently include: 
Australia 

Brunei 

Falkland Islands 

Faroe Islands 

Gibraltar  

Iceland 

Israel and Jerusalem 

New Zealand 

Singapore 

South Georgia and South Sandwich Islands 

St Helena, Ascension and Tristan da Cunha 
What should I do before I travel abroad?
Before travelling, or even booking your trip if possible, you should try to do the following: 
Subscribe to travel advice email alerts for your destination  

Check your destination's travel advice page for entry restrictions or testing and quarantine requirements 

Use a private test provider if you need a negative COVID-19 test to enter your destination, as the test and trace programme does not provide the documents you will need 

Read about your rights and responsibilities before, during and after travel 

Ask your accommodation provider about their safety measures for COVID-19 

Check the advice of local authorities in the area you're travelling to, as they can change with little warning 

Ensure you have a facemask for travel 

Take out travel insurance with the right level of cover 
What should I do while I'm abroad?
Continue to stay up to date with the travel advice and restrictions in place for your location – this can help you plan for unexpected delays, border closures, restrictions on movement, and testing and quarantine requirements. 
It's useful to make contingency plan in case you do have to be away longer than you initially intended – try to ensure you have access to extra money should there be any delays. 
Remember to also stay in contact with your travel provider to stay up to date with their transport schedule. You can also check the government advice page if you aren't able to return to the UK due to COVID-19. 
What if I'm diagnosed with COVID-19 while abroad? 
If you're diagnosed with COVID-19 while abroad, you will likely be required to stay where you are until you've recovered – and you may also have to quarantine. 
What if travel advice changes while I'm abroad? 
If you're abroad and the government travel advice for the country you're in changes, you should follow the local advice – you are advised not to immediately come back to the UK. Should you decide to try and end your stay abroad early, you should contact your airline or travel provider to see what your options are, and start taking steps to return safely. 
You can also try contacting the nearest British embassy, high commission or consulate for urgent help. 
What should I do when preparing to return to the UK
You will need to take a COVID-19 test and show a negative result up to three days before departing for the UK – even if you're a British national returning home. You'll also need to fill out a passenger locator form. 
When planning for your return to the UK, keep in mind the country you're returning from as well as any you've travelled through along the way: 
If it's a country on the red list, you must book a stay in a managed quarantine hotel 

If they're on the amber list, you will need to book a COVID test while under quarantine rules for arriving in England 

If they're on the green list ,you'll have to book a day 2 COVID test 
You can check the government page for a list of those exempt from border restrictions, while if you're travelling from Ireland or another country in the Common Travel Area, these rules won't apply to you. 
What should I do when I arrive back in the UK?
When you've arrived in the UK, you'll need to follow the rules that apply to you based on the country or countries you've visited.  
If you've travelled from a country on the amber list, you may be able to reduce the time you spend in self-isolation by paying for a COVID-19 test under Test to Release.