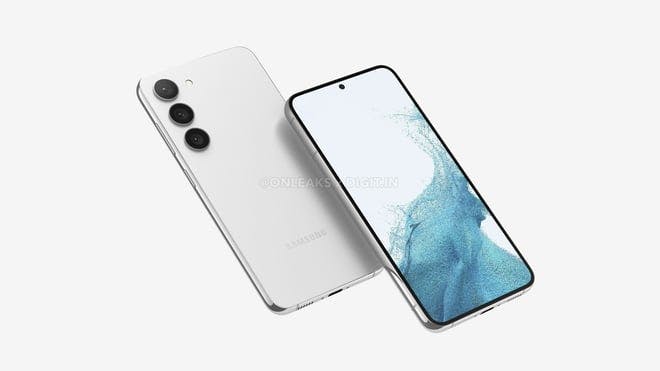 Get the lowdown on the upcoming Samsung Galaxy S23, from its planned release date to new features. Read on to find out all we know so far.
Image credit: Onleaks
When will the Samsung Galaxy S23 be released?
Historically, Samsung always releases its latest Galaxy S handsets in January or February every year. It will announce the Samsung Galaxy S23 line-up at its Unpacked launch event, with pre-orders opening shortly afterwards.
Whether that'll be in January or February for the Galaxy S23 is yet to be confirmed. The Galaxy S22 launched in February 2022, so it would make sense to neatly introduce the new S23 one year later.
At any rate, it's safe to expect an early 2023 release for the Galaxy S23.
How much will the Samsung Galaxy S23 cost?
There aren't any solid figures for prices just yet. Still, we doubt the S23 range will deviate too much in price from the previous S22 and S21 generations.
At launch, the base Galaxy S22 went on sale with a starting price from £769, the Galaxy S22 Plus from £949 and the S22 Ultra from £1,149. Based on the S22 range, you can expect similar launch prices for the S23 models, although worldwide inflation may bump up the prices by a bit.
What new features will the Samsung Galaxy S23 have?
It's highly likely that the Samsung Galaxy S23 will come running with Android 13, Google's latest operating system.
As for chipset, it'll be powered by the latest Qualcomm Snapdragon 8 Gen 2 chip. Previously, European handsets were given Samsung's own Exynos chip, which generally performed worse than its Snapdragon counterparts. So, this change means that all phones will run on the same chipset, regardless of region.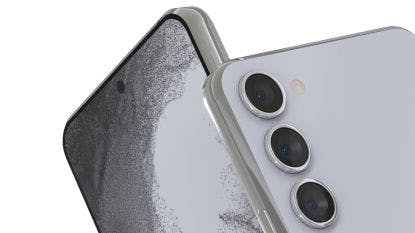 Image credit: 4RMD
Samsung Galaxy S23 design
As with many phone releases these days, the latest Samsung Galaxy S23 is unlikely to stray far from the design of the previous year's Galaxy S22.
Still, online renders suggest that the Galaxy S23 has done away with the metal contour cut camera module found on the S22 and S21 models. Instead, the S23 and S23 Plus are likely to follow the same camera design as the S23 Ultra, with each camera lens embedded in the body of the phone. Meanwhile, the S23 Ultra is expected to stick with the design of the S22 Ultra, including stylus support for the S Pen.
Dimensions remain largely the same across the board, although each model is reported to measure slightly larger and thicker than its predecessor. For example, the S23 Ultra is tipped to measure 6.43 x 3.07 x 0.35 inches – a small increase over the S22 Ultra, at 6.42 x 3.06 x 0.35 inches. This could be due to rumours of larger bezels for better durability, although this hasn't been confirmed yet.
As for colour options, it seems the S23 and S23 Plus will offer at least four choices: beige, black, green and light pink. Samsung also released an array of online-exclusive colourways, as well as a later-announced purple S22. Whether that'll be the same for the S23 remains to be seen.
Samsung Galaxy S23 screen
According to leaks so far, the Samsung Galaxy S23 and S23 Plus will have the same screen size and resolution as the previous S22 line-up. In which case, Samsung will offer a 6.1-inch S23, a 6.6-inch S23 Plus, and a 6.8-inch S23 Ultra.
Nevertheless, it's been tipped that the Galaxy S23 Ultra will feature an upgraded display, although this is likely to be a minor, rather than major, improvement.
Samsung Galaxy S23 battery
One criticism of the Samsung Galaxy S22 was battery life, so a bigger battery capacity is high on everyone's wish list for the S23.
Fortunately, rumours indicate that the Galaxy S23 and S23 Plus will receive bumps of 200mAh in battery capacity, which means batteries of 3,900mAh and 4,700mAh respectively. However, the S23 Ultra will stick with a 5,000mAh battery.
Nevertheless, a new chipset and power efficiency measures (such as a "Light" power mode) should help prolong the battery life of all Galaxy S23 models.
Samsung Galaxy S23 camera
Camera specs are always a hotly anticipated feature, and it's one aspect of the S23 that is likely to come with an exciting upgrade.
The Samsung Galaxy S23 Ultra is purported to sport a whopping 200MP main camera – a significant step up from the Galaxy S22 Ultra's 108MP camera. This will present a huge leap ahead in photo and video quality, putting the S23 Ultra in competition with the likes of the iPhone 14 Pro and Google Pixel 7 Pro.
As for the Galaxy S23 and S23 Plus, they're likely to both come with a new 12MP front camera. Given that selfie resolution has stayed the same since the Galaxy S10 in 2019, this is a welcome upgrade. However, so far it seems there won't be any changes to the rear camera hardware.
Will Samsung release a Galaxy S22 FE?
Samsung introduced its first FE model in 2020, with the Samsung Galaxy S20 FE. Standing for "Fan Edition", the FE models are the more affordable and toned-down versions of the main S line.
Unlike the flagship S range, the FE models don't have a regular release schedule. The Galaxy S20 FE was released in October 2021, while the Samsung Galaxy S21 FE launched slightly ahead of the S22 in February 2022.
So far, there hasn't been word of any Samsung Galaxy S22 FE model, with some rumours indicating that it has been cancelled altogether.