Choosing between the two best Android smartphones of 2022 is no easy feat. Let's compare the pair in detail, to help you make the best decision.
Overall winner in snapshot:
To cut to the chase, you're well served by either handset here. There's not a lot between the Google Pixel 7 Pro and the Samsung Galaxy S22 Ultra – they're both superb premium smartphones.
For us though, the Samsung just pips the Pixel to the finish line. The quality of its display is unmatched, the battery lasts a little longer, and it just feels so much better to hold in your hand.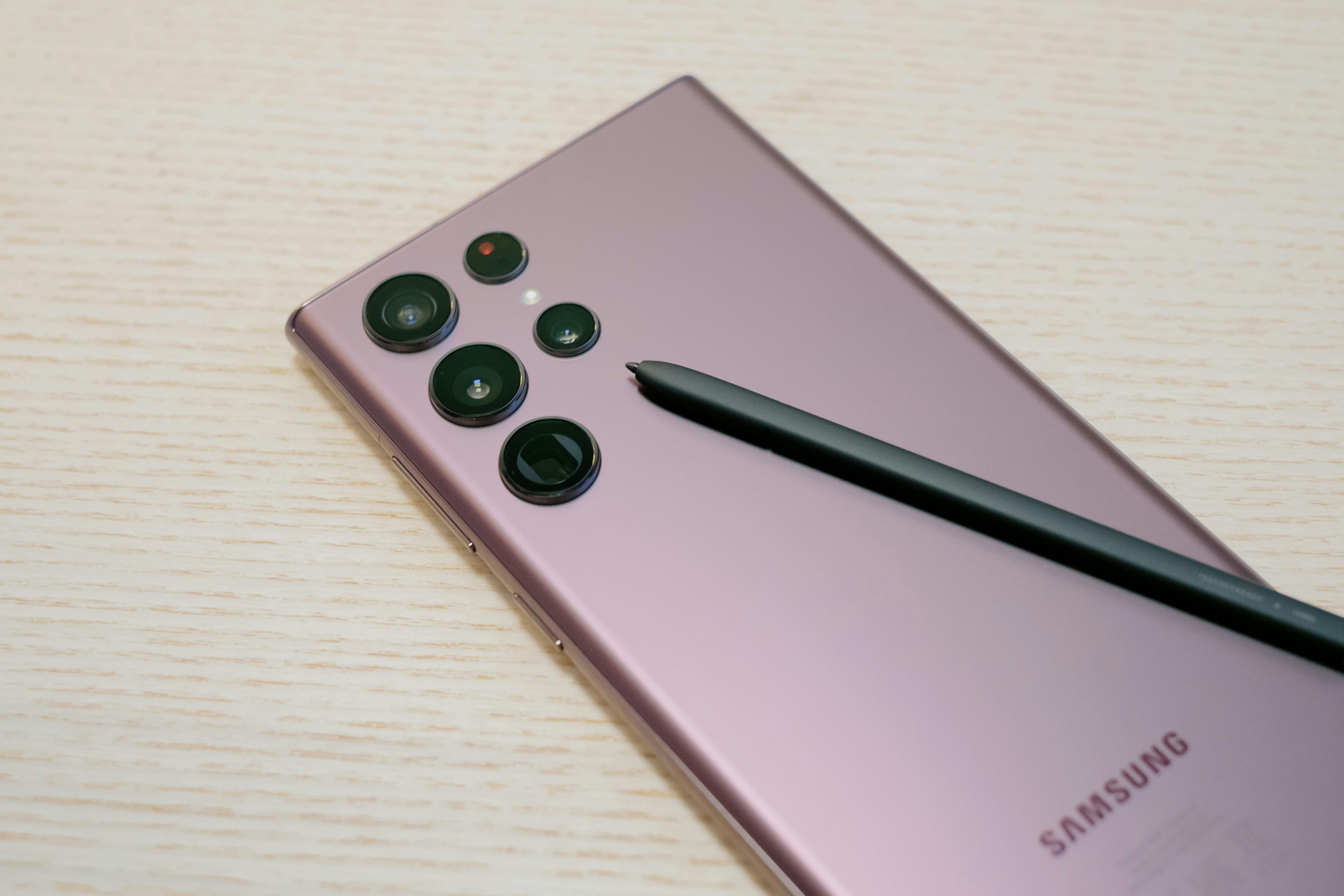 Now let's look at all that in detail…
Compare Google Pixel 7 Pro deals
Compare Samsung Galaxy S22 Ultra deals
Google Pixel 7 Pro vs Samsung Galaxy S22 Ultra: What are the key differences?
Both smartphones are quite similar in terms of specs and their overall look and feel, but they have a few small differences that might tip you one way or the other.
For one, there's cost – the Google Pixel 7 Pro is cheaper and better value than the Samsung Galaxy S22 Ultra.
Both cameras are excellent, but although the Samsung adds an extra periscope lens to the lineup, the Pixel cameras excel overall with better colour accuracy.
In terms of software, the Pixel runs pure Android with the latest version right out of the box. The Samsung overlays Android with the company's own tech and apps, for better or worse.
If internal storage is a concern, be aware that only the Samsung offers 1TB of space.
And finally, you'll notice little details in the designs that differ. The cameras are placed differently on the back of the handsets, and the Pixel phone has rounder corners. The Samsung, meanwhile, has a premium-feeling blocky build quality, and can take an S Pen stylus.
Google Pixel 7 Pro vs Samsung Galaxy S22 Ultra: Design
Although the designs of the two phones are quite similar – there's only so much variation you'll see on smartphones these days, especially at the top of the market – some of the details here vary.
For one, the Pixel has smoother, rounder corners and edges, while the Samsung feels sharper, and generally more like the Galaxy Note series of old. It feels a bit more blocky in the hand, but there's something in the build quality that just feels premium.
The Samsung also comes in more colours, if that's your bag.
Winner: This really comes down to personal preference, but we'll give the hat to Samsung for that luxurious feel it has.
Google Pixel 7 Pro vs Samsung Galaxy S22 Ultra: Camera
The Google Pixel 7 Pro camera is a three-lens affair: a 50MP main lens, 48MP telephoto lens with 5x optical zoom, and a 12MP ultrawide lens. It comes equipped with Pixel Shift, which helps with image processing, and dual-LED flash for amazing colour reproduction.
The Samsung Galaxy S22 Ultra has four lenses: a 108MP main lens, 10MP telephoto with 3x optical zoom, 10MP periscope telephoto lens with 10x optical zoom, and a 12MP ultrawide lens. It's all assisted by laser autofocus.
Comparing the two is a really tough call, as these may well be the two best camera phones to ever hit the market full stop (as of 2022, at least). Avid photographers won't be disappointed with either handset, as both can produce stunning shots of all kinds.
In terms of hardware, the Samsung has a bit more going for it, thanks to those higher megapixel counts and extra periscope lens. But anecdotally, users and testers tend to be happier with the snaps the Pixel takes. The combination of Pixel Shift, smart dual-LED flash, and Google's fantastic processing software work wonders.
Winner: It's a close call, and may come down to what individual photographers can do with the hardware and their own expertise… but for most users, the Pixel simply produces the best shots.
Google Pixel 7 Pro vs Samsung Galaxy S22 Ultra: Screen and display
Again, we're looking at quite similar setups here. Both phones have OLED screens in almost identical sizes and resolutions (the Google Pixel has a 6.7-inch 1440 x 3120 pixel display; the Samsung Galaxy a 6.8-inch 1440 x 3088 screen).
And both are ultra strong, thanks to being made with Corning Gorilla Glass Victus – though the Samsung uses a very slightly more up-to-date version.
The clear winner here, though, is the S22 Ultra. It's a Super AMOLED display, meaning it's bright and crystal clear, and has an adaptive refresh rate of 1-120Hz (the Pixel's is 10-120Hz), making games and videos as smooth as they can possibly be.
Its brightness is capable of reaching a truly amazing 1,750 nits (compared with 1,500 nits on the Pixel), and boasts incredible colour reproduction that really must be seen to be believed.
Winner: Easy – the Samsung Galaxy S22 Ultra. But, again, the Pixel's screen is nonetheless impressive.
Google Pixel 7 Pro vs Samsung Galaxy S22 Ultra: Battery life and performance
Both phones pack huge 5,000mAh batteries. But, because they're both pretty powerful phones, neither batteries last as long as they could. You'll certainly get a day's worth of moderate use on one charge, but you may need to pack a charging cable if you're out for the evening.
Samsung does win out here, though, squeezing a couple more hours than the Pixel. It also wins on the charging front, capable of faster 45W charging, compared with the Pixel's 30W rating.
As for performance, you'll be hard pressed to notice any difference between the two handsets. Both the Samsung's Snapdragon 8 chip and the Pixel's Tensor G2 (created in collaboration with Samsung, ironically enough) deliver stellar performance. They can zip around apps, handle complex tasks, and deliver intense gaming experiences with ease.
However, the winner here is Samsung again – just about – as it tends to score a touch better in independent tests.
Winner: Samsung on both counts.
Google Pixel 7 Pro vs Samsung Galaxy S22 Ultra: Software
Because the Pixel 7 Pro has come straight from Google, it runs Android in its pure form. Plus, it has a few software tricks that you won't find on any other brand of smartphones – such as Google Assistant, and its fantastic AI. For instance, voice-to-text is notably better on Pixels than it is on other phones.
As for the Galaxy S22 Ultra, it comes overlaid with Samsung's One UI. It's not too obtrusive, and you get a selection of the manufacturer's own apps – such as Samsung Health and its own calendar and messaging apps. They're totally optional, but good to know they're there if you have a preference.
You can also navigate the Samsung using the S Pen stylus – another neat feature handed down from the old Note series.
Winner: It's a tie.
Google Pixel 7 Pro vs Samsung Galaxy S22 Ultra: MoneySuperMarket's verdict
It's been close the whole way, but the Samsung Galaxy S22 Ultra has won nearly every category here.
It packs just that little bit extra, making it not just an excellent smartphone – as the Google Pixel 7 Pro undoubtedly is – but a stunning handset that's a true pleasure to use.
The Pixel is of course quite the rival though, and if you're looking for a top-drawer phone then it won't disappoint… especially as it comes in at a good £300 less than the Samsung.