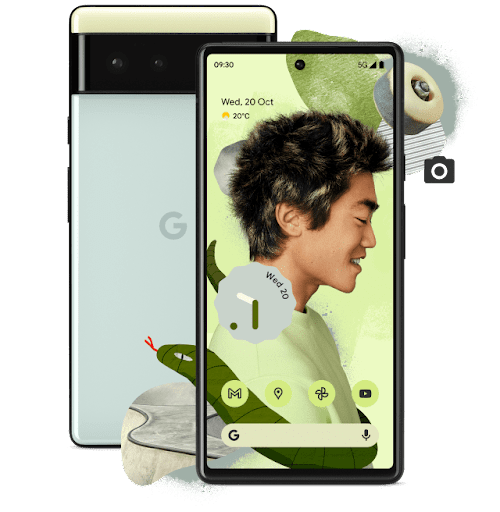 The biggest update we've seen in the Google Pixel line yet, the Google Pixel 6 features a unique design, the new Tensor chipset and cameras that blow competitors out of the water. Read our review to learn more.
Our Google Pixel 6 review in summary
To read more about the Google Pixel 6 and compare deals, visit our page:
The Google Pixel 6: At a glance
6.4-inch display Full HD OLED with 2400 x 1080p resolution
90Hz refresh rate
Dimensions: 159 x 75 x 8.9mm
Weight: 207g
Dual rear camera system: 50MP main camera and 12MP ultra wide camera
4612mAh battery capacity
5G-compatible
Storage: 128GB (256GB not available in the UK)
8GB RAM
IP68 water and dust resistance
You might have come across adverts billing the Google Pixel 6 as the first all-Google phone.
What does this mean, though? And is that such a selling point?
Well for one thing, it means you're getting a phone that's powered by Google's very own Tensor processor. But the real 'sell' is that not only is the Pixel 6 designed and built by Google, it's optimised for Google's AI and machine learning too.
As a result, you can experience some of Google's top smart functions, such as amazingly accurate voice recognition and powerful image processing.
Moreover, the Pixel 6 proves that you don't need to pay sky-high prices for a premium phone.
With a price tag of £599 at launch, it undercuts the likes of Apple and Samsung – and for the quality of the phone you get, it's very good value.
Camera
The standout feature of Google Pixel line has always been its camera quality, and the Pixel 6 is no exception, setting a new standard for smartphone photography.
It's stuck with the dual camera set-up on the back: one wide angle lens and one ultra wide lens. However, the main wide angle camera is now 50MP, a massive jump from the 12.2MP lens on previous Pixels. As a result, images are a lot more detailed, even when zoomed in.
Most of the camera's power lies in Google's computational photography prowess, which remains highly impressive. Colours are accurate to life, and new software means that it's more accurate in rendering a variety of different skin tones. The Pixel 6 is also skilled at capturing moving subjects without blur – ideal if you're taking photos of pets and children who won't stay still.
There's plenty of editing options, too, and they're easy to use. For example, Magic Eraser can be used to edit out people and objects in the background, and it works really well – just tap on what you want to remove, and it's gone.
It's just lacking the optical zoom capabilities of the Pixel 6 Pro.
The 8MP front camera does the job fine, producing detailed selfies and good video call quality.
Design
In a complete design revamp, the Google Pixel 6 debuts a bold new look that stands out from the crowd.
Most distinctive is the horizontal camera bar running across the back of the device, breaking up the two-tone colour block design. With most devices confining their cameras to the top left-hand corner, it's a futuristic and unique approach.
Built with Gorilla Glass Victus, it offers 2x better scratch resistance than previous Pixel phones, as well as an IP68 rating for dust and water resistance.
It's also a fairly hefty phone, measuring 159 x 75 x 8.9mm and weighing 207g. The rather large form factor means one-handed use may be limited.
The Google Pixel 6 comes in three colourways: Stormy Black, Sorta Seafoam and Kinda Coral.
Display
Measuring 6.4 inches diagonally and sporting a sharp 2400 x 1080p resolution, the Pixel 6's screen is great for watching videos and gaming. And with its thin bezels and tiny holepunch front camera, there's nothing obstructing the bright and vivid display.
Although the adaptive 90Hz refresh rate isn't quite as smooth as 120Hz – that's reserved for the Pixel 6 Pro – it still makes for good viewing when browsing websites and scrolling through social media feeds.
Operating system and performance
One of the main selling points of the Google Pixel 6 is Tensor, Google's very own chip that powers the phone's advanced machine learning features.
It runs smoothly and works extremely well in capturing and processing great photos. Using Google Assistant, you'll be amazed by its smart voice recognition capabilities. When sending text messages through Assistant, not only does it accurately detect what you're saying, it'll even insert punctuation in the appropriate places.
However, Tensor isn't not quite as powerful as chipsets found in Apple and Samsung flagships. It's also worth mentioning that it's faced a few bugs since release, which Google have had to iron out in software updates along the way.
Still, most users will find it perfectly capable for day-to-day browsing and multi-tasking.
The phone comes with 8GB of RAM, as well 128GB of internal storage – unfortunately, the 256GB version isn't available in the UK.
At launch, the Pixel 6 ran Android 12. It comes hand-in-hand with Google's 'Material You' interface, which is a new adaptive design that customises the elements, icons and colour scheme on your phone to match your wallpaper.
Battery life
Powered by a 4614mAh cell, the battery life on the Google Pixel 6 should last all day long for most users. It falls a bit short of its competition, namely the iPhone 13, but it shouldn't be a problem if you're not a power user.
It supports 30W charging, as well as wireless charging up to 21W.
Like other phone companies, it no longer supplies a charging brick in the box, just a USB-C to USB-C cable.
Google Pixel 6's deals and incentives
25GB of 5G data
Unlimited minutes
Unlimited texts
£29.00 device cost
download speed limit
2 Xtra benefits

24 month contract

From Vodafone
Google Pixel 6 pricing
At launch, the Google Pixel 6 was priced at £599 for the 128GB version.
At the time of writing (July 2022), it's still the latest release from Google. However, with the Pixel 7 around the corner, prices are sure to drop.
Google Pixel 6 review: Verdict
There's no denying that the latest and greatest smartphones are inching towards – and sometimes even surpassing – the £1000 mark. So it's a relief that the Google Pixel 6 is a premium flagship at a more affordable price.
Its voice recognition capabilities and camera system particularly excels, setting a new standard for other top phones to follow. Meanwhile, the rest of the phone performs well, coming together in a device that's great for everyday use. For the price you pay, you get a lot of flagship features packed in the device.
Pros and Cons of choosing Google Pixel 6 in 2023
Pros
Budget-friendly flagship
Outstanding cameras
Excellent voice recognition capabilities
Cons
Quite large
Battery life isn't that long-lasting
Not as powerful as the likes of Apple and Samsung
How does Google Pixel 6 compare against other phones?
The other flagships released in 2021 include the Apple iPhone 13 and the Samsung Galaxy S21.
If you're willing to move to iOS, the iPhone 13 is a good bet; it uses the far more powerful A15 Bionic chip, and its camera performance is up there with the Pixel 6. On the other hand, the Galaxy S21 offers an Android experience with Samsung's typically brilliant display and 120Hz refresh rate.
If you're looking for a phone that's more similar in price and size to the Pixel 6, you could consider the Galaxy S21 FE. It's Samsung's slightly cheaper answer to the S21, with a screen that's also 6.4 inches.