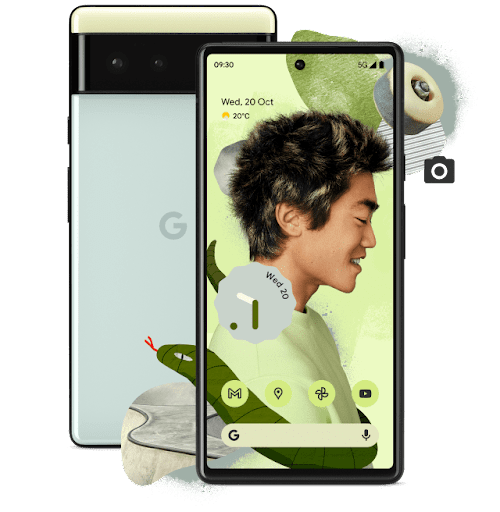 Read our Google Pixel 6 Pro review now to find out if it's worth splashing out for in 2022.
Our Google Pixel 6 Pro review in summary
The Google Pixel 6 Pro is aimed squarely at taking on the best handsets from Apple and Samsung.
First launched in late 2021, it was a key rival for the iPhone 13 and stands against the top end Samsung Galaxy S22 Ultra.
Put simply, it's absolutely laden with features, from a hugely impressive triple lens camera through to Google's cutting edge Tensor chipset.
Throw in a natty design (which admittedly some phone lovers are less keen on) and Android 12 being showcased in its very best form and you've got the finest example of a Google phone ever.
The Google Pixel 6 Pro
The Google Pixel 6 Pro is undoubtedly the best phone Google has ever made.
It offers the perfect way to try out Android as it was intended to be used, with the very latest Google software and services, not to mention features that help out it right up against the best Apple and Samsung has to offer.
With a new Google Pixel 7 rumoured for release, now may be a good time to land the Pixel 6 Pro, as the price is falling but it's still a fully loaded device that will satisfy even the most fastidious of smartphone fans.
Camera
Google has always offered excellent cameras with its phones and the Pixel 6 Pro is no different.
It comes with a main triple lens set up, with 50MP wide, 48MP telephoto and 12MP ultrawide lenses.
The telephoto lens servs up 4x optical zoom, ensuring detailed images even when you zoom in tight.
It's the software that really helps the camera shine, though. Its Night Sight option delivers really impressive pictures in low light, while the Motion mode allows for longer exposures that deliver neat blurring effects when objects are moving.
The clever Magic Eraser mode also allows you to take people out of shots. Think of it like the ideal way to get rid of photo bombers!
The front facing camera clocks in at 11MP, more than good enough to render selfies in crystal clear detail and ensure decent moving images when making video calls.
4K video recording comes as standard, great for any Instagram or TikTok fanatics.
Design
This is where the Google Pixel 6 Pro has proven contentious. Its sleek frame and full screen finish, with a punch hole for the front facing camera, is fairly standard.
But the band which wraps around the back of the phone and houses the main camera has divided online opinion.
For our money it's a neat way of standing out from the crowd, meaning the Pixel 6 Pro won't be mistaken for an iPhone or Samsung Galaxy.
Display
The Google Pixel 6 Pro has a striking screen which is a match for the iPhone 13 Pro Max and Samsung Galaxy S22 Ultra.
It clocks in at 6.71-inches and utilises QHD+ tech, with a massive resolution of 1440 x 3120. It has a pixels per inch rating of 512, with the results a study in eye popping detail.
If you love to watch video on the go or just see your pictures rendered perfectly, then this is the phone for you.
It also has a 120Hz refresh rate, perfect for top-end games and an ins screen fingerprint scanner for added security.
Operating system and performance
The Google Pixel 6 Pro packs Google Tensor, a next generation chipset built by the tech giant itself in the hope that it can showcase its software in the best possible light.
In truth, only very hardcore users will notice the difference between this and older Google phones, although apps and games run rapidly and with no lag.
The operating system is Android 12, Google's latest version of its platform.
It's available here just how Google intends it, with no extras like you get from rival mobile makers.
What's more, Google promises that the Pixel 6 Pro will get updates for years to come and will be among the first to enjoy new Android editions when they're released.
One area where it could perform better is storage. There are only 128GB and 256GB models, a big miss when some iPhones and Samsung Galaxy devices offer as much as 1TB these days.
Battery life
With a 4,905mAh battery, you would assume the Pixel 6 Pro could last for two days of regular use.
And while Google says you'll be able to squeeze out 48 hours using Extreme Battery Saver mode, for standard use you won't get more than a day.
At a time when competitors have mastered batteries that last longer, this is a bit of a miss from Google.
But if you're used to charging your phone overnight, it's not the end of the world.
Google Pixel 6 Pro's deals and incentives
At the time of writing, you can snag the Google Pixel 6 Pro on iD Mobile for £33.99 a month with no up front cost and 50GB of 5G data, plus unlimited calls and texts.
Check out Moenysupermarket's Google Pixel 6 Pro deals now to see what's available.
Google Pixel 6 Pro pricing
Google has slashed the price of the Pixel 6 Pro, offering a 128GB model for £649 up front, with a 256GB edition available for £749.
These lower prices make it very competitive, although it's worth remembering there will be a new Google Pixel 7 released later in 2022.
Pros and Cons of choosing Google Pixel 6 Pro in 2023
Pros
Amazing screen
Great camera
Unique design
Latest Android support
Cons
Battery life could be better
Storage only up to 256GB
How does Google Pixel 6 Pro compare against other Google phones?
The Google Pixel 6 Pro is by far the best Google phone available. The Pixel 6 does not have as good a screen or camera, although it is much more affordable.
The budget Pixel 6a can't match it in terms of specs, but does offer the latest Android software at a better overall price.
Google Pixel 6 Pro review: Verdict
The Google Pixel 6 Pro is the best phone Google has ever made, with an incredible camera, amazing screen and a design that we can't get enough of.
If you want a pure Android experience and the best tech Google has to offer, then this is where it's at, even if storage and battery life could be better.