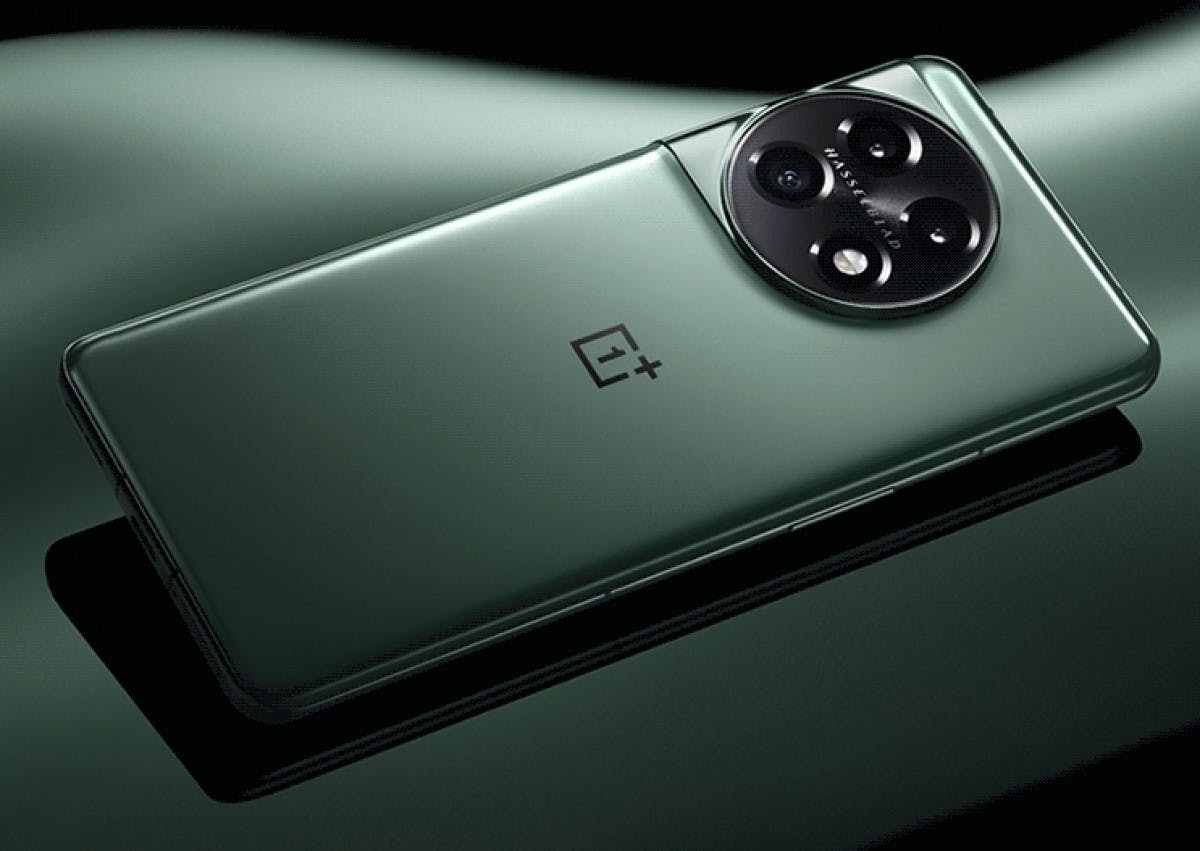 Wondering what OnePlus has included in its only handset of 2023? Our full review delves into everything the OnePlus 11 has to offer, including its features, performance and camera.
Our OnePlus 11 review in summary
Being OnePlus's only phone release for 2023, the OnePlus 11 incorporates plenty of advanced specs and high-tech features in its large 6.7-inch frame. While its name suggests it's a standard flagship, it actually seems more like a Pro model.
The OnePlus 11
6.7-inch 2K AMOLED display
Dimensions: 163.1 x 74.1 x 8.53 mm
Weight: 205g
Three rear cameras: 50MP wide, 48MP ultra wide, 32MP telephoto
16MP front camera
Snapdragon 8 Gen 2 chipset
8GB or 16GB of RAM
Storage options: 128GB or 256GB
5G-enabled
Operating system: Android 13
Camera
On the back of the OnePlus 11, you'll find a Hasselblad-branded triple camera system, with a 50MP f/1.8 main lens, 48MP f/2.2 ultra-wide lens and 32MP f/2.0 telephoto lens with 2x optical zoom. There's also a 16MP selfie camera on the front.
You'll be able to produce some excellent shots, with plenty of detail and dynamic range. Images show a pleasing amount of contrast, while colours are vivid and vibrant without being overly saturated - though it does tend to skew on the warmer side of things.
What's more, the return of the Hasselblad branding (as seen in the 10 Pro) means you can play around with Hasselblad-exclusive filters and aspect ratios – something keen photographers will surely appreciate.
Unlike most top Android phones, its zoom functionality is a little limited. Although the telephoto lens gets a massive bump up in megapixel count – 32MP, up from a mere 8MP on the 10 Pro – its optical zoom is capped at 2x (for reference, the 10 Pro feature 3.3x optical zoom). Nevertheless, it performs well with its digital zoom. Plus, the 2x telephoto lens can produce some impressive portrait shots, even if it can't get up close to objects in the distance.
However, the OnePlus 11 does fall short of its rivals when it comes to autofocus. It can sometimes miss focus at close range, and photos may appear a little soft around the edges.
And although on paper it can record 8K video, the reality is rather different. Even when opting for 4K recording, image stabilisation can be shaky and colours washed out – and these flaws are amplified as soon as you begin recording in less-than-stellar lighting conditions.
Design
When it comes to design, the OnePlus 11 is fairly similar to the previous year's OnePlus 10 Pro. It features a glass back, aluminium wraparound frame and hole-punch front camera.
The main difference can be found on the back. Taking inspiration from black holes, the rear camera module is now a stainless steel circular unit. It's certainly striking, and makes the handset stand out from the crowd.
It's a large phone, sporting a 6.7-inch screen. Interestingly, though, it's not as hefty and unwieldy as other similarly-sized devices – in fact, due to its narrower build, it feels quite comfortable in hand.
The OnePlus 11 has an IP64 rating for dust and water protection. While it offers total protection from dust and some protection from water, most flagship devices these days sport the maximum IP68 rating. So, you'll need to be more careful around water if you're carrying the OnePlus 11 – it'll be able to survive being splashed, but not dunked.
It's worth mentioning that the OnePlus 11 also features the popular alert slider, a fun little feature that's unique to OnePlus devices. It's a small physical slider that sits on the side of the phone, which you can easily toggle to change your notification mode (so, if you want to put the phone into silent mode or vibration only).
It comes in two colour options: Black and Dark Green.
Display
The OnePlus 11 has a 6.7-inch 2K AMOLED display, with a crisp 1440 x 3216 pixel resolution.
It features a curved screen, which emphasises the sheer size of the phone. It's one of the larger phones on the market, with its display measuring around the same as the iPhone 14 Max and Google Pixel 7. If you enjoy watching videos, reading news or mobile gaming, this size should be perfect.
The display uses LTPO 3 technology. This stands for low-temperature polycrystalline oxide – essentially, this allows the OnePlus 11 to have a dynamic refresh rate of 1Hz all the way to 120Hz, without draining the battery too quickly. And you'll be able to enjoy extremely smooth scrolling and gameplay.
Operating system and performance
The OnePlus 11 is one of the first phones to feature the new Qualcomm Snapdragon 8 Gen 2 chipset. This puts it on the same level as the Samsung Galaxy S23, another top release of 2023. The powerful new chip means the OnePlus 11 can confidently handle intensive multi-tasking and graphics-heavy gaming.
It runs Google's latest software, Android 13, right out of the box, with OnePlus' own ColorOS 13 launcher.
If you're looking to hang onto your device for a good while, you'll be pleased to know that the OnePlus 11 will receive solid support for years to come. OnePlus is promising four Android OS updates, as well as five years of security updates. That's in line with the support Samsung is offering its flagship Galaxy devices, and even better than what Google gives its Pixel phones.
Battery life
Like the 10 Pro, the OnePlus 11's battery capacity stands at 5,000mAh. This is rather impressive, and makes it one of the top phones on the market battery-wise.
Plus, the new LTPO 3 technology and power-efficient chip should both help prolong battery life even further. As a result, the OnePlus 11 will be able to comfortably get through a day of a moderate usage, with battery to spare.
Furthermore, it supports an astounding 100W fast charging. It'll take your battery from 0 to 100% in just under 30 minutes, making the OnePlus 11 one of the fastest-charging phones on the market. In comparison, the iPhone 14 Pro caps out at a mere 20W fast charging.
However, there's still no support for wireless charging.
OnePlus 11's deals and incentives
At the time of writing, the OnePlus 11 is the latest release from OnePlus.
The easiest way to get it is to buy it direct from OnePlus (and get a cheap SIM-only deal to go with it). But if you can't stomach the entire cost upfront, you may be better off seeking out a good value contract from a network or third party retailer.
Pay-monthly contracts for the OnePlus 11 aren't as widely available as the big-name handsets. Still, you can visit our page on OnePlus 11 deals to see what's on offer from UK networks.
OnePlus 11 pricing
OnePlus' 2023 flagship was first released in China on 9th January 2023, before going on sale in all other countries on 16th February.
In the UK, it launched at a price tag of £729 for the 8GB RAM/128GB variant, and £799 for the 16GB RAM/259GB version.
OnePlus 11 review: Verdict
OnePlus has packed the OnePlus 11 full of features, making it the company's most high-tech, high-spec phone to date. There's plenty going for it, such as a great display, powerful processor, and the fastest charging speed on the market.
However, there are several drawbacks. For example, the OnePlus 11 lacks the wireless charging and IP68 rating you'd take for granted with a flagship device. And while the camera performs well in the right conditions, the quality isn't as consistent as the likes of Apple, Samsung or Google phones.
Nevertheless, it does present a more affordable price tag than other high-end flagship phones. If you don't mind its shortcomings, it's a viable Android alternative for those looking for something a little different.
It's also worth noting that the OnePlus 11 comes bundled with an 100W charger and its signature red charging cable. With companies like Apple and Samsung no longer suppling their handsets with a charger, it's definitely a welcome addition – and one that lets you make the most of the OnePlus 11's amazingly speedy charging capabilities.
Pros and cons of choosing OnePlus 11 in 2023
Pros
Solid flagship phone that undercuts its rivals in terms of price
Excellent battery capacity and amazingly fast charging
Powerful performance thanks to new chip
Cons
Camera quality isn't as consistently good as the likes of Apple, Samsung and Google
Less water-resistant than other flagship phones
No wireless charging
How does OnePlus 11 compare against other phones?
You might be wondering how the OnePlus 11 measures up against the previous year's flagship, the OnePlus 10 Pro. There are a few noteworthy differences: namely, a new chip, longer-lasting battery, and a smoother and more power-efficient user experience.
As for how it compares to the big names, phones that are a similar size include the iPhone 14 Pro Max, Samsung Galaxy S23 Ultra, and Google Pixel 7 Pro. Some of the OnePlus 11's specs and features are in line with its peers – and it even beats its competitors when it comes to charging speeds.
However, it falls short of its big-name rivals in some key areas, including camera quality, water resistance, and the lack of wireless charging. Still, it's certainly cheaper than those pricey high-end handsets, while offering largely the same performance.