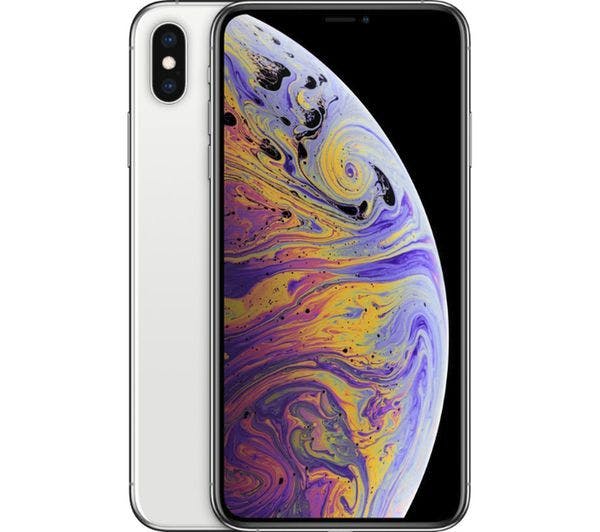 Released in 2018, the iPhone XS Max was Apple's largest ever phone at the time. Read our page for our lowdown on the iPhone XS Max's specs, performance, camera – and whether it's still worth getting these days.
Our iPhone XS Max review in summary
Released in 2018 (along with its smaller sibling, the iPhone XS), the iPhone XS Max was a premium phone at the time of launch. Back then, it featured Apple's largest ever screen – and came with an eye-watering price tag to match.
These days, it may be showing its age when compared to the newest releases. Nevertheless, it's still a very capable handset, with a sizeable screen and long-lasting battery.
What's more, you can get it at a much more affordable price than at launch.
The iPhone XS Max
Key specs include:
6.5-inch Super Retina OLED screen with 1242 x 2688 resolution
Dimensions: 157.5 x 77.4 x 7.7mm
Weight: 208g
Dual lens 12MP camera
7MP selfie camera
4K video recording
4GB of RAM
Support for the very latest iOS 16 software
Storage options: 64GB, 256GB or 512GB
Camera
On the back of the iPhone XS Max, you'll find two 12MP snappers: one wide angle lens with f/2.4 aperture, and a telephoto one with f/1.8 aperture. The front selfie camera is 7MP.
Sure, it's modest compared to modern standards, and keen photographers will likely miss the advanced features found on the latest releases. But the dual camera still produces great everyday snaps ready for sharing on social media.
There's Portrait Mode – in fact, the iPhone XS Max was the first iPhone to receive this feature. It'll help you get that background bokeh blur effect for your portrait shots.
Design
The design of the iPhone XS Max is the same as its predecessor, the iPhone X, but bigger.
It has a flat Corning-made glass back and a rounded wraparound stainless steel frame. Coupled with its larger form factor, the handset feels reassuringly sturdy in hand, though not completely suited to one-handed use.
The front of the phone has the same notch design that Apple has stuck with ever since, though it's larger than the notch found on the iPhone 13 and iPhone 14.
Impressively, the iPhone XS Max has the same IP68 rating as the latest phones. This means it's completely resistant to dust and can survive being dunked in water to a depth of 1.5m for up to 30 minutes.
It comes in three colours: Silver, Gold and Space Grey.
Display
One standout point of the iPhone XS Max is its large 6.5-inch Super Retina OLED display. At the time, it was the biggest screen ever seen on an iPhone.
While it's since been surpassed by the likes of the Pro Max models, it's still an impressively sizeable screen, offering you plenty of space for watching videos and gaming. Plus, the display is sharp, bright and colourful.
The iPhone XS Max utilises the Face ID biometric security system, which is embedded in the notch. It's not as snappy as the newer phones, but it's still perfectly functional.
iOS and performance
At launch, the iPhone XS Max shipped with iOS 12. Impressively, it's able to run on iOS 16, Apple's latest operating system at the time of writing.
Apple is pretty good at supporting its handsets for a long time. Given that the iPhone XS Max was released in 2018, you can expect it to be supported until around 2024-2025.
It's powered by the A12 Bionic chip, which still performs well. Sure, the latest phones run on faster and more efficient processors, but the iPhone XS Max can accomplish most tasks with ease.
Battery life
The iPhone XS Max runs on a 3,174mAh battery. It offers decent battery life, if a little limited in comparison to newer models – you can expect it to last around a day of average use on a single charge.
iPhone XS Max's deals and incentives
Given that it's an older model, you should be able to get your hands on the iPhone XS Max for a very competitive price.
While Apple no longer sells it, many networks still offer pay-monthly contracts for the iPhone XS Max – and at a much cheaper price than at launch.
You'll also likely find deals on refurbished handsets, which will bring the price down even more.
iPhone XS Max pricing
At launch, the iPhone XS Max went on sale with prices starting from £1,099.
Apple has since discontinued this handset, but you'll be able to get it at a much lower price from third-party sites.
iPhone XS Max review: Verdict
The iPhone XS Max was Apple's top-end flagship of the time. At the time of writing (February 2023), it's been superseded by newer releases that boast higher specs and more up-to-date features and functionality.
That's not to say that it's not worth buying. In fact, it could be a worthwhile option for those who don't need the latest and greatest specs. If you simply want a reliable phone with a large screen for optimal viewing, the iPhone XS Max fits the bill – and you can now get it at bargain prices.
It still has another couple of years left to it, given that Apple plans to support it until 2024/2025.
Pros and Cons of choosing iPhone XS Max in 2023
Pros
Large screen
Upgradeable to iOS 16, Apple's latest operating system
Can be found for cheap from an array of networks
Cons
Doesn't have the same level of features as newer iPhones
It's an older phone, yet lacks the 3.5mm headphone jack that many people miss
How does iPhone XS Max compare against other iPhones?
The iPhone XS Max was released alongside the iPhone XS, its smaller counterpart. The main difference is the size – the XS Max's 6.5-inch display dwarfs the 5.8-inch screen of the XS. Other than that, the two phones are virtually the same.
Of course, many generations of iPhone – starting from the iPhone 11 – have since followed. If you like the large screen of the iPhone XS Max but want something more up-to-date, you could consider the iPhone 14 Plus, or any of the Pro Max models.