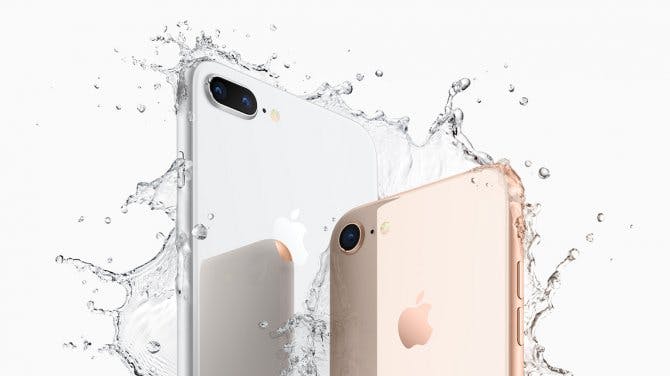 It's Apple's old school smartphone. So, does its classic design still stack up? Read our iPhone 8 review now to find out.
Our iPhone 8 review in summary
The iPhone 8 was first released in 2017. As such, it's been superseded by a number of newer, more snappy models, featuring all screen design smarts, better display tech and longer battery life.
That said, the iPhone 8 offers an affordable way into Apple's universe, with the device still offering support for the latest iOS software.
The iPhone 8
The iPhone 8 won't win any awards when put up against the striking iPhone 14 Pro or a cutting edge Android like the Samsung Galaxy S22 Ultra. But then that's not really the point.
Despite its age, the iPhone 8 remains a rock solid option for everyday smartphone users, with access to Apple's best software and the latest apps.
Camera
The single lens, 8MP camera on the iPhone 8 is great for snapshots and delivers solid results in decent light. For quick social media images, it does the job perfectly well.
Performance in darker conditions can't match newer phones, but that's to be expected considering it's upwards of five years old. That said, it can shoot clips in 4K, meaning it's great for TikTok and Instagram.
The front facing 7MP camera is more than good enough for selfies and video calls. Yes, you can buy better. But you'll pay more for the privilege.
Design
The iPhone 8 uses the same, old style design language found on the newer iPhone SE 2022, with a Touch ID home button and wide bezel around the display. There's no space for Face ID facial recognition, but the glass design still has a premium feel and is a breeze to use. In fact, many still prefer the old-style fingerprint recognition system – if that's you, you're in luck.
In the hand, the iPhone 8 feels a lot smaller than more widescreen new handsets, but that's not a complaint. It's pocketable and can be used one handed.
Display
At 4.7 inches, the iPhone 8's screen is smaller than the iPhone 13 Mini. It packs Apple's Retina display tech, with a resolution of 750 x 1334 pixels, and is surrounded by wide bezels which means it doesn't have an edge to edge feel like other iPhones.
This, though, is only half the story. Despite its age it still looks superb and can handle streaming video, YouTube and web pages with aplomb. No, you don't get the same striking colour reproduction as the latest iPhones. But for those who just want to be able to do the basics, it's still more than good enough.
Operating system and performance
The iPhone 8 was launched alongside iOS 11, but can be updated to the latest version of iOS 16, the one that launched with the iPhone 14. This means a sleek new lock screen, updated widgets and Apple's Focus mode for ensuring you don't get distracted by your phone when busy.
Considering rival Android devices often manage no more than two years before support for new software stops, this really does set the iPhone 8 apart.
The A11 Bionic chipset here is old, admittedly, but everyday performance is fine. It's worth remembering that the iPhone SE 2022 has the same internal specs as the iPhone 13 and will support iOS updates for longer too.
Battery life
You can get through a day on a single charge with the iPhone 8, as long as you restrict yourself to light use. For streaming music and video over 4G it's worth carrying a charger or power brick with you.
iPhone 8's deals and incentives
There are currently some great deals and incentives if you buy an iPhone 8. Some networks are offering free access to Apple Music and Apple TV+, as well as money back at checkout. Check out our best iPhone 8 deals now for more.
iPhone 8 pricing
It's no longer available to buy outright directly from Apple, but you can still get the iPhone 8 on a series of affordable deals. Prices start from as low as £14 per month for 24 months, with zero upfront cost.
Pros and cons of choosing the iPhone 8 in 2023
Pros:
Affordable
Still supports latest iOS software
Cons:
iPhone SE has same design but better specs
Software support likely to end within a year
How does iPhone 8 compare against other Apple iPhones?
The iPhone 8 has the same design as the iPhone SE 2022. However, the latter comes with a much newer chipset, will support iOS for longer and has a much better camera too.
The iPhone 14 and iPhone 14 Pro offer better overall specs and a newer design. However, they cost almost three times as much.
iPhone 8 review: Verdict
The iPhone 8 remains a really solid option for those who want an Apple smartphone without having to break the bank. Its design still feels premium, while its support for iOS 16 really sets it apart from its Android contemporaries.
However, you can get newer models for not much more money that will offer the latest software for longer.