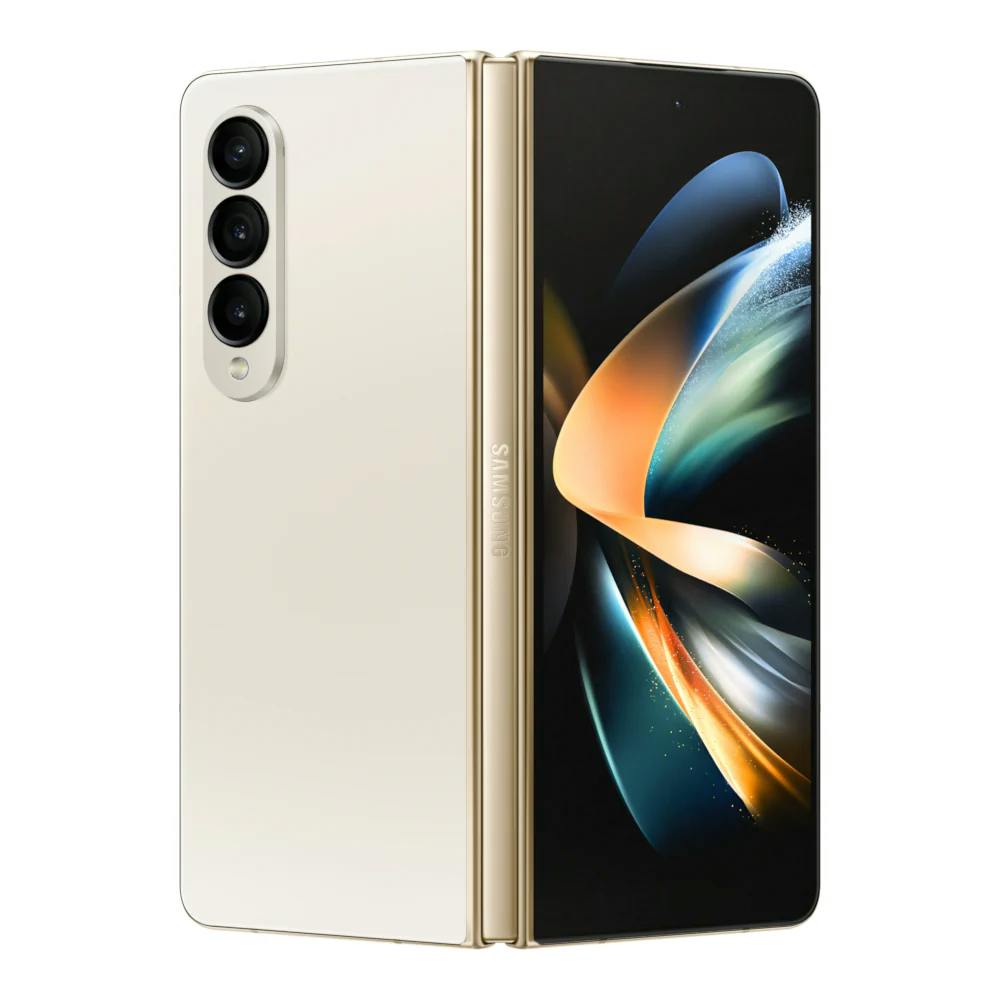 It's Samsung's 2022 cutting edge folding phone, a device that stands apart from average smartphones. With the power to switch from a regular handset into a tablet, it's built for workaholics and entertainment fanatics alike. So, is it worth the premium price tag? Read our Samsung Galaxy Z Fold4 review now to find out.
Our Samsung Galaxy Z Fold4 review in summary
More durable than its predecessor, with an improved triple lens camera and available with up to 1TB storage, the Samsung Galaxy Z Fold4 is a powerhouse of a device.
The folding mechanism is futuristic and less noticeable than in older models, while the latest version of Google Android and Samsung's own software optimisations make it a truly stunning smartphone.
The only real downside is the hefty price tag, although that can be spread out when you compare Samsung Galaxy Z Fold4 deals.
The Samsung Galaxy Z Fold4
The Samsung Galaxy Z Fold4 is unarguably the best folding phone Samsung has produced as of 2022.
It excels in so many ways, from its striking screens to its excellent camera, as well as being the ultimate do-it-all device for those on the move. The clever app dock along the bottom of the main display, as well as the ability to open four apps at once, makes this a productivity powerhouse, while the large screen is superb for gaming and streaming video.
Camera
Samsung has taken the same triple lens camera found on its Galaxy S22 and loaded it up here on the Galaxy Z Fold4. That means you get a 50MP wide lens, 12MP ultrawide, and 10MP telephoto, with 3x optical zoom and Samsung's clever Space Zoom feature for getting really close.
The selfie camera when the device is folded up clocks in at 10MP, with another 4MP front facing camera on top of the larger main screen. Great for video calls.
Night time performance is exceptional, while colour reproduction is exactly what you'd expect from the best Samsung phones. Images appear crisp and detailed, while the ability to record video in eye popping 8K really helps set this device apart.
Despite this, it would have been great to see the quad camera from the Samsung Galaxy S22 Ultra here. The Galaxy Z Fold4 is, after all, more expensive, and you'd expect the very best.
Design
Samsung has managed to make the Galaxy Z Fold4 feel far more cutting edge and premium than the older Fold3, thanks to a series of design tweaks. Sharper edges mean it feels more secure in the hand, while the phone doesn't look overly bulky when folded, a charge which could be levelled at Samsung's earlier attempts at folding mobiles.
Yes, it's thicker than your average phone when folded. But that's no big deal when you open it out into a brilliant looking tablet – one which gives Samsung's tablet lineup and Apple's iPad mini a run for their money.
Whether you use the Fold4 folded like a phone or open like a tablet, there's no escaping the feeling that it is a showcase for how phones could look in the future.
Display
The Galaxy Z Fold4 is all about Samsung's ability to pack two full size displays into one package. The results are nothing short of exceptional, with no corners cut in bringing bright, well rendered screens to the party, whether the device is folded or open.
When folded, the screen comes in at a more than ample 6.2-inches, with 904 x 2316 pixel resolution. It's a markedly narrower look compared with the Galaxy S22 and other mainstream phones, with a 23.1:9 screen ratio.
Despite that, it still offers Google Android in its recognisable One UI format. Plus, the 120Hz refresh rate ensures apps look great when scrolling, and Dynamic AMOLED 2X tech means the best in colour and brightness.
Open it up and the Galaxy Fold4 turns into a sleek looking tablet. The display is a vast 7.6-inch screen and has the same Dynamic AMOLED 2X tech as the screen on the front. Resolution stands at 1812 x 2176 pixels and there's the same 120Hz refresh rate.
And it's built for productivity. It's compatible with the Samsung S Pen (which you'll need to buy separately); it lets you open and use four apps simultaneously; and it has a dock for key apps that you need whatever you're doing.
Operating system and performance
Samsung has loaded up the Galaxy Z Fold4 with a cutting edge Qualcomm Snapdragon 8 Plus chipset, to ensure it can handle the myriad tasks thrown at it whether the screen is folded or opened out.
Google Android keeps it ticking along with Samsung's simple and easy to use One UI version of the Big G's software on top. Performance is second to none, with neat touches like apps being able to detect when the main screen is opened at a 90º angle like a laptop, then turning the lower half of the display into a keyboard.
Overall, this zippy device benefits from the best 2022 tech around. As such, there's never any lag and everything works at lightning pace.
Battery life
The 4,400mAh battery here is actually not as big as that on the Galaxy S22 Ultra, but it can keep going for an entire day on one charge. There's support for fast charging, although the charger you need isn't in the box. If you buy one you can get around 30% battery in just a quarter of an hour.
If you want a phone that can last longer, then the Galaxy S22 or iPhone 14 Pro might be a better bet. But considering the tech involved in this handset, the battery is actually pretty decent.
Samsung Galaxy Z Fold4 deals and incentives
Keep an eye out for Samsung Galaxy Z Fold4 deals here at MoneySuperMarket as networks are always offering new deals and incentives for this cutting edge phone.
Samsung Galaxy Z Fold4 pricing
At launch, a 256GB Samsung Galaxy Z Fold4 will set you back £1,649 SIM free, rising to £1,769 for 512GB. The 1TB model is harder to get hold of and will cost £2,019 if you find one.
Obviously, you can spread the cost with a Galaxy Z Fold4 contract, which will make that hefty price tag easier to bear.
Pros and cons of choosing the Samsung Galaxy Z Fold4 in 2023
Pros:
Amazing dual screen device
Great design
Camera matches Galaxy S22
Cons:
Very expensive
Camera should really be the same as Galaxy S22 Ultra
How does Samsung Galaxy Z Fold4 compare against other Samsung phones?
The Galaxy Z Fold4 is Samsung's most expensive phone. Its smaller stablemate, the Galaxy Z Flip4, acts more like an old school flip phone and is more pocketable.
For those who want the very best specs, then the Galaxy S22 Ultra may be a good alternative - its camera is spectacular and even better than the Fold 4, with a slightly lower price to boot.
Samsung Galaxy Z Fold4 review: Verdict
Yes, the Galaxy Z Fold4 costs a small fortune. But this is a pioneering device that shows the way to the future.
As a phone it's as good as the Galaxy S22, and as a tablet it easily matches dedicated devices with bigger screens. The camera is great, but it's a shame it's not the quad lens effort from the S22 Ultra. But if you're willing to make that compromise and love tech more than life itself, this is the phone for you