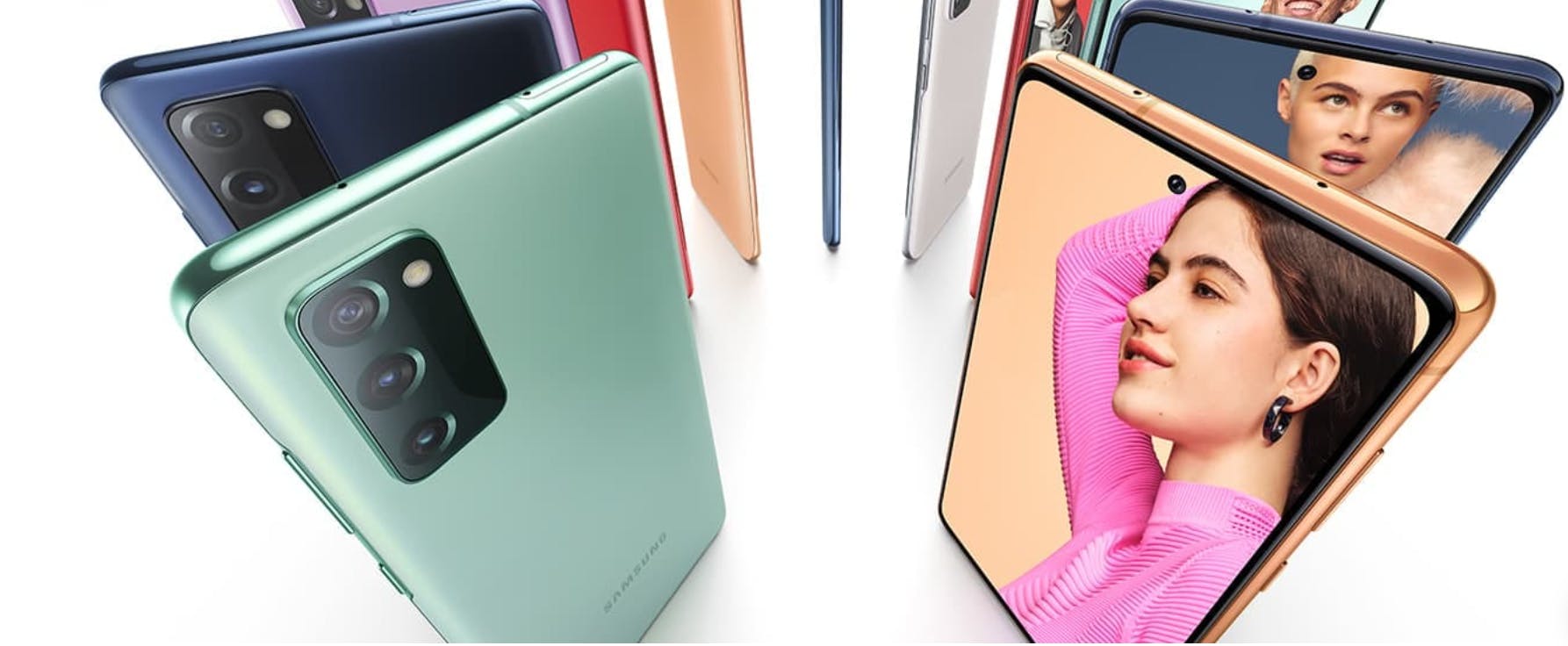 You can still pick up an old school Samsung Galaxy S20 FE. But with the newer Galaxy S22 available and budget alternatives such as the Galaxy A53, is it worth it? Read on and we'll reveal all.
Our Samsung Galaxy S20 FE review in summary
The Samsung Galaxy S20 FE comes with a triple lens camera, capacious 6.5-inch screen and a large battery.
However, it has since been superseded by a number of other Samsung phones.
So while you can pick it up for a great price, you may want to consider alternatives before signing up for a long term contract.
The Samsung Galaxy S20 FE
The Samsung Galaxy S20 FE might be ageing, but it's no slouch.
Its screen is a huge 6.5-inches, ideal for streaming video on the go, while its 12MP triple lens camera crams in a 30x super resolution zoom, making it great for taking close ups.
Its battery is a sizeable 4,500mAh, ensuring it lasts the distance, while owners have also been able to upgrade the operating system to Google's newest Android 12 version.
The 32MP front-facing camera makes it a winner for social media action too.
Camera
The selfie camera of this phone sets it apart from the early models in the range, as it improves on the 10 MP front camera offered by the Samsung Galaxy S20 to provide a 32MP camera for high quality photos and videos.
In addition, the triple lens snapper found in the original Galaxy S20 is also included in the S20 FE.
The 12MP wide and ultrawide lenses provide a wide field of vision for shots while the 8MP telephoto lens offers a 3x optical zoom and 30x resolution zoom to get detailed up-close shots. It still stands up, despite being almost two years old.
This camera also offers the options of LED flash, Auto-HDR and panorama.
If you are looking for the camera quality to go to the next level, then you may want to invest in the newer Galaxy S22, which comes with an impressive 50MP main camera and two other lenses to ensure quality pics every time.
Design
A key feature of all phones in the S20 range and newer, is Samsung's infinity-O display, maximising screen space, while offering a stellar experience for streaming or gaming.
The Galaxy S20 FE is no different.
The size of the phone is larger than the original S20, measuring 6.5 inches. The newer Galaxy S22 Plus and Galaxy S22 Ultra offer bigger displays, but cost a lot more.
The phone's plastic back comes in six vibrant colours: cloud lavender, cloud mint, cloud navy, cloud white, cloud red and cloud orange.
This is accompanied by a glass front and aluminium frame to create a sleek look.
The finish might not be as premium as top notch Galaxy S models, but it's a small price to pay considering how little this device costs.
The weight of this phone is 190g with dimensions of 159.8 x 74.5 x 8.4mm.
Display
The Galaxy S20 FE comes with a 6.5-inch display, featuring a 1080 x 2400 resolution.
This is more than ample for all but the most demanding of gaming and streaming fanatics and renders pics and video in crystal clear detail.
In fact, it's virtually the same as the latest Galaxy S22, meaning you get a great display at a fraction of the cost.
Operating system and performance
The Galaxy S20 FE has been updated to the latest version of Android, Android 12.
This means you'll get all the best features and apps from Google and an easy-to-use intuitive experience out of the box.
Performance is solid too, with 6GB of RAM to keep things ticking along nicely.
It's worth being aware that future updates to new versions of Android may not be forthcoming, however.
If you want a longer lasting phone, the Galaxy A53 comes with a five year update guarantee.
It's worth bearing in mind, that the basic Galaxy S20 FE does not support 5G, a bit of a miss considering how newer models offer access to the fastest networks.
Battery life
The Galaxy S20 FE packs a more than decent 4,500mAh battery, which can last for almost two days in real world settings.
This puts it up alongside newer, pricier models such as the Galaxy S22 and Galaxy A53. If it's a decent battery you want, then look no further.
Samsung Galaxy S20 FE's deals and incentives
Because it came out in 2020, the Galaxy S20 FE can be picked up for a great price here at Moneysupermarket.
You can get a great deal from Three, costing £49 up front and then a mere £16 per month with unlimited calls and texts plus 30GB of 4G data.
Samsung Galaxy S20 FE pricing
You can get the Samsung Galaxy S20 FE for £499.99 SIM free.
Considering the newer Galaxy A53 can be picked up for £379.99, and with similar specs, that makes this route difficult to recommend,
Pros and Cons of choosing Samsung Galaxy S20 FE in 2022
Pros
Great screen
Impressive battery life
Latest Android software
Cons
Superseded by newer models
No 5G
How does Samsung Galaxy S20 FE compare against other Samsung phones?
The Galaxy S20 FE feels outdated compared with other Samsung phones.
While the Galaxy S22 is more expensive, it comes with better specs, a more impressive camera and a screen that is its equal.
Even the budget Galaxy A53 wins out, as it packs in 5G, as well as a similar display that's great for gaming and streaming.
Samsung Galaxy S20 FE review: Verdict
While the Galaxy S210 FE has much to recommend it, including a great screen and more than decent triple lens camera, it's lacking when it comes to cutting edge specs, especially as it can be so costly SIM free.
There are newer, better Samsung phones out there.