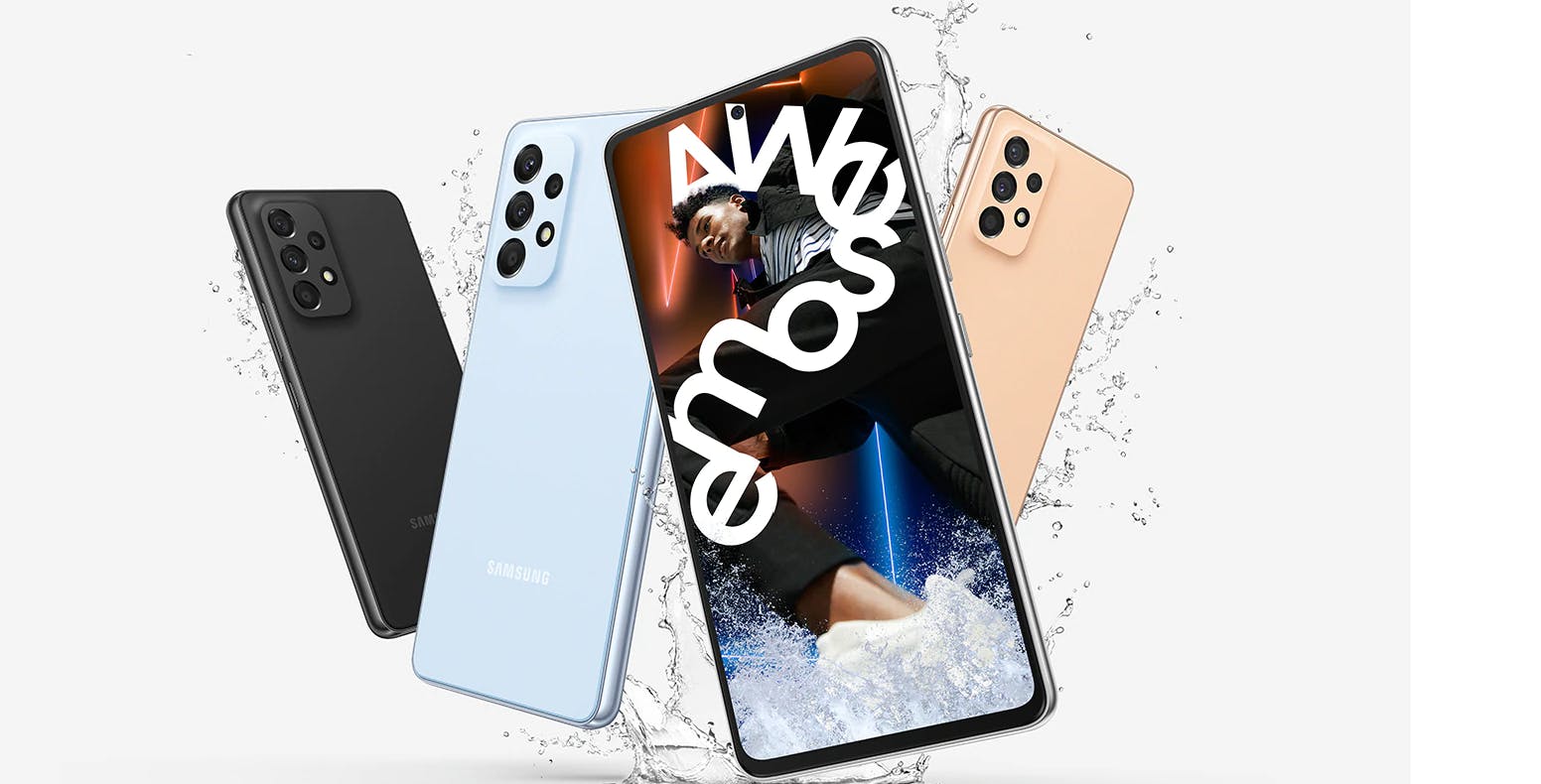 Samsung's Galaxy A53 5G is its mid-range alternative to the top notch Galaxy S22. Does it cut too many corners? Or is it worth making a compromise for? Our Samsung Galaxy A53 5G review will reveal all.
Our Samsung Galaxy A53 5G review in summary
With a huge battery that matches up to the cutting edge Samsung Galaxy S22 Ultra 5G, a stunning 6.5-inch screen, 128GB storage (which can be beefed up to 1TB using microSD) a quad lens main camera and a 32MP selfie shooter, the Samsung Galaxy A53 is more than your average mid range smartphone.
With the latest Android software, it can handle the best apps and games with aplomb.
While it might not have the same top ranking internal specs as its fancier stablemates, the savings you make mean it's well worth a look if you want a Samsung phone without breaking the bank.
ComThe Samsung Galaxy A53 5G
The Samsung Galaxy A53 is a budget-friendly option that still manages to pack some premium features, especially its stunning screen and long-lasting battery life.
It comes with 128GB of storage, which can be expanded to a massive 1TB of storage via microSD.
At a time where flagship phones are doing away with expandable storage, including Samsung's own Galaxy S22 devices, this is a welcome feature.
However, the 3.5mm headphone jack has gone from this Galaxy A series model, as has the bundled power brick that normally comes in the box.
Its predecessor, 2021's Samsung Galaxy A52, kept these features, so it's a shame to lose them. Bluetooth headphones or those with USB-C connections, don't come cheap, after all.
One flagship feature to appreciate, though, is Samsung's commitment to provide the Galaxy A53 5G with the same level of support: namely, four years of OS updates and five years of security updates.
This is huge news for anyone who wants a phone that will last more than a couple of years and is something to be praised too.
Camera
The camera on the Galaxy A53 is the same as the Galaxy A52.
That means it sports four rear cameras: one 64-megapixel main camera at f/1.8, one 12-megapixel ultra wide at f/2.2, and two 5-megapixel cameras at f/2.4 (one for macro shots, another for depth).
On the front, you'll find a 32-megapixel selfie camera at f/2.2.
While that means A52 owners may not be tempted to upgrade, Samsung has at least introduced some new software features, including advanced portrait mode and built-in Snapchat filters.
There's also 4K/30p video recording, great for TikTok and Instagram users
In bright lighting, the cameras are very capable. Images from both the rear and front cameras show plenty of contrast and colour, as per Samsung's signature style.
Although Samsung has improved its night mode software, low light can still pose a problem, particularly if your subject is moving.
This isn't helped by the fact that the shutter can be slightly slow at times. If you take a lot of pictures in low light, then it might be worth investing in the Galaxy S22 instead.
On paper, the 5MP macro camera and depth sensor should add versatility to your images, with close-up and bokeh capabilities.
But in practice, they're not as effective as suggested.
Still, despite its shortcomings, the A53 does a decent job for day-to-day shots.
Casual snappers will most likely find that it fits their needs, but keen photographers may want to look to the flagship Samsung Galaxy S22 or even the Galaxy S22 Ultra for a more premium camera experience.
Design
Despite the Samsung Galaxy A52's large size, it's surprisingly thin and lightweight.
This may be because the back is made from a matte plastic, rather than glass. It doesn't feel too flimsy, though, and it's more resistant to fingerprints as a result.
Following the blueprint of the Galaxy A52, the rear camera bump sits as a raised module that blends in with the rest of the phone's back.
The front is made from Gorilla Glass 5, and it carries an IP76 rating – meaning it's water-resistant up to 30 minutes under one metre of water, as well as being 100% protected against dust and sand.
Overall, it's a solidly built phone that's easy to handle. And you can choose from four 'Awesome' colours: Black, White, Blue and Peach.
Best of all, the design doesn't feel like too much of a compromise compared with the swankier Galaxy S22.
Display
Samsung leads the way with its dazzling displays – so, despite being a mid-range phone, the Galaxy A53 doesn't skimp on its screen.
It sports a sizable 6.5-inch display, with a maximum brightness of 800 nits and refresh rate of 120Hz.
For users, this means a nice and bright screen you can comfortably use even in sunlight, and a smooth scrolling experience for your viewing pleasure.
It's the kind of tech we've come to expect from much more expensive phones and something that rival manufacturers tend not to include on more budget-friendly handsets.
Like with the Samsung S series, there's a tiny hole punch front camera at the top. It's very small and unobtrusive, keeping most of the screen real estate free.
Operating system and performance
The Samsung Galaxy A53 5G comes preloaded with Android 12 and uses Google's One UI 4.1.
This means it will be familiar to anyone who has used a different Android phone. And for those that haven't, it's very easy to pick up.
The operating system is fully featured and easy to navigate, with the latest apps and games available via Google Play.
Performance wise, the 6GB of RAM is more than enough to handle the most demanding of games, with no nasty lag when playing or watching streaming video.
5G comes as standard too, meaning the Galaxy A53 can access the fastest networks around. With 5G expanding rapidly, this can only be a good thing.
Battery life
Battery life has been given a bump, with the Galaxy A53 sporting a 5000mAh battery compared to the A52's 4500mAh cell.
For light to normal usage, that should get you through up to two days' use on a single charge – which is a pretty excellent battery life.
Charging is also faster, at 25W, although it still doesn't support wireless charging.
It's also worth noting that the Galaxy A53 follows the footsteps of Samsung's S flagship series, ditching the power brick that would normally be included in the box. Environmentally, this is a smart move. As long as you already have a USB-C charger at home, you'll be good to go.
Samsung Galaxy A53 5G's deals and incentives
Considering how new it is and how fully featured, there are some excellent deals for the Galaxy A53 on Moneysupermarket.
At the time of writing, Three has the Galaxy A53 for just £15 per month, paying £79 up front.
That gets you a more than ample 30GB of 5G data, as well as unlimited calls and texts.
Samsung Galaxy A53 5G pricing
SIM free, the Galaxy A53 5G is significantly less expensive than the Galaxy S22.
You can get a 128GB model for just £379 up front. Add a microSD card to boost storage by 1TB and you've got a serious piece of kit for a great price.
This is a good option for those with cash available, as they can pair the handset with a SIM only deal.
Pros and Cons of choosing Samsung Galaxy A53 5G in 2022
Pros
Huge screen
Long lasting battery
Sharp and tough design
Decent camera in good conditions
Five year upgrade support guaranteed
Cons
Camera could be better in low light
No 3.5mm headphone jack
How does Samsung Galaxy A53 5G compare against other Samsung phones?
The Galaxy A53 is a minor upgrade compared with the Galaxy A52. That's not to say it isn't a great phone, rather that it's not worth making the leap for if you only got an A52 in 2021.
Against the super Galaxy S22, it lacks when it comes to the camera and design, although considering it's almost half the price, that's not an issue.
The S22 is a flagship phone, while the A53 represents value for money.
Samsung Galaxy A53 5G review: Verdict
The Galaxy A53 promises to be a mid range warhorse for years to come.
With long-lasting software updates planned, as well as a screen that looks the part and the battery that can last the distance, it's a great device for those who don't want to spend a fortune but still need a phone that can do it all.
Sure, the camera could be better in low light, but that's a small price to pay when it comes to a mid range smartphone.