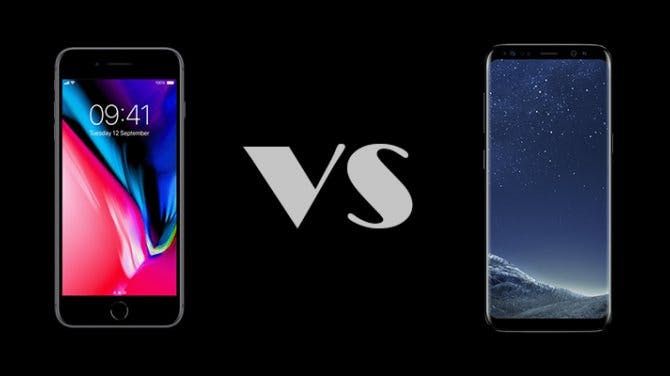 The Apple iPhone 8 and the Samsung Galaxy S8 are now both available and are going head-to-head in a battle for the hearts of smartphone fans who want the very best. But who will come out on top? Keep reading to find out!
Why you'll love the iPhone 8
Compact form
Beautiful design
Accurate colour reproduction
Stereo sound
Always up-to-date operating system
Why you'll love the Galaxy S8
Large Infinity Display
Iris scanner
Always-On Display
Long-lasting battery
iPhone 8 display vs Galaxy S8 display
The Apple iPhone 8 features a 4.7" Retina HD (1334 x 750 pixels) display, which you will love for its industry-leading best colour accuracy. A variety of sensors work invisibly in the background to monitor environmental light, and the display adapts to its environment to ensure that images always look natural, which also reduces eyestrain.
The Samsung Galaxy S8 has the "wow" factor, with a massive 5.8" Infinity Display. The display is especially fantastic thanks to its fine detail (2960 x 1440 pixels) and elongated 18:5.9 screen aspect ratio. Although the screen is much bigger than on the iPhone 8, it's still unlikely to cause hand or wrist strain because it is longer instead of wider.
You will love the Samsung Galaxy S8's screen for its Always-On Display feature, which shows the time and notification alerts even when the phone is locked. You will also love its Edge Panel shortcuts which makes favourite features and contacts quicker to get to.
iPhone 8 design vs Galaxy S8 design
When it comes to design, these two handsets are very similar. Both the iPhone 8 and the Galaxy S8 have a glass front and a glass back, which are fixed onto an aluminium frame. If you are looking for an edge on weight or thickness, though, the iPhone wins! It's slightly lighter and thinner, which means putting a case on your phone won't make it much bulkier. Apple fans will also prefer the classic iPhone look, while those who like a more futuristic design will love the edge-to-edge display on the Galaxy S8.
While it is not advisable to submerge either the iPhone 8 or the Galaxy S8, the latter has greater swimming pool protection. The iPhone 8 is IP67 certified, so it can (in theory) withstand being plunged in water for a short period of time. The Galaxy S8 is IP68 certified so it can go deeper and be submerged for longer – up to 1 metre, for a maximum of 30 minutes.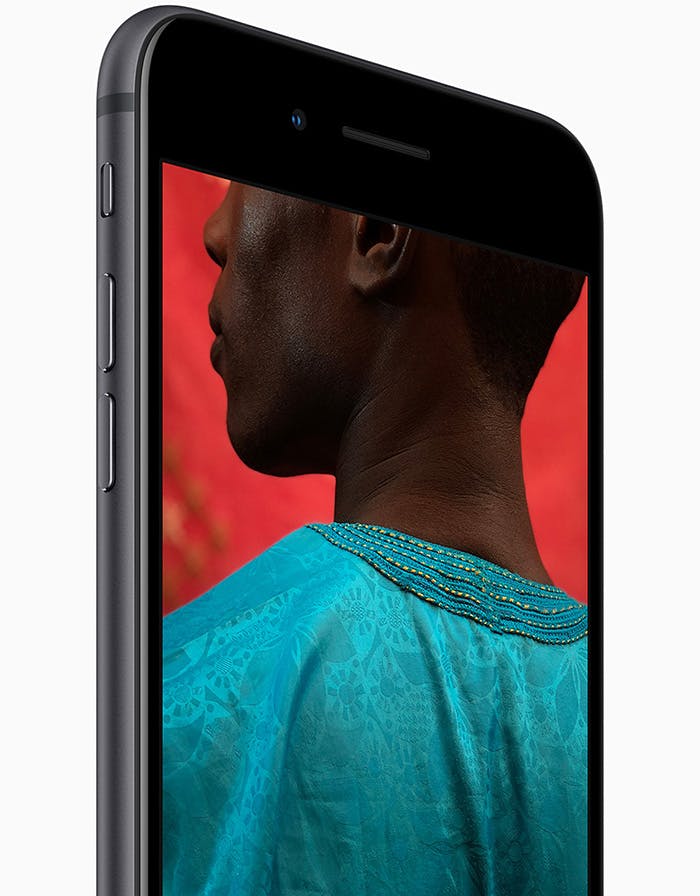 iPhone 8 camera vs Galaxy S8 camera
Both phones have a 12MP main camera, but the Samsung Galaxy S8 has the upper hand when it comes to selfies: its front snapper reaches 8MP, while the iPhone's is a (still impressive) 7MP. The iPhone 8 goes all in for your night out with the "Slow Sync" feature which slows down the shutter speed and fires the flash quicker. This technique captures a brighter foreground, as well as better exposed background.
The iPhone 8 camera also uses photo and video compression to halve the file size, saving loads of memory – ideal for budding photographers! The Galaxy S8 captures striking portraits with bokeh effect. "Bokeh" means that the background in a portrait photo is blurred, making your subject stand out more and giving that professional edge to your pictures.
iPhone 8 battery vs Galaxy S8 battery
The iPhone 8 has a smaller battery than the Galaxy S8, but this makes sense considering it also has a smaller screen which should require less power. So, how do the batteries compare in terms of usage time? The Samsung Galaxy S8 does a little better: it can play 16 hours of video, versus 13 hours on the iPhone 8.
The contrast is a little more pronounced when it comes to music playback. The Galaxy S8 can handle up to 67 hours of tunes while the iPhone 8 can only keep the beat going for up to 40 hours. We should however bear in mind here that the iPhone 8 has stereo speakers and that if the Always-On Display is active on the Galaxy S8, the music won't keep going for quite as long as that mentioned above.
The good news on both sides is that the iPhone 8 and the Galaxy S8 both support fast charging and wireless charging – so even if your battery dies too early, recharging it is a piece of cake.
Looking to find out what could feature in the next Samsung release? Visit our Samsung S9 rumours page.