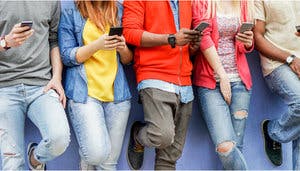 Find out what the big smartphone manufacturers have planned for next year with our guide to upcoming mobile phones in 2020
New smartphones seem to be released from a never-ending conveyer belt these days, and 2020 is going to bring even more top-notch handsets (albeit likely without top notches) to the shelves. We've picked out some of the most anticipated phones from the biggest manufacturers – read on to find out what'll be in store in the coming months.
Apple iPhone 12
It's become an Apple tradition to release phones in autumn, and with the iPhone XI released in September 2019 there might still be a fair wait to go before we see a new flagship.
That flagship could be called the iPhone 12 or XII – but who really knows for sure – and while it's too early to give certainties there has been the usual swirl of rumours about what the new handset could offer:
Prevailing chatter suggests a return to a square-edged frame similar to the industrial look on the iPhone 4 – from all the way back in 2010
It's also likely we'll see further improvements to the iPhone's camera, with some reporting the addition of a time-of-flight 3D lens to the rear
One of the key developments that people are looking out for is the new iPhone's potential 5G capabilities, and it looks as though 2020's iPhone range will support the latest generation of mobile data
The iPhone 12 selection might also have under-display fingerprint technology, bringing it in line with the Galaxy S10
In addition to the iPhone 12, it's been said that Apple is also working on its own version of a foldable phone, tentatively titled the iPhone X Fold by some, but this looks to be some way in the future.
Samsung Galaxy S11
Like Apple, Samsung also tends to release its new smartphones in yearly cycles – and given that the S10 was released in February 2019 we might not have that long to wait for the Galaxy S11. Here are the latest rumours doing the rounds:
The S11 range could offer further improved cameras, and with Samsung already having announced 48MP, 64MP and 108MP camera sensors it's possible at least one of these could end up in the S11. On the topic of cameras, there's also talk of a possible 5x optical zoom lens – accompanied by information that suggests the S11's camera is codenamed 'Hubble'
2020 is likely to see at least one Samsung handset equipped with 5G capabilities, given that the tech giant released the S10 5G at the end of June 2019
Moving the S11 range in line with other smartphones, we might see the end of fingerprint scanning in favour of facial recognition
Samsung might also remove the Bixby button and headphone jack from the S11, as it has on the Galaxy Note 10
Samsung already has a foldable phone in its range, released in September 2019, but given the relatively low impact of that release we might see a more polished version of the Samsung Fold in 2020.
What will it be called? Quite possibly the Samsung Fold 2.
Huawei P40
Huawei might not be officially available in the States, but in the UK we're still able to buy the Chinese company's handsets – so we can look forward to the P40 and P40 Pro in 2020. It probably won't be launched for months, and as such there is very little concrete information available.
However we can make some predictions based on rumours we've heard and patterns in Huawei's behaviour as well as other smartphone manufacturers in the Chinese market.
One line of reporting suggests the Huawei P40 will have a five-sensor camera engineered by Leica – one more than the current P30, winner of the Best Camera Smartphone of 2019 award
We might also see the general performance upgrade a new generation of smartphones often brings, including increases in RAM, storage and battery life
The P40 Pro will use Huawei's own Kirin 990, the world's first all-in-one 5G chipset, leading some to suggest the phone will come with 5G as standard – but this might not apply to the P40
Huawei released the Mate X in November 2019, so it's likely we won't see another foldable handset from the Chinese manufacturer in the next 12 months.
Google Pixel
Google released the Pixel 3a and 3a XL in 2019, both intended as more affordable alternatives to the Pixel 3 and 3XL. Given that the Pixel 4 and 4XL were only recently released, we probably won't see the 4a and 4a XL for quite a while – but if Google is going to continue the trend we might see them mid-2020. Here's what we could see:
Based on the 3a and 3a XL, 2020's new range of affordable Pixel phones should offer the same excellent camera as well as Google Assistant capabilities as the 4 and 4XL
However you might have to make concessions on a less-impressive display and design
Given that they would be a low-end alternative, the 4a and 4a XL probably won't cost more than £400 or £500
As we progress through 2020 expect to see more rumours about Google's Pixel 4a and 4a XL – or you can check out deals for the Pixel 4 and 4XL today.
Sony
If rumours are to be believed Sony could be releasing as many as five separate smartphones in 2020.
The most interesting handset of the potential new line-up is the Xperia 0, which will apparently be 5G-enabled. Reports say the phone could have a six-sensor camera, including a 48MP lens and a time-of-flight lens
The second is the Xperia 3, said to be the next in line for Sony's range of compact smartphones. According to whispers the Xperia 3 should also come with 5G technology as well as a QHD display and a triple-lens camera
The Xperia 1, Sony's first release of 2019, could also be getting a sequel in the Xperia 1.1. It's said to have a four-lens rear camera and a 4K screen, but no mention of 5G just yet
Sony could also release the follow-up to the Xperia 5, set to be called the Xperia 5.1 – similar to the 1.1 but slightly smaller and with a QHD display
The final phone on the current list is the Xperia 10.1 – but other than possible 5G connectivity, news is thin on the ground here
We know reading about future smartphones can be exciting, but remember to take these rumours with a pinch of salt until more information becomes available. And check back soon to find out more about the handsets 2020 has in store.
Compare mobile phone tariffs
If you can't wait til 2020 for a new phone, compare mobile tariffs with MoneySuperMarket today for a quick and easy way to find a new deal. Just tell us what you want from your phone and contract, whether it's unlimited minutes, texts or data, a certain network provider or a specific handset, and we'll show you a list of deals that match your needs.
You'll be able to compare deals from all the main networks and manufacturers, and once you've found the deal you just click through to the provider to finalise your purchase. You might also want to consider a mobile phone insurance policy for your new handset, so you'll be protected against the cost of repairs or replacements if it's lost, damaged or stolen.