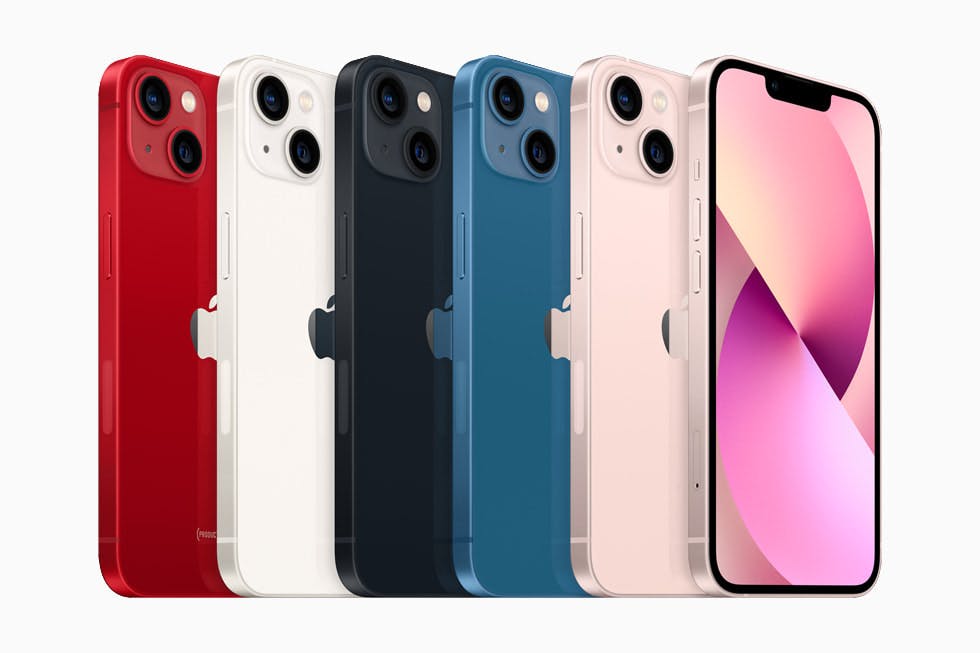 In the market for the iPhone 13? Read for a snapshot of what it's got to offer and take a look at our best iPhone 13 deals, too.
Features and specs
6.1-inch Super Retina XDR OLED display, with 1170 x 2532-pixel resolution
Weight: 173g
Dimensions: 146.7mm x 71.5mm x 7.65mm
Dual lens camera system with 12MP Wide and 12MP Ultra Wide cameras
Three storage options: 128GB, 256GB and 512GB storage
Battery life up to 2 hours longer than iPhone 12
Five colourways: Product Red, Blue, Pink, Starlight White, Midnight Black
Also available: iPhone 13 Mini, iPhone 13 Pro, iPhone 13 Pro Max
Inside, the iPhone 13 sports a new A15 bionic chip – the fastest Apple processor at the time of release. It's supported with a hexa-core CPU and 4GB of RAM.
As well as delivering a powerful and speedy performance, the phone comes with significant improvements in its camera system and battery life.
Not to mention, it's got wireless charging, IP68-rated water resistance, and is compatible with MagSafe accessories.
Availability and price
Price: From £779 (at release)
Being an Apple flagship, it cost quite a bit to buy the iPhone 13 upfront and SIM-free at launch. As newer phones have been released since then, you can now find it at a more affordable price.
If you'd prefer to spread that cost, you can get the iPhone 13 on a range of contract options from all major networks.
Use our comparison tables above to shop around and compare deals – you may be able to find iPhone 13 contracts with no upfront cost and generous data allowances.
Thinking of getting something else? You could consider the iPhone 13 Mini,iPhone 13 Pro, or iPhone 13 Pro Max.
How good is the iPhone 13's design and display?
When it comes to design, the iPhone 13 doesn't deviate too much from its predecessor. Like the iPhone 12, it follows the classic look of its earlier models: a wraparound aluminium frame, smooth curved edges and a glossy glass back.
The key difference is the size of the camera notch at the top of the display – it's smaller, giving you an even better view of the stunning screen.
The display itself is a Super Retina XDR OLED screen, with incredible brightness up to 800 nits (1,200 nits in HDR) – perfect when you're using your phone in direct sunlight. Measuring 6.1 inches diagonally with a resolution of 1170 x 2532 pixels, it's a nicely-sized screen that's comfortable for watching videos, gaming and browsing the internet. Colours and contrast look great, too.
In fact, the iPhone 13's display is pretty much identical to that of its successor, the iPhone 14.
Additionally, "Ceramic Shield" technology in the glass means the screen is stronger and less prone to smashing.
How good is the iPhone 13's camera?
On the back of the iPhone 13, you'll find two 12MP lenses: one wide and one ultra-wide.
The dual lens system performs exceptionally well. It's primed to take great shots in low light, helped along by Portrait Mode and four Photographic Styles that add clever filters to your photos as you shoot.
As for the selfie camera, you get a 12MP ultrawide lens. Like the rear camera, it's capable of shooting 4K video in crisp resolution.
Is the iPhone 13 good for video?
Apple is top of the league when it comes to video, and the iPhone 13 is no exception.
It can capture videos up to 4K at 60fps across all three cameras, allowing you to shoot video in glorious HDR. Video quality is sharp and superb – the level of detail is excellent, the dynamic range is impressive, and clarity, colour and contrast are all rendered amazingly well.
Not to mention, Apple employs great video stabilisation, meaning pictures remain smooth even in the shakiest of situations.
Plus, it features Cinematic Mode – an advanced bit of tech that seamlessly shifts the focus between subjects.
If you need high-quality video for streaming or making YouTube videos, the iPhone 13 is a failsafe choice.
iPhone 13 full review
All in all, the iPhone 13 is a powerful pocket-friendly flagship phone that'll easily satisfy most users.
For more on the iPhone 13, read our full review.
What are the key differences between the iPhone 13 and the iPhone 12?
Although both phones look very similar at first glance, with the same size and design, under the hood you'll find several worthy improvements in the iPhone 13.
For one thing, the iPhone 13 has longer battery life – up to around two hours' more per charge than the iPhone 12, in fact. That's thanks to both a bigger battery and a more streamlined processor that makes things more efficient.
The main cameras are also a step up on the iPhone 13. They're capable of better low-light shots with truer colours, and the software includes new features like Cinematic Mode and Photographic Styles.
How does the iPhone 13 compare to other flagship handsets in the UK market?
Other flagship handsets released in the same year include the Samsung Galaxy S21 and Google Pixel 6. They both run on Android, so it depends on your preferences.
Apple 13 launched the iPhone 13 along with three variants: the iPhone 13 Mini, iPhone 13 Pro and iPhone 13 Pro Max. If you like the iPhone 13 but you're after something different – say, a smaller-sized phone, or a higher-spec one – it's worth having a look one of the other models.
MoneySuperMarket's expert rating
Our rating out of five: 4.5/5
As the standard model in the iPhone 13 range, it's a great all-rounder. If you find the iPhone 13 Mini too small, and the iPhone 13 Pro Max too big, the 6.1-inch display should suit most users.
And it has plenty else going for it, too. Its bright and brilliant display, extremely capable camera and long-lasting battery life are just a few of the iPhone 13's standout features.
On the other hand, the iPhone 13 Pro is the same size, but it comes with some premium features exclusive to the Pro models, such as an extra telephoto camera. If you don't mind its slightly heavier weight, it's worth checking out.
Contract options
If you want to get a mobile phone contract, rather than buying the device outright, there are several ways you can get a good deal.
Can I get the iPhone 13 with no upfront cost?
Most likely, yes. A number of networks offer phone contracts with no upfront cost, and the iPhone 13 is no exception.
However, the deals themselves change pretty frequently. So the best way to find the ones with nothing to pay upfront is by comparing deals.
Just set the slider in the filters above to only show deals with no upfront costs.
Can I get the iPhone 13 with unlimited data?
Yes, you can. A number of networks offer iPhone contracts with unlimited data, including Three, EE, O2, and Vodafone.
You can find an unlimited data deal on the iPhone 13 by comparing here. Just move the slider above to unlimited (or very high) data to see all your options.
What's the cheapest way to get the iPhone 13?
The cheapest way to get the iPhone 13 is to buy the handset outright and off-contract, and then get a SIM-only deal. But that's a lot of cash to pay in one go.
Rather spread your costs? For the cheapest iPhone 13 contract deals, just set the filters above to show what you want from your plan, and sort by cost.
To keep costs down, look out for:
Deals from resellers, such as Carphone Warehouse or Fonehouse
Deals from lower-cost networks
Deals with lower data allowances
Deals on refurbished handsets
Can I get the iPhone 13 with poor credit?
It may be difficult. Networks always run credit checks on mobile contract deals – and since it's a pricey flagship phone, credit checks for the iPhone 13 may not be too lenient.
Your best bet is to buy it outright and get a SIM-only deal, which very rarely requires a credit check.
You may also have better luck choosing a deal from a reseller, or on a refurbished handset.
Visit our webpage for tips on you can do if you have a bad credit score.
Frequently asked questions
Is the iPhone 13 worth buying in 2023?
The iPhone 13 was released in September 2021. While it's no longer Apple's latest release, it's still a top-notch phone. Plus, with Apple promising at least five to six years of software updates, there's still plenty of life left in it.
Will the iPhone 13 drop in price?
With phones, you'll have to wait until the newest model is released before the current line-up drops in price.
As Apple has released newer phones since then, the iPhone 13 has indeed dropped in price. Check out our comparison table at the top of this page to see what deals you can get.
What's the cheapest way to get an iPhone 13?
Typically, the cheapest way of getting any phone is to buy it outright and off-contract, then get a low-cost SIM-only deal to go with it.
If you'd still prefer to get it on a pay-monthly phone contract, the best way to find a cheap deal is to use our comparison table at the top of the page. You can sort by average monthly cost and total cost, so you can see how much you'll pay.
Should I upgrade or wait for the next model?
If you have an older phone and are looking for something new, the iPhone 13 certainly fits the bill. It's an extremely capable, high-quality phone. Not to mention, you can now get it at a cheaper price than at launch.
On the other hand, it might be worth waiting to see what Apple has in store next. New iPhones are usually released in September or October every year – so, if you like having the latest and greatest device, you might want to hold back on upgrading until then.
iPhone 13 specs
General

| | |
| --- | --- |
| Manufacturer | Apple |
| Operating System | iOS |
| Sim Card Type | Nano |
Sensors

| | |
| --- | --- |
| Accelerometer | Yes |
| Proximity | Yes |
| Compass | Yes |
| Barometer | Yes |
| Gyroscope | Yes |
| GPS | No |
Size & Weight

| | |
| --- | --- |
| Form Factor | Candy Bar |
| Thickness | 7.7 mm |
| Size | 71.5mm x 7.7mm x 146.7mm |
| Weight | 174 g |
Battery

| | |
| --- | --- |
| Battery Type | Lithium Ion |
| Capacity | mah |
| Standby | hours |
| Talktime | hours |
Display

| | |
| --- | --- |
| Display Size | 6.1 inches |
| Screen Type | AMOLED |
| Resolution | 1170 x 2532 inches |
| Pixels Per Inch | 460 ppi |
| Touch Screen Type | Capacitive |
Processing power

| | |
| --- | --- |
| CPU | 0 mhz |
| Processor Cores | 6 Cores Cores |
| Memory | 6000 MB |
Storage

| | |
| --- | --- |
| Internal Storage | 128, 256, 512 |
| External Storage | No |
Camera & Video

| | |
| --- | --- |
| Primary Camera | 12 MP |
| Flash | Yes |
| LED Flash | |
| GEO Tagging | Yes |
| Auto Focus | Yes |
| Fixed Focus | Yes |
| Touch Focus | |
| Face Detection | Yes |
| Smile Detection | |
| Image Stabilisation | Yes |
| Video Quality | |
| 2nd Camera | 12 MP |
Data

| | |
| --- | --- |
| Generation | 5G |
| Frequency | Dual-band |
| NFC | No |
| Wi-Fi | No |
| Wi-Fi Hotspot | No |
| Wi-Fi Direct | No |
| Bluetooth | No |
| USB | No |