Here's what you should do if you think your home has been burgled
Having your house burgled is the last thing you want to think about. But if a criminal break into your home there are some practical steps to take as soon as possible. Our guide takes you through it
A home burglary can be a stressful time, and it might be difficult to know exactly what you have to do. We've put together a guide to help you deal with the situation, so you can give yourself the best chance of getting your things replaced.
There are a number of things you'll need to do, one of the most important being reporting it to the police. When you have a police report you'll be able to claim on your home insurance policy – but without one you probably won't.
1.      Call the police
Don't delay. If you see signs of a break-in and you're uncertain whether the burglars are still inside the property, don't enter and contact the police immediately. Call 999, or text 18000 if you have hearing issues.
If it's clear there is no immediate danger, call the non-emergency number 101 (or text phone 18001 101). If the incident is relatively minor you may be directed to fill out an online form.
Reporting the crime quickly, improves the chances of it being solved. You will be asked for a statement and will be issued with a crime reference number, which you'll need for your home insurance claim.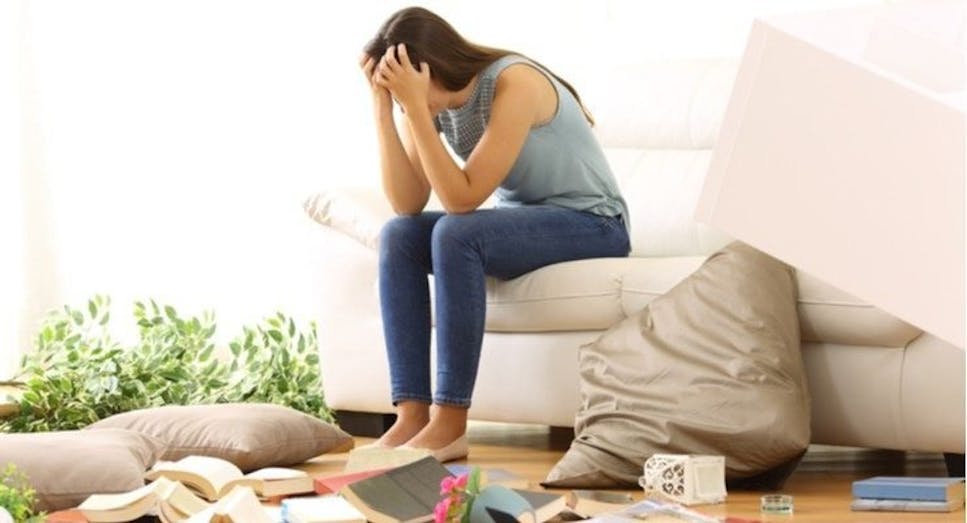 2.      Leave the property untouched
You don't want to contaminate the crime scene. Arriving officers will call a crime scene investigator to collect any forensic evidence left by the burglars.
The police will also ask you to provide a statement and might conduct house-to-house enquiries and check CCTV footage for any sign of the burglars.
3.       Block your bank cards
If the thieves have stolen you debit or credit cards – or could access your financial information through pinching a mobile phone, laptop or personal computer – then tell your bank or credit card provider straightaway.
They will put a block on your cards and issue new ones. If your passport, driving licence or other forms of ID are missing, tell the relevant authorities.
4.       Make a list of stolen and damaged belongings
Go through your property room by room and note down everything that has been damaged or stolen. Taking photographs can also be useful.
Include as much detail about each item as possible, including the make, model and serial numbers if you have them, plus any marks that might distinguish them as your possessions.
This will be necessary for your home insurance claim and help the police trace your items.
Keep in mind that most policies will have a limit to how much they'll pay out for single items, so make sure you've declared any of your more expensive belongings.
5.       Contact your home insurance provider
Providing you have cover, you can claim for stolen or damaged items on your contents insurance, and property damage following the break-in on your buildings insurance.
Call the claims number on your home insurance policy documents as soon as you can and explain exactly what happened, and they will take you through the process.
They will usually supply you with a claim form to complete where you provide the crime reference number and list the missing or damaged items. Providing receipts for stolen property will also be useful in establishing its value.
It may all be done online, or the insurers might send a loss adjustor to visit your home.
If you live in a shared home the process is likely to be the same.
6.      How will items be replaced?
Home insurance policies either provide:
'New for old' cover – which means the full cost of the damaged item will be covered

Indemnity against wear and tear, which takes into account the age and usage of the items so pay-outs will be lower.
You'll usually either receive:
A cash payment to cover the cost of replacement

Replacement items arranged by the insurance company

A voucher or prepaid card up to a certain value
7.      Secure your home
Fix damaged doors and windows from the break-in and look to change locks if the thieves have stolen your spare set of keys during the burglary. If your car keys are missing, a garage can reprogram electronic locks to a new code.
If you are renting, contact your landlord to tell them what's happened. Your landlord's buildings insurance should cover the cost of replacing smashed windows or broken doors.
The police should be able to provide advice on how you can improve your home security and suggest any upgrades that might make it safer in the future.
8.      Find support
A burglary is a violation of your personal space and can be traumatic and have a psychological impact.
The police will refer your case to Victim Support, where volunteers offer free counselling, help and advice.
You can also get in touch by visiting their website or calling 0808 1689111.
9.      Victim compensation
If the burglar is arrested and convicted, the offender can be ordered to pay victim compensation to cover loss or damage – but you must tell the police in advance if you wish to claim for this.
10.     Upgrade your home security
It's understandable after a burglary that you'll want to make your home as secure as possible to ward off future threats.
You may want to consider installing better locks or an alarm system. Read our guide to make your home more secure.
While beefing up your security will come at a cost, it can…
Act as a deterrent for criminals

Make it harder for thieves to break into your home

Provide the peace of mind that you and your loved ones are safer

Result in lower home insurance premiums in the future
11.     Compare home insurance quotes
Burglaries aren't the only threat to your home and belongings. Accidents also happen, so having buildings and contents insurance is always a sensible idea.
While your existing insurer is likely to increase your premium for the following year after a claim, you do not have to stay with the same provider and can shop around.
You don't have to pay over the odds for it though. Compare home insurance policies with us and we'll provide competitive quotes from our panel of leading insurers within minutes.