Home insurance for vandalism and malicious damage
It's horrible to see your property vandalised, but at the very least you'll want to be covered by your home insurance. This guide explains what is classed as vandalism and the precautions you should take
Vandalism and malicious damage is intentional harm caused by someone else to your home or its contents.
Those who own or take care of commercial premises such as schools or churches should pay special attention to their insurance cover because the property is likely to be empty for extended periods – and potential vandals know this.
Does home insurance cover against vandalism and malicious damage?
Yes, vandalism is almost always covered by your home insurance policy, unless your provider believes you have been negligent – such as leaving the doors and windows unlocked and open.
If the damage affects the structure of your home, then it falls under buildings insurance. If it's to any of your possessions, then contents insurance will cover it.
The exception that can catch homeowners out is when the property is left empty for an extended period.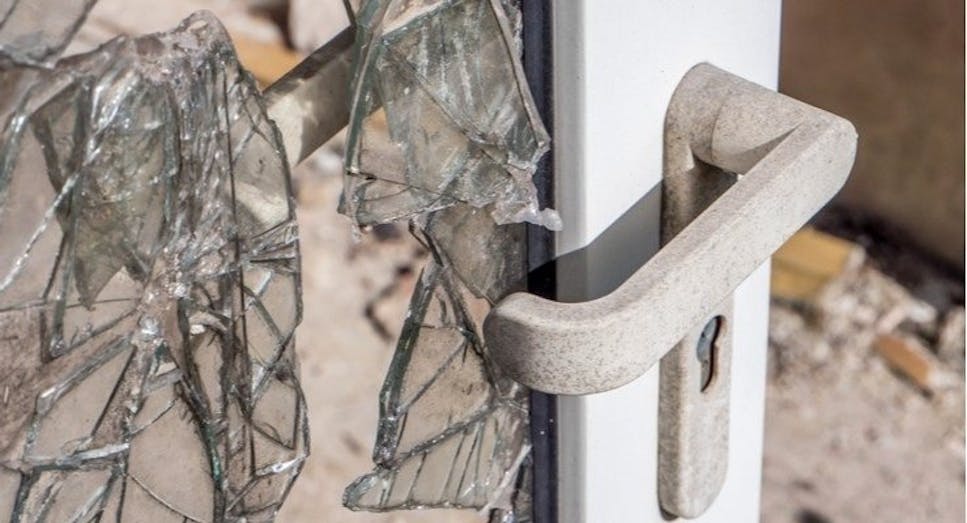 Does the cover apply to unoccupied properties?
If your home is going to be vacant for more than 30 consecutive days, then you won't be covered as standard on most home insurance policies.
You should talk to your provider about your plans. This may involve extending your policy to include speciality cover over the period you're away.
Empty house insurance will also cover events such as fire, flood and theft. Read our guide to insuring your home when it's unoccupied.
What are common acts of vandalism?
They include but are not limited to:
Arson

Graffiti

Breaking locks, windows and lights

Slashing tyres

Hacking or uprooting trees and bushes

Damaging the plumbing

Cutting electric feeds

Egging your home
What should I do if my home has been vandalised?
If you've been the victim of vandalism or malicious damage, then follow these steps:
Call the police: Filing a report is essential for your insurance claim. Accurately detail the damage and you'll be provided with a crime reference number for your insurance provider. Depending on your local police authority you may be directed to do it online

Take pictures: While you'll want to clean up the mess asap, take pictures first so you have clear evidence of the damage

Make safe, but don't repair: If you have a smashed window, you may wish to board it up, but don't make any repairs until a claims adjuster has come to your home to assess the damage. Otherwise your insurance may not pay out for them

File an insurance claim: Make sure you have your policy to hand, plus photos, videos and an inventory of anything destroyed so you can state your case. Follow instructions on your home insurance provider's website to make the claim

If you're a renter: As a tenant, you're not meant to insure the building you rent, so if there's any structural damage you should reach out to your landlord, who should have their own insurance policy.
What should I do if my car is vandalised?
You may be able to claim on your car insurance, but only more comprehensive policies are likely to cover you for vandalism.
This is because these types of claims tend to fall under the 'at-fault' category, which means the insurer cannot identify another party to recover the costs from.
Read more about non-fault and at-fault claims.
What precautions can I take to stop vandalism?
While vandalism can be difficult to prevent, if you can show you have taken reasonable measures – particularly when your property is empty – it should satisfy your insurance company. These include:
Installing an alarm system that is visible

Having security or motion sensor lights

Not leaving expensive garden items on show

Switching to a tough sprung letterbox with draught excluders

Having friends or family members regularly check around

Using a video surveillance system

Joining your local neighbourhood watch scheme
Compare home insurance
If you're looking for a cheaper deal on home insurance, then the best place to start is MoneySuperMarket. We compare quotes from our leading panel of insurers to find you the best deal. It's fast, free and simple, and can save you both time and money.