Will my buildings insurance cover underpinning my home?
Having your home underpinned because of subsidence may be necessary, but it's also expensive, so you'll want to be confident it's covered on your home insurance. Our guide explains more
Looking for home insurance?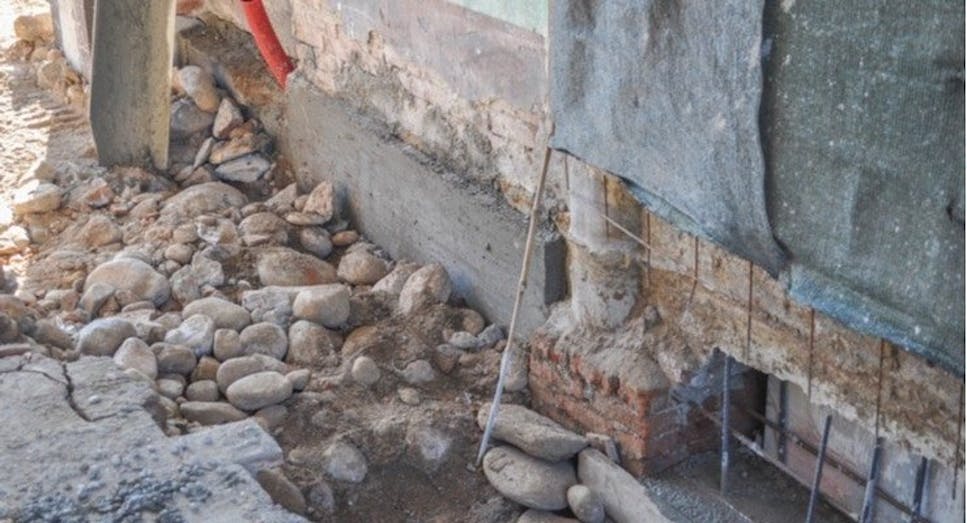 What is underpinning and why might I need my home underpinning?
Underpinning is a construction process that strengthens the foundations of your home.
It's most commonly used when there is a structural problem with the building. For example, when the ground beneath the property moves or sinks due to subsidence.
Subsidence can happen because of the type of soil under your home, water damage from leaking drains, tree roots disturbing the foundations, or simply the age of the property.
But it isn't the only reason you might need your home underpinned. If you are having extra floors added, it could also be necessary so the footings can bear the weight.
An underpinned house is also called a Previously Underpinned Property or PUP.
How much does it cost to have your house underpinned?
There's no simple answer to this, as it depends on the size of your home, the specific problem you're trying to address and how accessible the property is to complete the work.
However, it is likely to be both expensive and time consuming and while a figure around £15,000 is not uncommon, it could be far higher depending on the extent of the work.
The most common method involves digging out channels beneath the property and filling them with concrete, one at a time. Once complete, there is often no visible evidence of underpinning work.
How do I know if my house needs underpinning?
There are a few clues to look for. Although these don't necessarily mean your home has subsidence, they are a sign that it's worth getting a buildings specialist to provide an expert opinion.
Cracks in the brickwork/plaster: Not all fractures are a sign of subsidence, but watch for any large or sudden cracks that appear, and those that seem to be widening. Areas to keep an eye on are the outside of the building and around doors and windows. Subsidence cracks are often diagonal and appear wider at the top. Other cracks may just be a result of the building settling naturally

Rippling wallpaper: While this is often a damp issue, it could also be to do with movement of the building's foundations leading to the walls shifting

Jammed windows and doors: If they won't open or close easily, it's more likely that they are swollen – which can happen with changing temperatures and humidity levels – but it could also be due to subsidence
Can I claim on my home insurance if my house needs underpinning?
Yes. When you take out home insurance you'll be asked whether the property has subsidence, or whether it's had it in the past.
As long as you've answered that question truthfully, your insurer will have factored it in when issuing your policy – or they would've said they can't offer buildings cover and that you should seek a specialist.
If you've a confirmed problem with subsidence, call your home insurance provider to start the claims process.
Can I get underpinning house insurance?
If your home has been underpinned, you may struggle to get standard buildings cover, but several insurers do provide specialist cover.
You'll need to supply a few facts about the building's history, including the year it was underpinned and details of all claims made. This should detail what caused the subsidence and if there has been any ground movement since.
You should also always let your home insurance provider know of any structural issues or underpinning work at the time of taking out the policy.
Do I have to declare if my home was underpinned when selling?
Yes, it's a legal requirement so you should let both the estate agent and buyer know if your property has been underpinned.
You may also want to pass on the name of your insurance provider so the new owner can continue cover should they need to make a similar claim in the future.
Should I buy a property that has been underpinned?
You shouldn't automatically reject a property just because it's been underpinned, but it's wise to check it out thoroughly.
Although it may seem expensive, a full structural survey will tell you if there are any ongoing issues due to subsidence affecting the property.
Bear in mind that the property may be harder to sell on if it has been underpinned. However, in locations known for subsidence, or if it's a period property where structural issues are expected, this is likely to be less of an issue.
If you do buy an underpinned property, don't forget to have your buildings insurance in place from the day you exchange contracts, rather than waiting until you move in.
Can I get a mortgage on a house that has been underpinned?
Yes, providing the underpinning has been done to a high standard and no ongoing issues are envisioned, you should be able to get a mortgage for the property.
You may need to provide a structural survey report as evidence that the property is structurally sound after the work has been completed.
It will be more difficult to get a mortgage for a property that has subsidence and hasn't been repaired.
Does underpinning make home insurance more expensive?
It's likely to make your buildings insurance more expensive, but if your home is susceptible to subsidence it's even more important to have cover in place. So, don't delay.
| Has the property been underpinned? | Average annual premiums |
| --- | --- |
| Yes | £265.05 |
| No | £132.34 |
Based on MoneySuperMarket data collected between July and December 2020, accurate as of January 2021
Compare home insurance
Finding a cheaper home insurance quote is quick and easy with MoneySuperMarket.
Just pop in some details about your home and your belongings, and we'll compare quotes from our leading panel of insurers to help you get the cheapest deals on cover suited to your needs.
Looking for home insurance?