Compare home insurance with cover for your clothes
You might be surprised at just how much your clothes are worth, so don't forget to factor them in on your home insurance.
Looking for home insurance?
When you think about the things you want your home insurance to protect, odds are you'll start with your TV, gadgets, or jewellery – but what about your clothes? Believe it or not, the most expensive thing you own might actually be your wardrobe.
The average person could own thousands of pounds worth of clothes without realising it – and that figure is even higher if you're a serious shopper or into luxury brands. So, are all your clothes included in your home insurance contents cover?
It's a tricky question – not all home insurance automatically covers clothes. This means that if your wardrobe's ruined by a fire or flood, you could be left without even the coat on your back – and you'll have to face the extra expense of replacing everything, from winter coats to shoes to sports gear, dresses, or suits.
Luckily, our guide gives you all the information you need about keeping your clothes protected – so that's one less thing to worry about.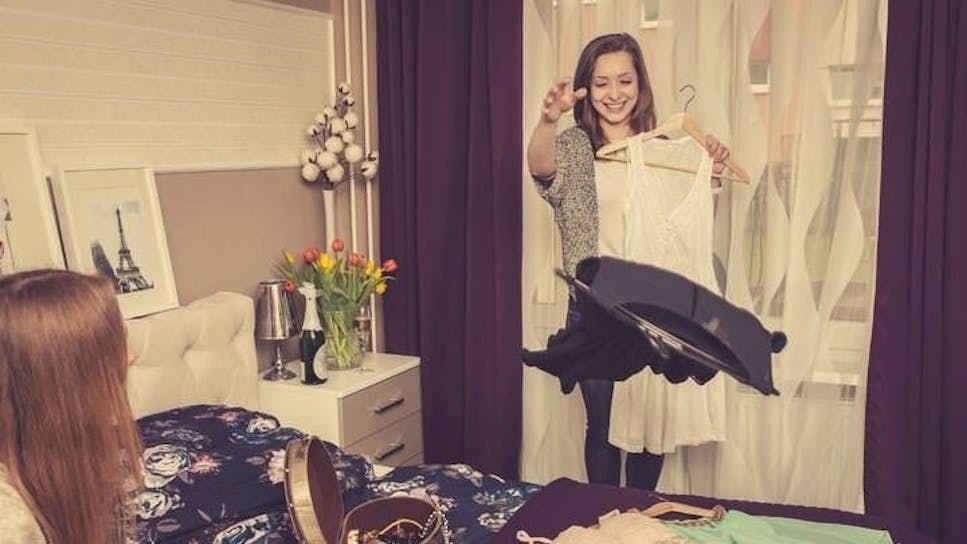 Is my wardrobe already insured?
If you have contents cover with your home insurance, it might include your clothes – but not always. Some providers simply don't cover the cost of clothes, and others might only include them up to a certain amount.
Make sure you check the small print on your policy so you know exactly what you're insured for, and what isn't included. If your wardrobe is insured, it's still a good idea to make sure that you have the right amount of cover.
Are high value clothes included in home insurance?
Home insurers usually have a limit on the amount they'll pay out to replace a single item – generally between £500 and £1500. But if your wardrobe includes a couple of high value clothes – think designer shoes, fur coats, or bespoke tailored suits – they could be worth much more than that.
When you take out insurance, make sure you list anything worth more than £1000 separately. You might have to pay a little extra for cover, but it's well worth it to make sure the most precious items in your wardrobe are protected.
When you compare home insurance with MoneySuperMarket, you'll have the option to include any valuable items separately – just tell us what you want to insure and how much it's worth, and you can include as many high value items as you need.
How do I calculate the cost of my wardrobe?
It's important to know exactly how much your clothes are really worth. If the worst happens and you need to make a claim, your insurer will pay out the current value of your clothes – which is not the same as the amount you originally paid for them.
Usually, clothes lose value over time due to wear and tear – but some vintage pieces might actually become more valuable the longer you hold on to them, as long as you keep them in good condition. So to make sure you have the right amount of cover, you might need to do some quick research.
If you have an especially pricey collection, you could consider having it evaluated by a professional appraiser. Otherwise, a handy trick is to try searching online vintage stores or second-hand exchanges for similar items. Different sellers might have different asking prices, but it should give you a rough estimate of what your wardrobe's really worth.
Remember that it's not just clothes and shoes you'll need to insure, but accessories too – items like handbags, belts, ties, and cufflinks can add more than you'd expect to the value of your wardrobe. And don't forget about gifts either: just because you didn't pay for something yourself doesn't mean it's not worth something.
What is new for old cover?
Unlike ordinary contents insurance, new for old cover doesn't pay out the value of any possessions you've lost – the lump sum will be enough to buy a brand-new replacement. It's included in some of the most comprehensive home insurance options – but will it cover your clothes?
Usually, insurers don't like offering new for old cover on clothes, because clothes tend to get a lot more wear and tear than most other possessions. For instance, a five year old pair of jeans will lose much more value than a five year old sofa or TV. But for more expensive items, and especially accessories like handbags, it might be worth seeing if there's an insurer that will cover it on a new for old basis.
You can find out more about new for old cover in our guide.
How do I make a claim?
Nobody ever wants to have to claim on their home insurance, but if the unforeseeable happens there are a few things you can do to make the whole experience less stressful.
It's a good idea to keep the receipts for any high-value clothes, shoes, or accessories you buy. Keep your receipts somewhere safe – or, even better, take a photo and store it online so there's no risk it'll be damaged in a fire or flood.
You should also consider taking a few quick photos of your wardrobe. These won't just help out if you ever have to replace your belongings – having this kind of evidence on hand can be useful when it comes to making a claim.
If you don't have receipts or photos, it's well worth keeping a list of everything in your wardrobe along with its value. This is helpful when you first take out insurance, since you'll know exactly how much to insure your clothes for – and having a tidy list will also help speed things along if you ever need to make a claim.
Compare cheap home insurance with MoneySuperMarket
Whatever you've got in your wardrobe, it couldn't be easier to find a great deal on home and contents insurance with MoneySuperMarket. Simply give us a few quick details about yourself and your property, and we'll compile a list of quotes tailored to your exact requirements.
We'll do all the hard work for you – and it's simple to compare deals by the overall cost or the level of cover you get, so you can find a policy that gives you everything you need.
As with all insurance products, the cheapest option isn't always the best. We recommend aiming for a balance between cost and cover, so you can avoid under-insuring yourself or overpaying for a policy you don't need.