Compare bicycle insurance options
Bicycle insurance provides protection for a valuable asset, covers the costs of repairs or replacement in case of theft, loss, or damage, and offers peace of mind for individuals who rely on their bike for transportation. Find out more and compare quotes.
Whether you commute on a road bike or e-bike, hit the trails on a mountain bike, or take a leisurely ride on a hybrid, read our guide to find out how to protect your favourite two-wheeler.
If you're a keen cyclist, you don't need to be told the many benefits of your bike. From the freedom of riding along the UK's roads to saving money on train fares and petrol, cutting down on pollution and improving your health and fitness, pedal power sure is attractive.
You want to make sure then, that you and your wheels stay safe and bicycle insurance is a great way to protect yourself.
Why do you need bicycle insurance?
Bikes can cost thousands of pounds to replace if they are damaged or stolen, but having a bicycle insurance policy could cover the cost.
It doesn't matter whether you're a casual cyclist with your trusty two wheels or a serious enthusiast with a custom racing bike that cost thousands of pounds – cycle insurance can be tailor-made to meet your needs.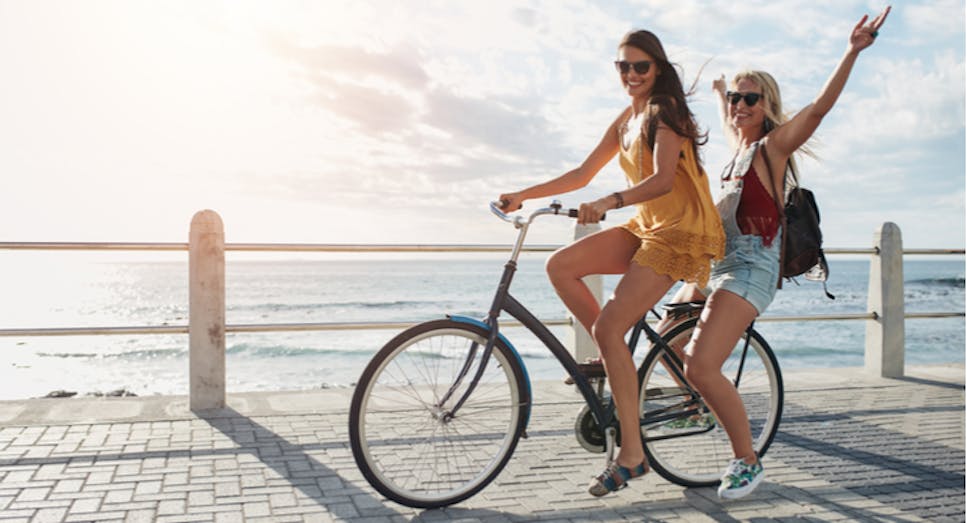 Is bike insurance mandatory in the UK?
It is not a legal requirement to be insured in the UK on a bike.
What does bicycle insurance cover?
A standard bike insurance policy would cover you for:
Theft: If your bike was stolen

Accidental damage: The policy would cover the cost of repairing any accidental damage to your bike

Malicious damage: The policy would cover the cost of repairing any damage caused by vandalism or replace the bike if the damage is too much
What extras can I get?
You can also add additional cover to your bicycle insurance such as:
Personal accident: In the event of serious injury or death sustained from riding your bike, personal accident cover gives you and your family peace of mind

Third-party liability cover: this covers you, just in case you injure another person or damage their car or bicycle

Accessories: This part of the policy would cover you for any equipment that may get lost, stolen, damaged or vandalised on your bike (e.g. helmet, clothing, GPS or lights)

Cycling abroad: The policy would cover you for cycling on roads in countries other than the UK

Competition use and race fees reimbursement: Some policies will cover you taking part in time trials, road races and triathlons

Legal expenses cover: This covers your legal costs if you're involved in an incident, such as a crash, that could end up in court

Family and multi-bike cover: Allows you to cover multiple bikes and add family members to your policy
What type of bike will my insurance cover?
Your bike insurance policy can cover a wide-range of bicycles including:
Road bikes

Mountain bikes

Hybrid bikes

Folding bikes

E-bikes or electric bikes that meet the DVLA's EAPC rules, such as the pedals being in motion for electric assistance to be provided and a maximum power output of 250W

Customised bikes can also be insured. Contact your policy provider to discuss specific requirements
Tips to keep your bike safe:
Invest in a good quality bike lock: You get what you pay for when it comes to locks, meaning a cheap lock will be little deterrent to a bike thief. In most cases, the more expensive a lock, the better it will be at protecting your bike from theft – D-locks are often the most secure

Lock your bike securely, including the wheels: Make sure to attach your bike to something that can't be moved or lifted, as your bike is only as secure as the thing you attach it to. For example, a mesh fence only needs a small pair of wire cutters to get through. You should also lock the wheels (if they are quickly removable) together with the frame, ensuring the D-lock is secure and close to the bike

Lock your bike in the safest location: Never leave your bike in an isolated place, instead choose to lock it in a well-lit area that people pass frequently and, if possible, with CCTV near to your location

Two locks are better than one: Two locks (preferably different types) are more likely to deter a thief, because it is more of a challenge to prise both open. It is unlikely that a thief will have the correct tools to break both a D-lock and a chain lock, so a combination provides a formidable opposition

You may need to keep it locked up even if it's in your own shed or garage: This varies by insurer, though it's still a safer bet to lock it up. You won't need to lock a bicycle kept inside your locked home, however

Register and insure your bike: It's important and necessary to register your bike with the correct company, as it will assist the police in identifying a stolen bike and boost the chance of it being returned to you. A policy not only insures you against theft, either inside or outside the home, but will protect you from damage incurred from vandalism or accidents. In addition, you can insure for personal accidents and public liability cover so that if you damage someone else's property or person, you are covered
How much is bicycle insurance?
The insurance cost depends on the value of the bicycle, how many bicycles you wish to cover, where you live and what additional extras you choose.
Am I covered by my Home Contents Insurance policy?
If you have a home contents insurance policy, your bike might be covered against theft and malicious damage already.
However, most contents policies will not cover expensive bikes, or when you take them away from home, unless you pay extra. Often, the bike is only covered by the home contents insurance or home insurance policy if it is inside the property or secured properly in an outbuilding like a shed or garage.
If you have an expensive bike that you use regularly to get around, or if you take part in competitions, bicycle insurance will give you the best cover.
What would void my claim?
If you've taken out bike insurance, make sure you know the policy exclusions to prevent voiding your cover or the rejection of a claim. The most common exclusions are:
If you use your bike for monetary gain, such as being a cycle courier

Any loss where you cannot prove you own the bike, so keep the receipt of sale

Any cosmetic damage won't be covered – scratches and dents that don't affect how the bike actually rides are not covered, for example

Any damage to accessories, like tyres or mud guards, unless the bike itself is damaged at the same time

Theft of your bike when you have not secured your bike properly

Any accidents that may happen under the influence of drugs or alcohol will void your claim
How to get cheaper premiums
There are a few things you can do to reduce the cost of your specialist bike insurance policy:
Shop around: Make sure you shop around to compare deals and find the best one for you

Store your bike securely: There is no discount for special locks or security however, some policies will state that claims may not be paid if the bicycle is stolen from a vehicle or left unattended away from the insured location. Secure your bike with a sturdy lock and preferably in a locked garage or shed

Pay a higher excess: If you can afford to, paying a higher excess can reduce the price of your premium
Which companies provide specialist bike cover?
We want to show you as many insurers as possible, so that you can choose what suits you best. But, we can't promise to show you every single insurer, because some insurers don't want to be included on comparison websites.
We think a good bicycle insurance policy should cover you for theft of your bike and provide new for old replacement and European cover. We prioritise the companies that include these things in their standard policy, so they appear higher in our list. The insurers who only offer some of these things in their standard policy appear lower down in the list.
What do I need to get a quote?
You only need to answer a few questions to get a quote and these include:
Details about your bike (the type, make and value)

Standard cover requirements (excess amount, accessories cover, replacement cycle and no claims discount)

Optional extras (e.g. competition use)

Security information (if you have and locks/alarms installed)

Personal details (your name, address and age)
Compare bicycle insurance quotes with MoneySuperMarket?
By comparing bicycle insurance with MoneySuperMarket you can find our best deals at an affordable price. You just need to provide information about your bike and desired coverage, and we can show you options from multiple insurance providers to compare. You can conveniently weigh the benefits and costs of each policy to determine which one is the best fit for you, helping you super save with MoneySuperMarket.