How to choose the best credit card to use abroad
Travel credit cards can be a great way to spend on holiday, but if you choose the wrong one, you could be hit with high fees and charges. Our guide explains how to avoid the pitfalls
What is a travel credit card?
A travel credit card is a type of credit card that usually won't charge you for spending overseas. Unlike standard credit cards that can come with high interest rates and extra fees when used abroad, a travel credit card won't charge you exchange fees. Travel credit cards aren't to be confused with currency cards, or airline credit cards that offer rewards like airmiles for your spending.
Similar to other types of credit card, travel credit cards can give you financial protection if your spending doesn't go according to plan. Under Section 75 of the Consumer Credit Act, if you spend more than £100 but less than £30,000 on your credit card and something goes wrong or isn't as described, you can apply to your lender for a full refund.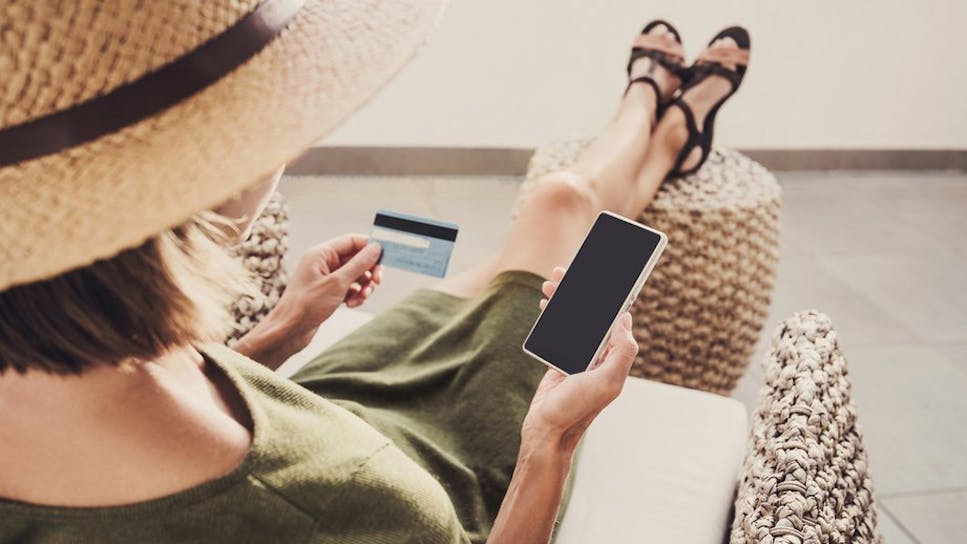 How do travel credit cards work?
Using a travel credit card can be a way to avoid exchange fees when spending abroad. As long as you pay off your balance in full and on time each month, travel credit cards can be a more affordable way to spend on holiday.
Here are some key features of how travel cards work:
No foreign transaction fees: Travel credit cards are designed to be used abroad, so you won't have to pay foreign transaction fees

Rewards: Some travel credit cards offer rewards, such as cashback, travel rewards and vouchers when you spend

Cash withdrawals: Some travel credit cards might let you withdraw cash from a cash machine abroad without charging you a fee. But the ATM you use may still impose fees, and you'll still be charged interest on cash withdrawals even if you clear your balance each month

High interest rates: Travel credit cards often have high interest rates, which means if you don't pay the balance off in full each month, you might end up cancelling out the exchange rate benefits

Not everyone is guaranteed to be accepted: You might need to earn a certain amount of money or have a good credit score to be accepted for a travel credit card

Monthly or annual fee: Because some overseas spending cards come with rewards and benefits, you might have to pay a monthly or annual fee to use the card

Check your credit card payment network will be accepted: Some countries you're planning on travelling to might not accept payments with a Visa or MasterCard. It's worth checking that your travel card payment network will be accepted in the country you're going to before you leave
How to choose the best credit card for travelling?
The best credit card for you to travel with will depend entirely on your needs and financial situation. Here we outline what credit card features could be well-suited for you on your travels:
No transaction fees: A travel credit that offers no transaction fees for your spending abroad could be ideal. Not having transaction fees means you won't be charged any additional fees for using your card for spending, e.g. at the shops during your holiday.
Exchange rate: Using a fee-free credit card overseas can still be expensive if your provider isn't offering you the best exchange rate. When you compare travel credit cards with MoneySuperMarket, you can see the exchange rates on offer and make sure you're getting the best deal available to you.
No interest on cash withdrawals: You might need to get cash from the ATM when on holiday so no interest on withdrawals can save you money. It's important to remember that withdrawals may only be interest-free as long as your outstanding credit card balance is repaid in full.
No cash withdrawal fees: There are travel credit cards that offer no withdrawal fees on money overseas. This type of credit card lets you use an ATM abroad without having to pay a fee on top whenever you take out local currency during your travels.
What is the best way to use a travel credit card?
A travel credit card is designed for overseas spending. Here are some tips to make the best use of your card:
Inform your provider you'll be going away: It is a good idea to let your card provider know you'll be out of the country. Sometimes, foreign transactions can raise suspicions and your card may be blocked by your provider. So, it's advisable to let your bank know when you're travelling.
Avoid cash withdrawals: Try your best not to make cash withdrawals with your travel credit card. You could be charged for the cash withdrawal as well as interest for the amount you've withdrawn.
Pay in local currency: When using your credit card overseas, it is best to pay in the local currency. When using cash machines abroad, you may be given the option to pay in pounds. If you choose to pay in the local currency, you'll benefit from a better exchange rate.
Pay off your balance in full: It is important to remember to pay off your card in full each month to avoid any extra charges as they can negatively impact your credit score.
Is it better to use a credit card or debit card abroad?
Debit cards are typically used for day-to-day spending and use money from your current account.  When using a debit or credit card abroad you run the risk of incurring hefty fees. Debit cards tend to charge higher fees for usage abroad and don't offer the best exchange rate. If you shop around, you can find travel credit cards with competitive exchange rates.
Alternatives to travel credit cards
Not sure if a travel credit card is the right choice for you? There are alternatives to travel credit cards, if you're looking to make your overseas spending more affordable, including:
Prepaid cards: An alternative to carrying cash around with you, prepaid cards can be topped up and may be ideal if you want the security that comes with cashless payments. Watch out for fees though - some firms will charge you for topping up, spending and withdrawing cash

Debit cards: A debit card lets you spend the money you have in your current account – when used abroad, debit cards may come with extra charges or fees

Paying in cash: Prefer to take travel money with you abroad? Our travel money and foreign currency comparison page can help you find the most competitive exchange rates on the market
Compare travel credit cards with MoneySuperMarket
With many types of travel credit cards available, choosing the right card for you can feel overwhelming. But that's where MoneySuperMarket come in.
Whether you're after a standard travel credit card, or a card that comes with rewards, we compare deals from the UK's leading card providers and banks, so you can choose the right option for your needs.
MoneySuperMarket is a credit broker – this means we'll show you products offered by lenders. We never take a fee from customers for this broking service. Instead, we are usually paid a fee by the lenders – though the size of that payment doesn't affect how we show products to customers.