Find a Mini car leasing deal
Thinking about leasing a Mini? Our guide lets you know how it works
Powered by Moneyshake 
How does a Mini lease work? 
A Mini car lease deal allows you to drive a brand-new Mini without having to take out a car loan or other car finance package.  
It's simple to get started. You choose the Mini model you would like to lease and then decide how much you can afford to pay upfront* (this will have an impact on the monthly payments on your lease. You'll agree the term (length) of your lease agreement and the number of miles you wish to drive each year. 
You will need to insure your lease car in the same way you would if you were buying a car. Most leasing providers will require you to take out a fully comprehensive policy in order to protect the vehicle in case you have an accident. 
At the end of the contract, you will hand the car back with nothing more to pay (so long as you've kept the car in good condition and not exceeded your mileage allowance). 
*The initial upfront payment is typically equivalent to a number of months rental (for example nine months rental). This is a non-refundable amount that goes against your monthly lease payments.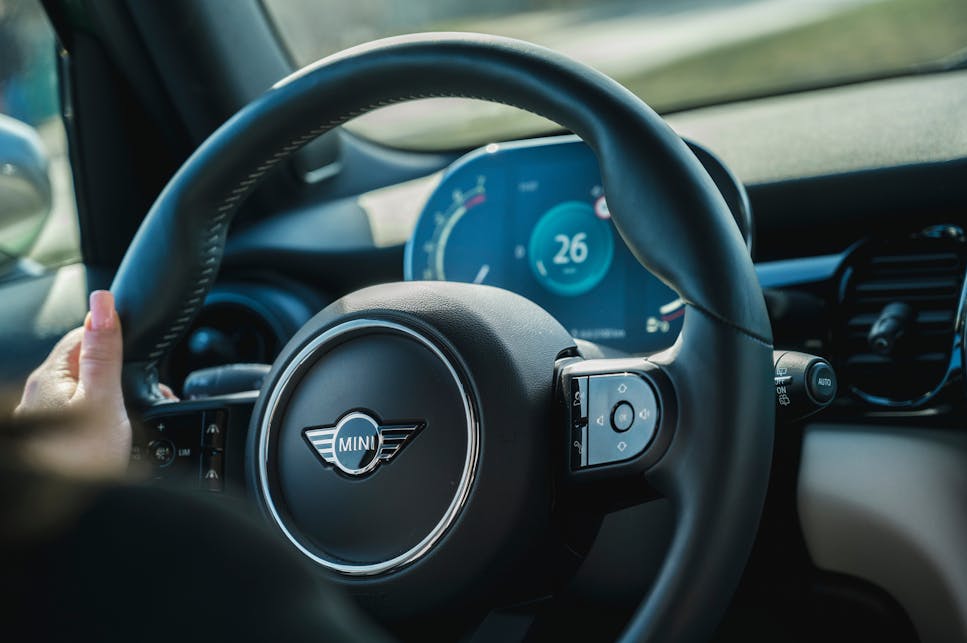 What is the lease agreement length on a Mini deal? 
You can choose to lease your new car from anywhere between two and four years. 
It's important to remember that a longer lease agreement will spread the lease cost, making the monthly payments cheaper. 
If you choose a lease agreement that's longer than three years, you will be responsible for arranging and paying for the car's MOT on its third birthday. 
For longer lease agreements, you have the option of a maintenance package that will cover the cost of your MOT and your car's regular services. Bear in mind that this will be to maintain parts of the car that are subject to wear and tear - but it won't include damage caused by driver fault. 
What Mini models are available to lease?
Mini is the manufacturing embodiment of Britishness. After dominating popular culture in the UK for decades, Mini lease deals allow you to drive a small piece of this history - for low monthly payments. 
Its flagship model – the Mini Hatchback, for example – is an exemplary British icon and one of the best-selling small hatches in the UK.   
If you're looking for something larger, the Mini Countryman is Mini's most resourceful crossover to date, with a very practical, robust design that's as glamorous as it is spacious.   
The Mini Convertible is a brilliant soft-top vehicle that combines the fun, outgoing nature of a convertible, with the ability to function well as a daily runabout car. 
Who provides the Mini car leasing for MoneySuperMarket?
We've joined up with our partner Moneyshake to bring you Mini car leasing deals from the UK's top lease providers. 
What are the benefits of leasing a Mini car?
Mini leasing lets you drive away in one of Mini's world-renowned vehicles for fixed monthly payments. Free UK mainland delivery, the manufacturer's warranty and road tax are included. 
What happens at the end of my Mini leasing deal? 
At the end of your Mini lease deal you can simply return your leased vehicle. Afterwards, you can take out a new deal on a different model or look elsewhere and walk away. 
Other useful guides 
Read more about car leasing with our detailed guides:  
Compare our best Mini car leasing deals with our partner Moneyshake 
We've joined up with partner Moneyshake to bring you car leasing deals from the UK's top lease providers.  
You can compare a range of deals depending on your monthly budget, annual mileage and the make and model of the car you want.  
Once you've picked your deal, the car will be delivered free of charge, with road tax and full manufacturer warranty included. 
Frequently asked questions
What's the cheapest Mini lease available?
The cheapest Mini you can lease is the Mini Hatchback, which is available from £272.15 per month*.   
*Price based on a nine-month initial rental, 48-month contract and 5,000 annual mileage. Price accurate as of October 2022. 
Am I eligible for a Mini car lease?
In order to be eligible for a Mini lease, you'll need to be at least 18 years old, have a full UK driving license and a good to excellent credit rating. 
It's also important to make sure that you can budget to afford the monthly payments for the vehicle you're interested in. 
Is there a limit on how many miles I can drive?
When taking out your Mini lease deal you will select your annual mileage. 
If you have gone above this agreed mileage when handing your car back, you will likely be charged an excess mileage fee. 
Will I have to pay for repairs if I have an accident?
Yes – you should notify your provider straight away. You will then need to take it to an approved garage for repairs. If there isn't information already in your contract about what garages are approved, then your provider should give you this information when you call.  
Once you've made the provider aware of the extent of the damage and have a list of approved garages, it's then your responsibility to arrange a day to take it in to be repaired and pay the quoted price.