The UK's top 10 best-selling electric cars
The best electric cars tend to have a good mileage range, are quick and cheap to charge, and perform well while reducing emissions. But ultimately the best electric vehicle is the one that works for you and your lifestyle.
What makes a good electric car?
The sale of electric vehicles is booming. There are more electric vehicles on the road than ever before - with drivers realising the benefits of electric cars and car manufacturers changing their production so that by 2030 every new car that comes off the line will be battery powered.
Between January and March this year, fully electric cars made up 26% of new car insurance enquiries on MoneySuperMarket. That's a 225% increase from 2020.
Electric vehicles have previously been released as luxury cars and the space has dominated by Tesla, however more well-known (and affordable) brands are entering the electric vehicle space, providing customers with more choice than ever before.
In 2022 so far, MoneySuperMarket customers have obtained quotes for 400 different fully-electric vehicle models, with Nissan, BMW, Volkswagen, Kia and Renault all taking some share from the previously dominant Tesla.
Here we look at the 10 most popular cars drivers searched for when it comes to insurance.
1. Tesla Model-3 
Price: From £42,000
Average insurance premium:£2,022.35*
The Tesla Model-3 is the most affordable Tesla on the market and has become a bit of a phenomenon since its launch in 2020, crashing its way to the top spot on our best-selling electric cars list.
There are three grades available in the UK – Standard Range Plus, Long Range and the flagship Performance, with varying ranges. Cleverly designed, it boasts a techy interior, stylish exterior and overall is a practical car.
A smooth drive with a rapid start, the Performance version can hit 60mph in just 3.1 seconds.
2. Nissan Leaf
Price: From £26,995
Average insurance premium: £1,723.17*
Practical, convenient and good value for money, it's no wonder you've seen so many Nissan Leafs on UK roads. First released in 2010, it's a small but reliable electric car and it's very popular.
British-built Nissan Leaf was first released in 2010 and saw a major update in 2017. Between 2020 and 2021, Leaf sales increased by almost 50%, and it's still popular among electric car drivers today, despite an increasing number of rivals.
You can fully charge a Leaf overnight in around 7.5 hours using a 7kWh home charger. Or, if you've got access to a 50KW fast charger, you can get to 80% battery in as little as 60 minutes.
The 40kWh Nissan Leaf has an EPA-estimated range of 149 miles, while the 62kWh version has a range as high as 226 miles.
3. Tesla Model-S
Price: From £73,000
Average insurance premium: £2,566.99*
Still a popular option since its launch in 2012, the Tesla Model S offers an impressive range, roomy interior and high but practical performance.
There are currently two models to choose from, the Model S Dual Motor, or the Model S Plaid which boasts capabilities of up to 396 miles with a 1.99 second 0-60mph time and 200mph top speed.
4. Tesla Model Y
Price: From £45,000
Average insurance premium: £1,431.7*
With a reliable range, fast charging capability, plenty of space and user-friendly onboard technology, the Tesla Model Y is the electric family-favourite SUV. It's got five seats, but a seven-seater version is expected in the future.
As with the Model 3, there's a Long Range version and a Performance model, but Tesla doesn't currently offer a cheaper, rear-wheel drive Standard Range model. That's one of the reasons the Model Y has a much higher starting price than its saloon sibling.
5. Kia e-Niro
Price: From £28,000
Average insurance premium: £592.96*
One of the most affordable long-range electric cars on the market, with a range of 282 miles, it's no surprise that we find the Kia e-Niro on our best-selling electric cars list.
It's easy to drive, stylish but spacious, practical and boasts advanced safety features. It also comes with Kia's generous seven-year warranty, so you can cruise along without too much worry of something going wrong.
6.  Renault Zoe
Price: From £28,795
Average insurance premium: £1,022.12*
The Renault Zoe, with a range of 245 miles, is another EV that's been around for a while and offers decent range, an attractive design, and relative affordability. Its official range is 245 miles, which for a hatchback of this size and price is impressive.
Most owners will charge using the 7kWh wall box home charger that comes with the car, meaning it has a charge time from empty to full in 9 hours and 25 minutes. If you use a faster charger when you are out and about the Zoe will suck electricity up at a maximum of 22kWh, giving a full charge time of 2 hours and 54 minutes.
7. Nissan Leaf Acenta
Price: From £29,790
Average insurance premium: £699.98*
It's proof of just how popular the Nissan Leaf is that two different styles are found in our top 10 list.
The Acenta has a cloth interior for extra comfort and a driving range of 245 miles. It's a reliable and relatively affordable electric car and would make a perfect family car.
You can charge at home from empty to full in around six and a half hours, with a 7kWh charger. If you're using a faster charger it can go from 20% to 80% in an hour.  
8. Jaguar I-Pace
Price: From £64,625
Average insurance premium: £1,123.20*
An all-electric SUV from Jaguar, this proved a worthy rival to the Tesla when it was first launched in 2018.
It's a practical car with four-wheel drive off-road capability with a range of 292 miles.
To fully charge the I-Pace it'll take 12 hours if using a 7kWh charger, but a faster 100kWh charger will take 40 minutes to give you a 240 range. 
9. Porsche Taycan
Price: From £70,690
Average insurance premium: £1,922.34*
One of the best electric cars on the market, and the most expensive, the Porsche Taycan is a close contender for the Jaguar I-Pace.
It takes around nine hours to fully charge from home, with a 7kWh charger, but can go from 0% to 80% in just over an hour with a 50kWh charger.
This model has everything you'd expect when it comes to technology combined with an ultra-sleek design. Is range is 268 miles when fully charged. 
10. Nissan Leaf Tekna
Price: From £27,000
Average insurance premium: £598.40*
The Nissan Leaf makes it into our top 10 again, but this time with the leather interior design of the Tekna.
It has a range of 268 miles when fully charged, it also has a seven-speaker Bose music system and a mixture of leather and suede on the inside.
Designed as a family car, it's one of the most affordable both for the price of the car and its average insurance premiums, on our list. 
*Based on policies with one driver holding a full UK driving licence. MoneySuperMarket data collected between January 2021 and March 2022.
Not sure you can commit to fully electric just yet, check out the UK's best-selling hybrid cars.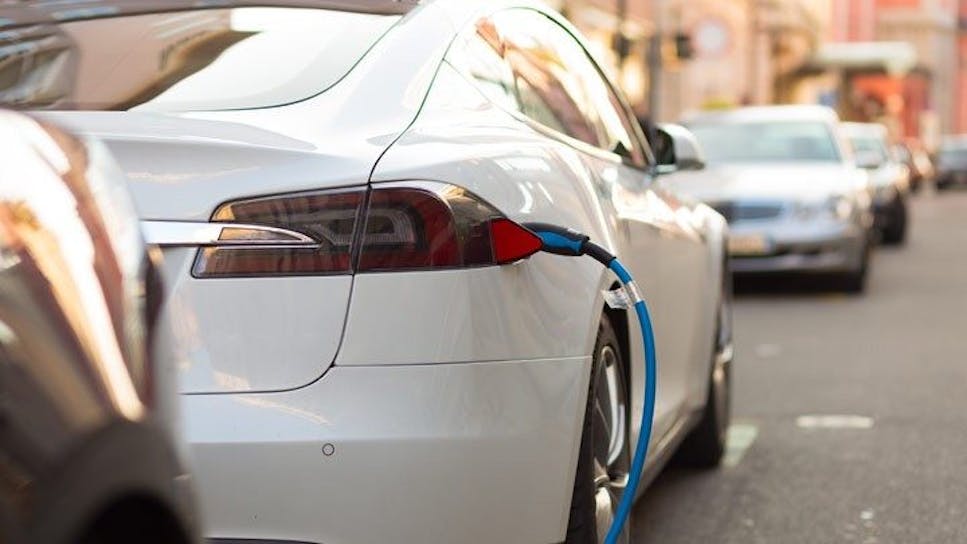 What should I look for when buying an electric car?
When you are buying a fully electric vehicle the main points you should consider are:
How will you charge your electric car? Do you have access to a charger at home or is there one in a nearby public space such as a car park?

Does the car have sufficient mileage range to suit your day-to-day routine? If you're daily commute is around 30 miles, you should have no problem, but if travel much longer distances you'll need a car with a bigger range. 

Is it more affordable for you to lease rather than buy an EV? You can often pay a lower monthly cost, with no extras, to lease rather than buy an electric vehicle, although this means you won't actually own the car.
And don't forget your Electric Car Insurance – compare with MoneySuperMarket to find a great deal.