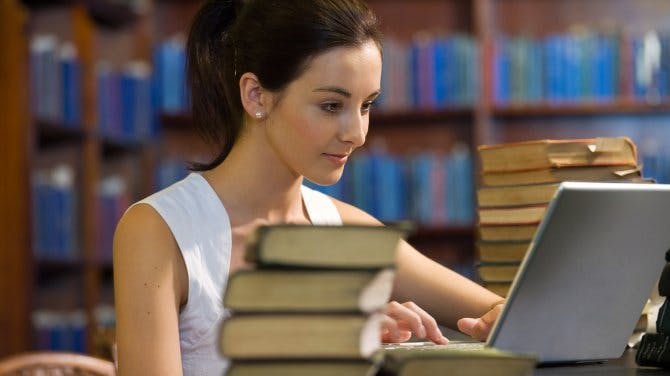 It is becoming more and more important when you are at university to have access to the internet. Lecturers use it as a way of keeping in touch with students and the resources available on the net can help with their studies. Our guide to student broadband will ensure you get the right package at a price to suit you.
It's essential to have access to the internet when you are studying at university. Lecturers use it as a way of keeping in touch with students and the resources to help your studies will be available online. Our guide to student broadband will ensure you get the right package at a price to suit you.
If you're a student then you'll understand the importance of high quality broadband. Whether it's to research your assignment topics, , keep in touch with family and friends, or stream music, videos and games, having an internet connection that doesn't cut out is a top priority.
So, where do you start when it comes to getting a broadband package? Follow our simple guide to getting an internet connection that doesn't break the bank.
What is student broadband?
Student broadband is the same as normal broadband but focuses on deals that are often low-cost, shorter contracts, offer greater flexibility and more generous download limits than alternative packages. Therefore, our student broadband contracts are perfect for cash-strapped students.
What speed do I need?
If you're not accustomed to setting up a broadband connection, the range of speeds from standard to Fast Fibre, Superfast Fibre to Ultrafast Fibre, can be boggling.
Thankfully, the quality of broadband is improving all the time, so even with a house full of students online for hours, you're likely to find a package to suit your needs.
There are a few things to consider before deciding what broadband speed will be most suitable.
The first is to check what upload and download speeds are available in your area – use our broadband speed test to find out. For example, if it indicates that your download speeds are 60Mb then there is little advantage in paying more for Ultrafast Fibre broadband of 100Mb – you simply won't be able to reach it.
The good news is that once you've taken the speed test, we'll filter the results to show you the packages that are the most suitable.
If you want to save costs by opting for standard – rather and superfast or ultrafast – broadband, then consider how many of you will need to use the service and what you'll be using it for.
More good news is that while there used to be a cap on broadband usage, increasingly student households can find deals with 'truly unlimited' usage, so you can download what you want, when you want and the only limiting factor will be the internet speed.
How many people are you living with?
Consider how many people will be using your internet connection before deciding on the right package for you.
If the answer is between one and three, you could be better off opting for a similar broadband package as the one you've got at home.
However, if you're living in a house of more than three students, you'll want a quicker connection.
What do you use the internet for?
Using the net to browse the internet or access online resources is less data heavy than watching movies, downloading the latest songs or streaming live TV (with a television licence, of course).
If you're going to spend hours streaming Netflix or play online computer games through the night then you need to make sure your broadband speed is up to it. You can find out more about broadband speed here.
Wireless, Fibre Optic and Mobile internet
When it comes to selecting a specific package, you need to make sure that you consider the type of broadband you're going to opt for. Students living in a shared house with multiple housemates will benefit from a fibre optic connection, which offers superfast connection speeds, reducing the likelihood of experiencing delays or interference.
You can find out whether fibre broadband is available in your area by punching your postcode into our availability checker.
All major UK broadband providers will send you a wireless router, allowing you and your housemates to log on as soon as you step through the front door.
When using the internet, the closer to the wireless router you are, the better the signal you'll receive.
If you don't want to be tied down to a long broadband contract, you could look into getting a mobile broadband connection. This is essentially a mobile dongle which provides a 4G internet connection the same way as your phone does.
It could also be handy if you regularly set up your work station in the park, on the train, or anywhere where there isn't reliable wireless coverage.
Remember though that mobile broadband tends to be slower than your typical wireless broadband connection, and usually offers a much smaller monthly data allowance too.
How long do I have to sign up for?
Another key factor to consider is how long the broadband contract you decide on will last. The best value contracts for student houses usually tie you in for a year. If you're moving to a new student house after 12 months, you can opt to continue your contract as long as the provider still has coverage.
Broadband, TV and telephone
Next it's important to decide what you actually need as part of your broadband package. If you're a house full of movie fanatics, or a house full of sporty students who love watching the match live, you might fancy opting for a deal that comes with a television subscription added on.
You can make the choice from a number of providers and packages, including Sky, Virgin Media or BT.
There are endless different options which can make it difficult to compare, however, it's always important to keep one eye on your budget
When it comes to a phone line for the student house, you again have choice. You can look at deals that include calls at any time, on evenings and weekends only, and others with no calls and even no phone line included at all.
Can I get broadband without a phone line?
Yes. When you do a broadband search with MoneySuperMarket, you can type in your postcode and see what deals are available in your area. You can then filter for 'Deals without a phone line'
Is cheaper always better?
As a student you may be on a tight budget, but is your broadband connection something that you really want to scrimp on? Sometimes cheap broadband deals aren't as lucrative as you might think, especially if you've got a number of heavy users living under one roof.
If you're splitting the cost between everyone in the house, consider whether you can afford to spend a few extra pounds on getting the best connection that's right for you.
Can college students get free internet?
If you're looking to get internet for a privately-rented student house, then it won't be free just because you are studying.
As a student, you are probably aware of plenty of places you can go to access free internet: the Students' Union, halls of residence, and local cafes and coffee shops.
However, there is nothing quite like the convenience of having the internet at home to be able to use 27/7 and it will also be much more secure than using public WiFi.
Compare student broadband deals
To make sure you're safe and not sorry, you should always do your research when signing up for your broadband contract and using a comparison site like MoneySuperMarket is a perfect place to start. Not only can you sort your deals according to speed, but you can compare all of the UK's major broadband providers side by side.