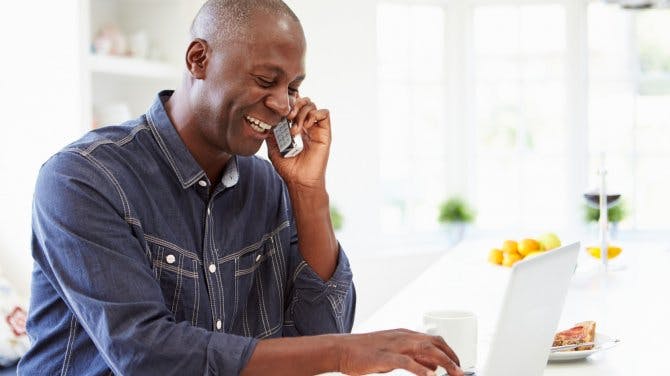 Get access to the internet on your laptop when you're away from the office or home with a mobile broadband internet connection. Read our guide to the different options available to help you find the right deal for you.
There was a time when computers needed to be plugged in to access the internet. Thankfully, web technology and hardware has come a long way since then, allowing us to take the internet with us almost wherever we go.
WiFi connections are increasingly available in homes, offices, cafes, and public spaces, but if they're not free, available or underperforming, then mobile broadband can often be an alternative solution.
But how does mobile broadband work? How is it different from home broadband? And where can you find the best deal?
This guide answers these questions, giving you a complete guide to mobile broadband.
What is mobile broadband?
Mobile broadband is the ability to connect your laptop or tablet to the web by using 3G, 4G or 5G phone networks.
As long as you can get a mobile signal, mobile broadband allows you to get internet and surf the web by connecting through a dongle or portable WiFi router, often called MiFi.
Why use mobile broadband?
If your job or lifestyle demands you travel, having a mobile broadband connection allows you to work on the go when you can't get WiFi.
While your smartphone might give you access to the web, it will have limitations on screen size and functionality that makes a laptop preferable for crunching spreadsheets for work, or a tablet to watch your favourite TV series.
Mobile broadband could also be the answer if you live somewhere remote with a decent phone signal but inadequate or no home broadband coverage.
A HomeFi broadband router works in the same way as a traditional router, but doesn't need a landline to connect.
What are the disadvantages of mobile broadband?
Connection speed: Web access from anywhere sounds good in theory, but in practice your access is restricted to wherever you can get a signal.
The strength and stability of your signal determines the quality of your connection – the faster your connection, the quicker you'll be able to download files, web pages, and stream video.
This could be a problem if you're travelling in a car, or on a train that doesn't have reliable WiFi, because you'll be moving through areas of varying signal strength and quality at speed.
If you're in the middle of uploading or downloading something important, your connection could be interrupted.
Usage allowance: The other disadvantage is usage allowances. The cheaper monthly payment options provide a limit of 2GB for a 4G connection. However, as mobile broadband provision improves, more unlimited mobile broadband deals are becoming available.
Usually, the bigger the data allowance, the more expensive the deal. While around 4GB a month should suffice for casual web surfers, anyone looking to stream music, video and games should probably look to pay more for a bigger allowance.
Can I get unlimited mobile broadband?
Yes, some providers offer unlimited mobile broadband contracts. These tend to be more expensive, but you can compare options here.
What do you need to set up mobile broadband?
Modern gadgets capable of accessing the internet are equipped to take advantage of a mobile broadband connection, either through a USB dongle or built-in wireless connectivity.
Mobile broadband can be set-up and accessed in a few ways:
Dongle: plugs into your device's USB port. It houses a modem which connects wirelessly to a phone network.
Mobile WiFi router or MiFi: portable device that creates a wireless signal that can by accessed by several devices at once
HomeFi Broadband Router: similar to MiFi, but designed for the home environment where you can't have or don't want a traditional broadband router
Data-only SIM: allows a compatible device to make use of your data allowance to access the internet
Your provider will supply you with a dongle, MiFi or HomeFi router when you sign up for a mobile broadband deal. Occasionally you may need to pay an upfront fee, but our comparison search results will make this clear.
How can I check my mobile broadband signal?
As dongles use mobile network signals, your signal strength will depend on your provider's mobile broadband coverage in the area you're using your device.
Industry body Ofcom has an online checker where you can see an estimate of the coverage in your area and what speed you'll get based on the postcode.
Who offers the best mobile broadband packages?
All the major networks like O2, Three, Vodafone and Orange offer dongles, MiFi and HomeFi with their mobile broadband deals.
The best deals depend on how you plan to use mobile broadband. Higher usage limits translate to higher monthly payments.
How long is a mobile broadband contract?
It's possible to sign up to a one-month mobile broadband deal all the way up to four years.
You pay in advance for your data allowance and you can 'top up' if you need more. However, it's best to try and gauge the amount of data you need from the outset, as paying for extra GBs every month will work out expensive.
Can I cancel a mobile broadband contract?
Consider the minimum term of the contract before you sign up as it can prove expensive if you want to leave early.
Each provider will have their own rules regarding cancellation of the mobile broadband contract, but you may have to pay up the remainder of the contract if you wish to move elsewhere.
All contracts have a 14 days cooling-off period when you take out the deal in case you have a change of heart.
What is a mobile hotspot – and can it replace my home broadband?
A mobile hotspot, often called a personal hotpot or tethering, is where you use your device (often a smartphone) to generate a mobile broadband signal that other WiFi-enabled phones, laptops or tablets can use to access the internet.
It works in the same way as the mobile routers or dongles we've discussed above, using the available phone network and the allowance from your data smartphone data plan.
Your hotspot will show up when other devices search for WiFi nearby connections, and there will be a password, so you only allow access to the ones you choose.
Most modern smartphones enable tethering via WiFi, but you can also connect through Bluetooth or USB (the latter only works for tablets using Android).
Creating a personal hotspot can lead to a fast drain of your data and depending on the contract you have, some networks don't allow you to tether your smartphone.
Need home broadband too? See what you can get in your area with our handy
Can mobile broadband connect to 5G?
All major network providers now provide 5G, although much of the coverage is predominantly city-based for now.
Most mobile broadband currently relies on the UK's 4G network, where connection speeds are often slower than home broadband.
But as 5G becomes more widespread it will rival and even exceed speeds of home broadband services – meaning fast mobile broadband when you are on the go.
With 5G having the potential to be 10 to 20 times faster than 4G, this will mean being able to download a movie in seconds or make video calls free of glitches.
To take advantage you will need a 5G-enabled device, which means an up-to-date mobile, tablet or laptop.
Compare mobile broadband
You can compare mobile broadband deals quickly and easily with MoneySuperMarket, where you can toggle between:
Type of device
Monthly cost
Data allowance
Contract length
Network provider
We'll then search the best available deals and provide you with the monthly and total cost from each provider so you can pick the one that's right for you.