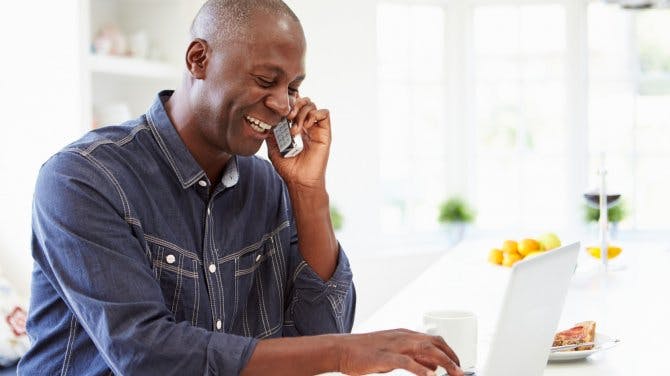 Develop your knowledge of broadband to enable you to make an informed choice and to pick not just a cheap broadband deal but the best broadband provider for your needs. Our broadband guide gives you all the basics before you get connected.
Everything you need to know about broadband
Technology moves so fast, it's easy to get left behind. That's why MoneySuperMarket has put together this simple-to-use Broadband Guide to keep you up-to-date with the latest advances and, more importantly, to identify the best deals for you, whatever your circumstances.
New to technology? Keen to upgrade your existing service to make better use of the internet? Gaming enthusiast who needs a no-limits, super-fast contract? Whatever your needs, we've got the answers. Our handy broadband comparison tool does the work for you, comparing more than 100 deals and giving you all the information you need to make the right choice.
First things first: connecting to the internet
There are two main ways to connect to the internet – through a broadband connection, or through a much-slower dial-up service.
BT switched off its dial-up internet access service in August 2013 but other providers still offer it to people living in remote areas of the UK where there is no broadband coverage.
There are various ways of connecting to the internet using broadband. The most common is through an ADSL line, but you can also connect through fibre-optic cable (up to six times faster than ADSL), mobile signal or even via satellite.
What kind of user are you?
Before you take out a broadband contract or consider switching to a new provider, ask yourself whether you're a high, medium or low internet household. This will govern the kind of service you need. High-users love the internet – they spend hours on it, streaming films, uploading photos and videos to Facebook, and downloading and sharing music with friends. If this sounds like you or your children, then you're going to need fast, unlimited broadband.
Medium users use the net daily but they're not much into watching TV or films online, or downloading loads and loads of music. For them, a package with a moderate download limit, around should be fine. You'll be notified whenever you come close to exceeding your limit and you will be charged for additional usage so keep an eye on your costs. If you consistently go over your limit, you might be better off switching to a high-user service.
Low users use the internet for the basics, such as checking emails, paying bills and shopping. If you fit into this category, then you can go for the most economical, no-frills, package.
Choosing the right broadband connection
ADSL
ADSL broadband is widely available throughout the UK. To use it, you'll need a home landline and a special filter or splitter to plug into your telephone cable. The filter divides your telephone line into two channels – one for phone calls and the other for broadband.
One thing you should know about ADSL is that the download speed is much faster than the upload speed. If you're a 'passive' internet user – so you tend only to download files – then it's perfect for you. If, however, you also need to upload loads of files, you might need to consider other options.
Fibre-optic broadband
Fibre-optic cables deliver extremely fast, extremely stable broadband that doesn't usually 'drop out' or lose speed. Fibre-optic broadband sends data down clusters of tiny strands or cables (each one is thinner than a human hair) made of plastic or glass. But because the technology is still relatively new, it remains quite expensive and is not available throughout the UK. Use our broadband availability checker to see if you have coverage where you live.
If you do have coverage, you should ask yourself these questions to help you decide if fibre-optic right for you:
do several people in your house go online at the same time from different devices?
do you play a lot of online games?
do you stream TV and films through the internet?
If you've answered yes to two or more of these questions, then fibre-optic may be the right choice for you.
Mobile broadband
If you're a light internet user who either doesn't want a broadband contract, or doesn't have a landline, you may be able to get away with using mobile broadband – essentially using mobile phone signals to connect to the internet.
You'll need to buy a 'dongle' (a modem that connects wirelessly to mobile phone networks) that plugs into your computer, but once you've done this you should be able to go online without any problems. You can buy a dongle from any mobile phone supplier and you can choose between a pay-as-you go or pay monthly service. Use our mobile broadband comparison tool to find the best dongle deals.
Satellite
A satellite broadband option is only recommended for people who live in very remote areas that have poor network coverage. Connection to the internet is via a satellite, so you won't need a landline, but the costs can be quite high and the service relatively slow.
Bundled or broadband only?
'Bundled' packages, which include your broadband, landline, TV and even your mobile phone, can save you money and spare you the hassle of having to pay several bills each month. But do check the details thoroughly before signing on that dotted line.
Things to consider include broadband speed, call rates, customer service and overall cost over the whole term of the contract (some providers offer very attractive rates for the first three months or so but then ramp up their charges for the remainder of the contract – which could be for 18 or even 24 months).
If you're happy with your current phone or TV package and just want an internet-only option – so you're not in the market for a bundle – there are plenty of great-value offers with fast download speeds. Just remember to look at all costs including set-up or connection fees before committing.
We have searched the UK's top providers to show you the best value deals available in your area for whatever type of package you choose.
Should I change provider?
Even if you're happy with your internet provider the chances are you can find a cheaper deal if you're willing to change. Buying broadband is no different to buying electricity, gas or car insurance. Tariffs change regularly and companies drop their prices to compete with their rivals so if you don't do a comparison every once in a while you will miss out.
The important thing to remember when doing your comparison is to compare like with like. Look at the overall package, including customer service, rather than just the price, and make sure you read the terms and conditions. Many broadband packages include an internet usage limit (or 'allowance') and will charge you if you exceed it, and even packages that claim to offer unlimited broadband may have a fair-usage clause tucked away in the small print to restrict your usage.
It might be good idea to write down your requirements – fast speeds, generous download limit – and then see who can offer you what you want for the lowest price.
If, after you've done your comparison, you decide to stick with your current provider, you can still try to negotiate a better deal. Tell your provider you've been shopping around and are thinking of leaving them, and see what they're prepared to do to keep your custom.
MoneySuperMarket's broadband comparison tool will show you all the deals available in your area. With the option to sort by monthly cost, download speeds and download limits, it's easy to get all the facts and find the best option for you. Switching should be quite painless – and you shouldn't have to go without broadband or phone for more than a couple of hours. Use our free broadband speed test to discover whether you could get a faster broadband for your area.
Related articles