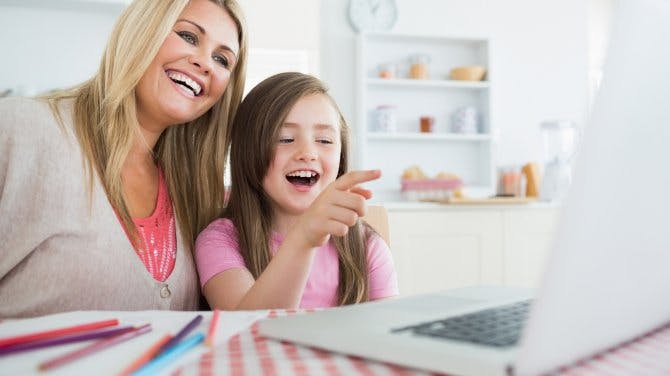 Sky and BT are two of Britain's biggest network providers, and they both offer a number of deals for phone, television, and broadband. You can get fibre optic broadband with both providers, and here's how they stack up against each other.
Pricing
Sky and BT both offer 18 month plans where you're on a discounted price which will move to the standard price after the discount period ends. However, the pricing structure is quite different – BT's upper range packages, Superfast Fibre 2 and Plus, are both over £40 a month, while Sky's most expensive Fibre Max deal is £30 a month.
BT's cheapest deal is its Standard broadband, which starts at £24.00 per month, while Sky's Broadband Unlimited is initially £20 a month.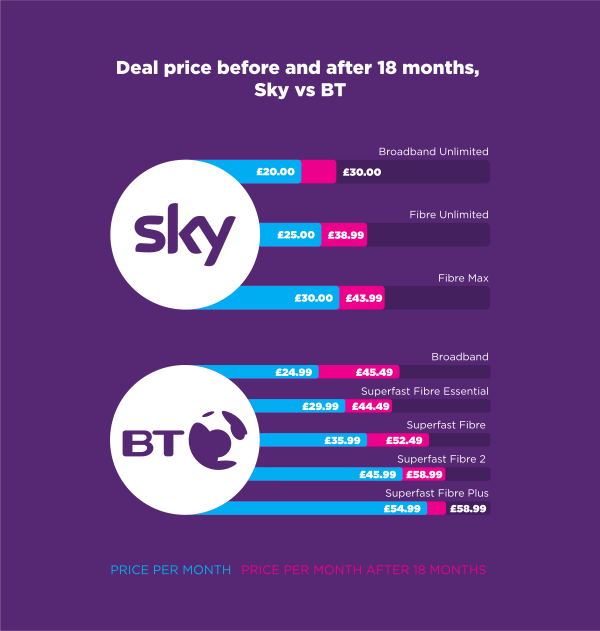 Speeds
Both Sky and BT's lowest costing fibre broadband deals offer an average speed of 36Mb/s, while Sky's Fibre Max offers an average 63Mb/s compared to the 67Mb/s from BT Superfast Fibre 2 and Plus.
BT's mid-range Superfast Fibre measures an average speed of 50Mb/s. You can learn more about internet speeds and downloading data with our guide to bits and bytes. [Internal link when page is up.]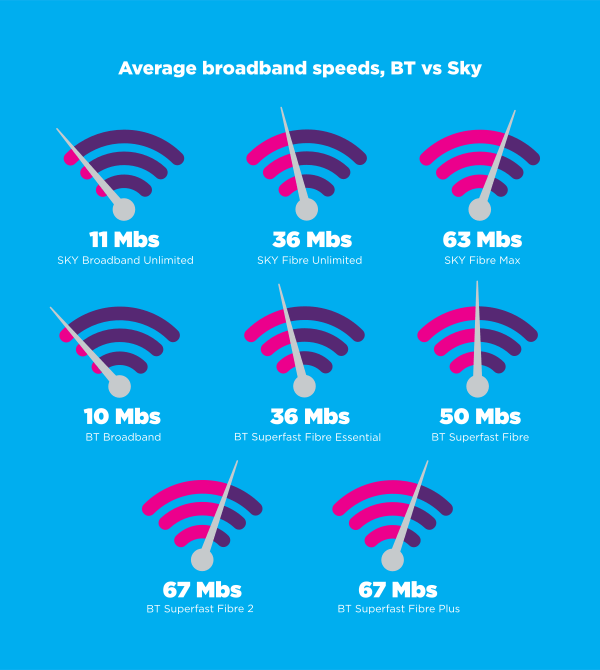 Fees and charges
There are charges involved in setting up a new broadband service. This generally includes an up-front cost, which can be for postage & packing and/or activation, though some providers may reduce or waive this as part of an introductory offer.
There might also be a charge for setting up a new line or connection, particularly if there is no compatible line installed in your home already, and this usually costs around £50. If you cancel your deal early there may also be a fee to pay – for example while BT give you a hub router for free when you join, if you leave within a year of starting the contract you'll then need to pay £55 towards the cost.
Extras
Both Sky and BT include line rental in their broadband deals, while Sky also offers Sky Talk – optional extra services you can add to your phone line – and both providers let you have unlimited downloads with all broadband packages.
With Sky's broadband deals you may also get a MasterCard £75 reward card, while BT offer BT reward cards of varying amounts depending on the deal you choose. Once you're fully set up, you can claim for your reward card and if it's accepted, it'll be sent to you through the post.
BT customers can use its public Wi-Fi service, BT Wi-Fi, in over 5 million locations. Sky-owned Cloud Wi-Fi services are available in around 20,000 locations.
(These deals were available at the time of writing – September 2018.)
Comparing broadband offers
Many of us use broadband on a daily basis, so it's important to find the right deal for you. By comparing broadband deals on MoneySuperMarket, you can see all the best options available – all you need to do is enter your postcode, and you'll be given a list of the providers in your area.
Then you can compare their deals by the average speed you'll get, if there's any limit on downloads, and the overall price of the packages on offer. Once you've picked the one you want, you click through to the provider and you're a step closer to getting the right broadband deal for you.